If you are someone who can't resist fried and "heaty" stuff and late nights, this is a good and easy soup to help cool down your body "heatiness".
You only need 2 ingredients – a bunch of watercress and 5 honey dates. And water! ?
I use electric cooker which has pre-set menu that slow boil the soup for 3.5 hours. You can also cook this over the stove for about 1.5-2.5 hours.
There's no need to add meat for this soup! No need extra seasoning too as the honey dates give sweetness to the soup. We call it 甜汤 in mandarin. Easy peasy 🙂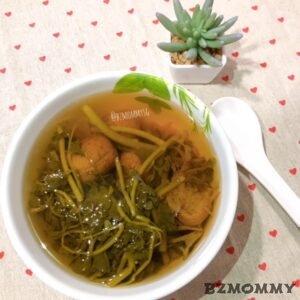 Watercress with Honey Dates Soup
An easy soup to cook at home to cool down the "body heatiness" after excessive festive snacking!
Ingredients
5

Honey Dates

1

bunch

Watercress

2

big bowls

Water
Instructions
Soak and wash the watercress thoroughly. Give the honey dates a quick rinse.

Bring the water to boil, and add in the watercress.

Transfer the honey dates, watercress and boiling water into an electric slow cooker. Cook for around 3-3.5 hours

You can also simmer over stove for about 2-2.5 hours
Notes
TIP : Watercress must be added into boiling water, otherwise the soup will become bitter.