Bzmommy welcomes all forms of advertising, as long as the contents deem fit to appear in this space.  Please email for more information on the following:
1) Product / Service Reviews
A new or existing product/service?  Send me your products and/or services and I will be glad to write a review on it.  I am a mother (of 2 girls), a wife, a daughter, a daughter-in-law, a sister, an employee, a business owner, a woman and once a student. With these many roles, I think I am rather qualified. 🙂  However, please respect my rights to remain honest and objective.  Please review our disclosure policy.
2) Text and/or Image Ads
A common form of advertising and you can chose from a text-link to a banner. You can chose to be on the side-bars or at any of the posts. If you spot a place to put your advertisement, let's discuss! Prices start at only S$10 per month.  Simply send me your image / link and we can do it right away!

3) Modeling
If Dawn & Eva has charmed you and your products looks great on them, we can work out something.  But I am not selling them, because they are priceless 🙂
4) Samples or Giveaways
I can also host samples and giveaways. Whether or not you want me to send or you send to them, as long as they are genuine offers.
*P/S: Advertorial or sponsored entries/reviews on products and services will be identified as "advertorial" or "sponsored".
**************
Past Collaborations
Maternity Exchange : 3-months advertisement from 12-Oct-2011 to 12-Jan-2012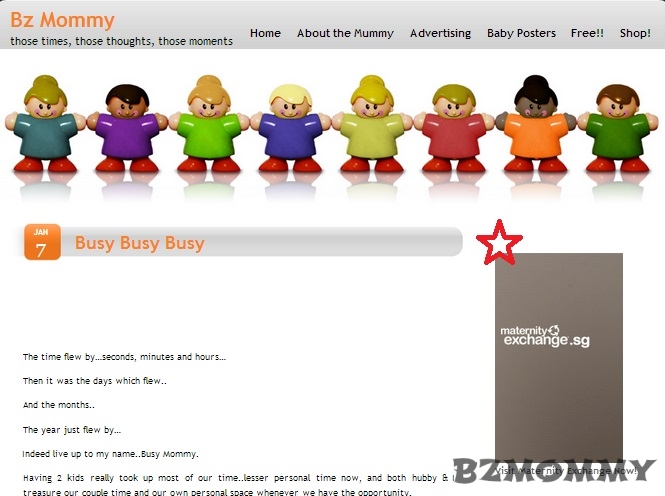 2. Check out our other past collaborations!
Please review our Disclosure Policy for Collaborations.