It's the June School Holidays and there are alot of happenings around the town.  Although school holidays do not apply to Dawn yet as she's in a childcare, it still bring alot of joy to her because of the many fun (and free) activities!
We met Elmo, Cookie Monster and Grover at City Square Mall.  It was a "happen-to-be" in the mall kind of thing and thus mummy wasn't prepared with a camera 🙁
Very cute stage scene :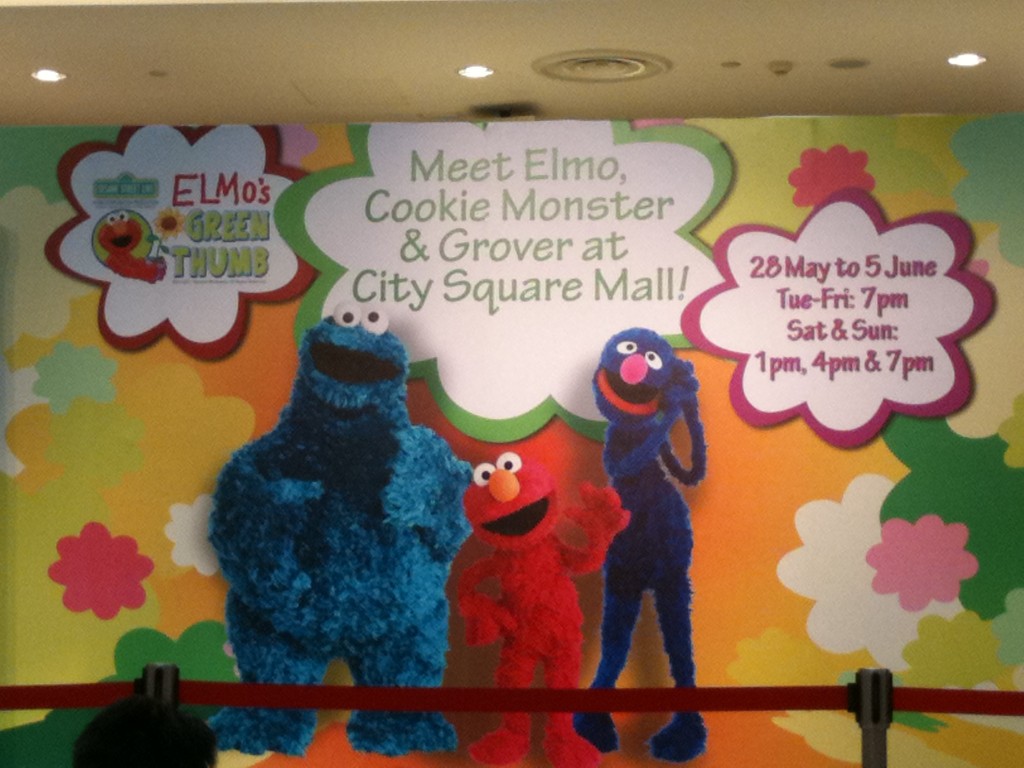 Seated and waiting for the show :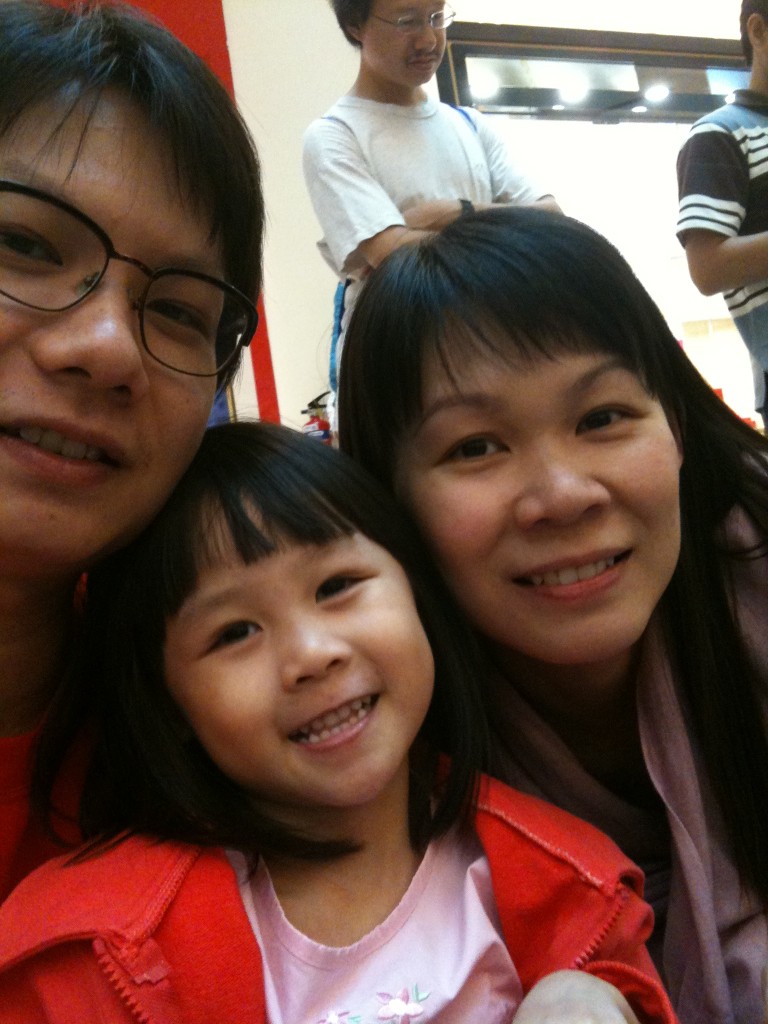 An opening dance :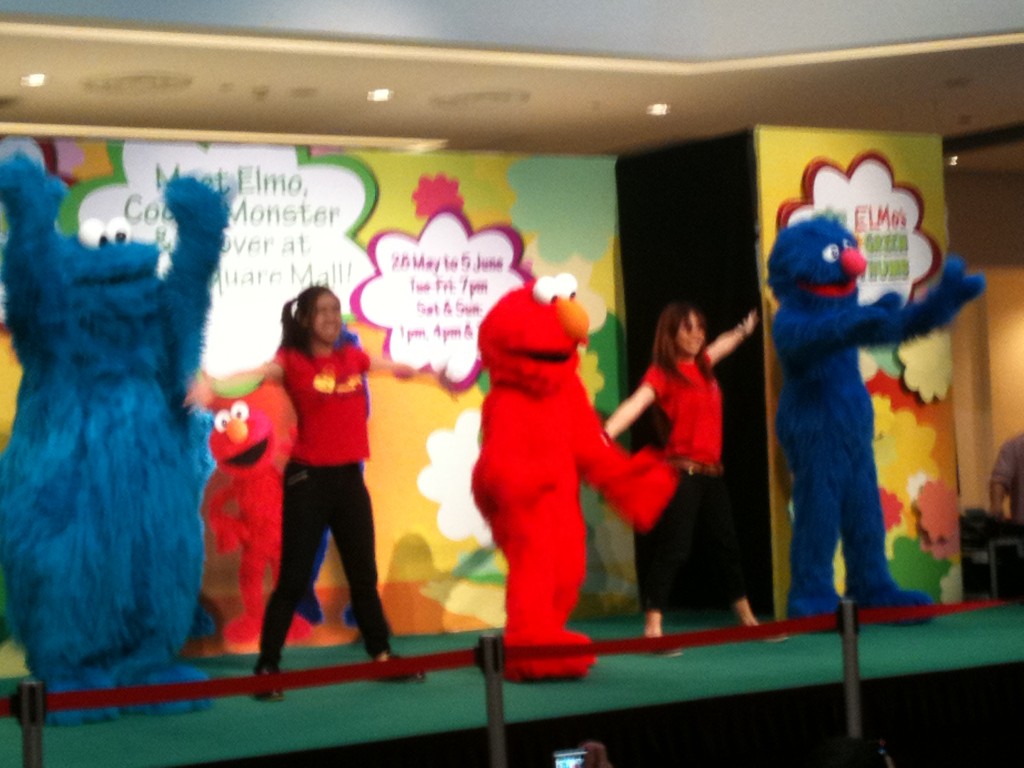 But the organizer should do better in terms of being more transparent with their photo taking session.  Can't help but compare it with the experienced organizer such as Barney shows.  There were no clear guidelines on how to get a pass for the photo taking session, the pass was given only at the end of the show and hence it's not fair to those who were there early but stood too far away from the queue lines.  The characters only came out for awhile and most of the time it was the MC talking and playing games.  Dawn was bored and hence we did not stay till the end.
Dawn was a little disappointed for not able to take photo with the characters but mummy insisted to have her photo taken with the characters, so this is the best that we can do :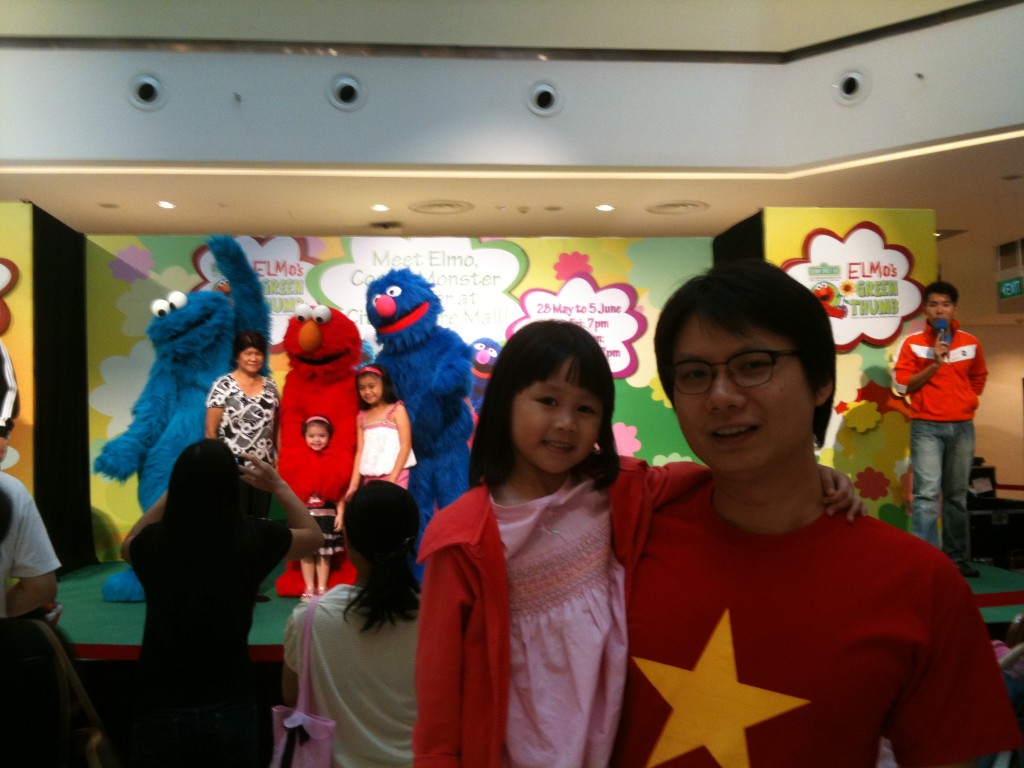 On our Wedding Anniversary, we decided to spend the day with Dawn and we brought her to the Barney show @ Marina Square.  This time, mummy is equipped with her camera and also determined to get a pass for Dawn to take photo with Barney. We made sure that we were early to have our lunch and in time to be the first 50 in the queue, and that means we had to queue for 1.5 hours. Poor Daddy, used to do silly things with mummy during Pah-toh days (now he still does!), and he has to do silly things for the children too..Daddy you are super! 🙂
A very pretty stage; Dawn & I had a good time playing "Can you spot?" game when queuing.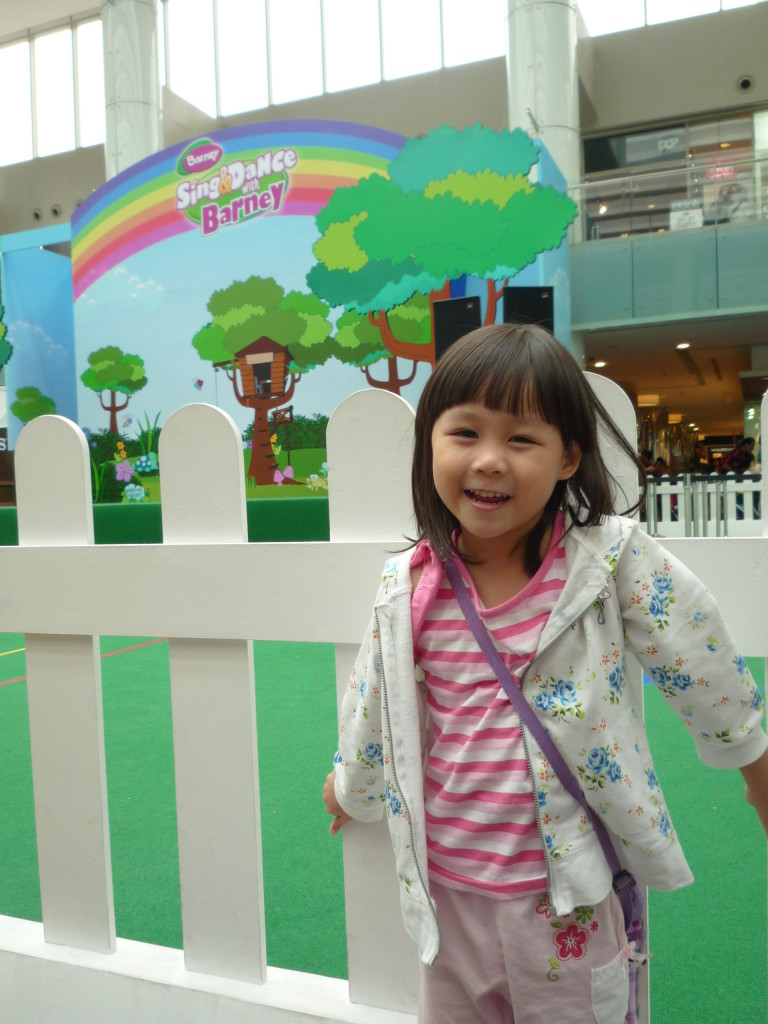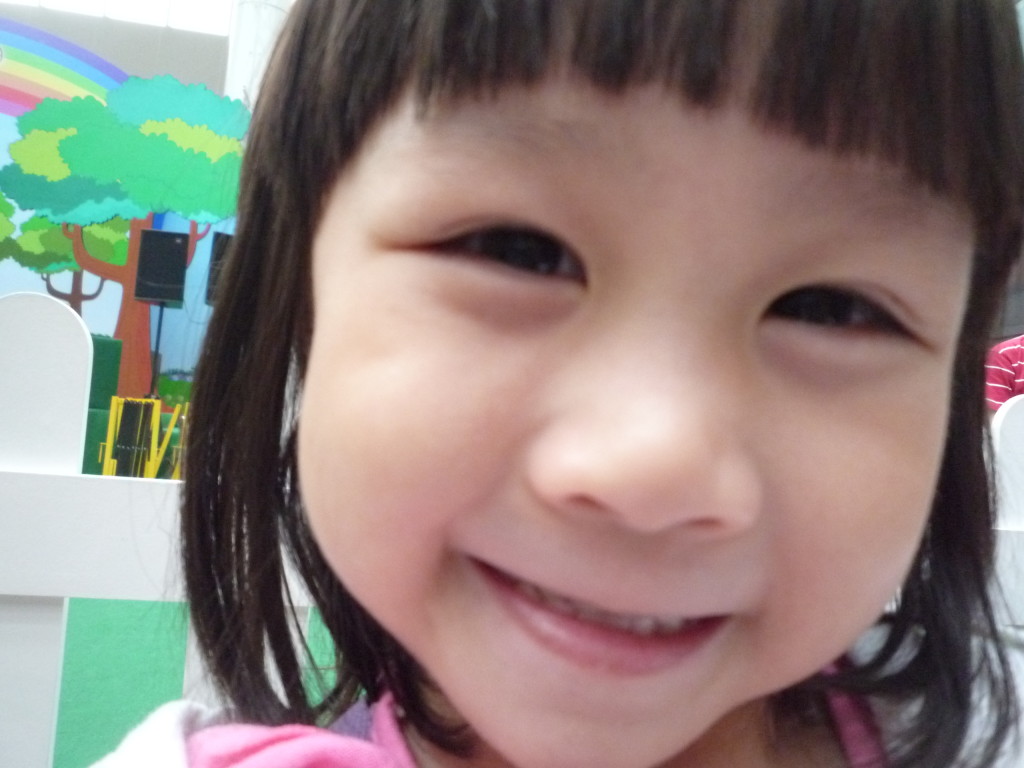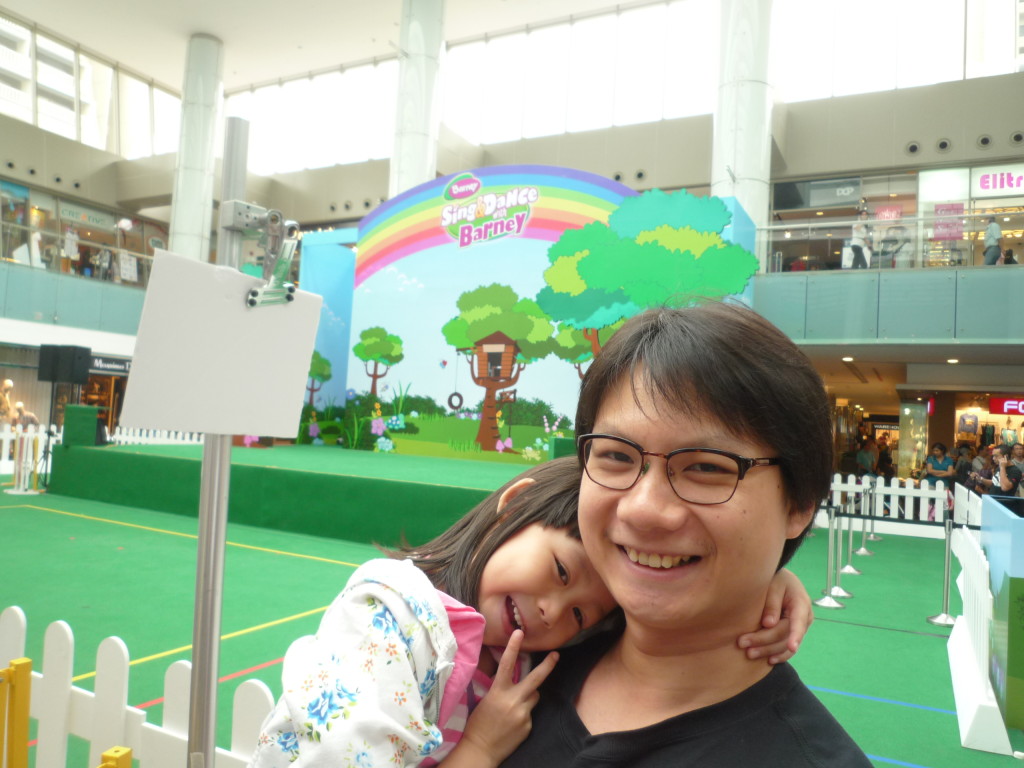 This is how "near" we were from the start of the queue. Very confident to get hold of the pass this time! There were parents who wanted to cut into queues too and we were angry because what are these parents teaching their kids with?? Instead of explaining to their children on the right thing to do, they were accommodating to their children whines by cutting into the queues of those who had queued for more than an hour!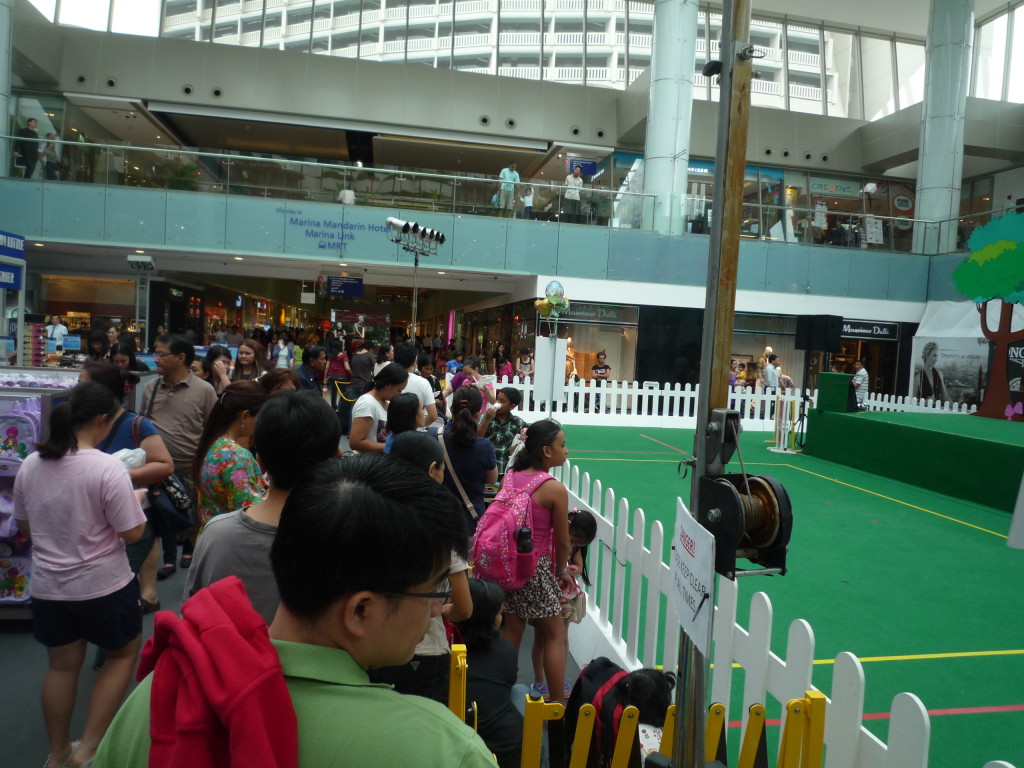 Tada! Meet & Greet pass in my procession!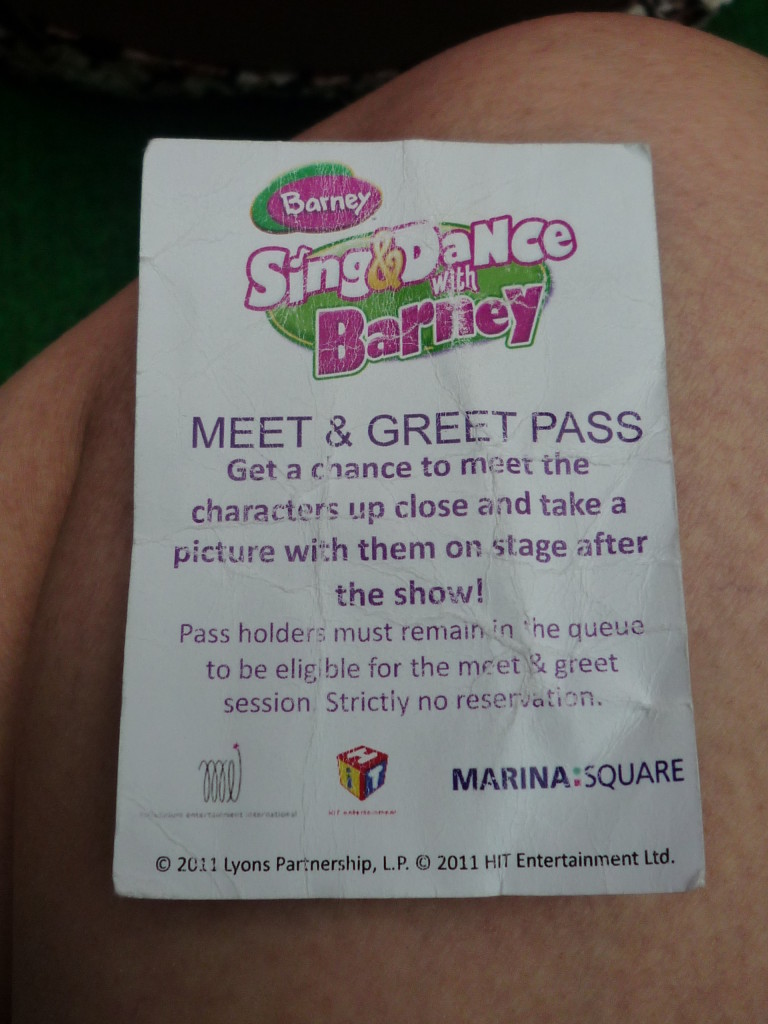 See how excited Dawn is?!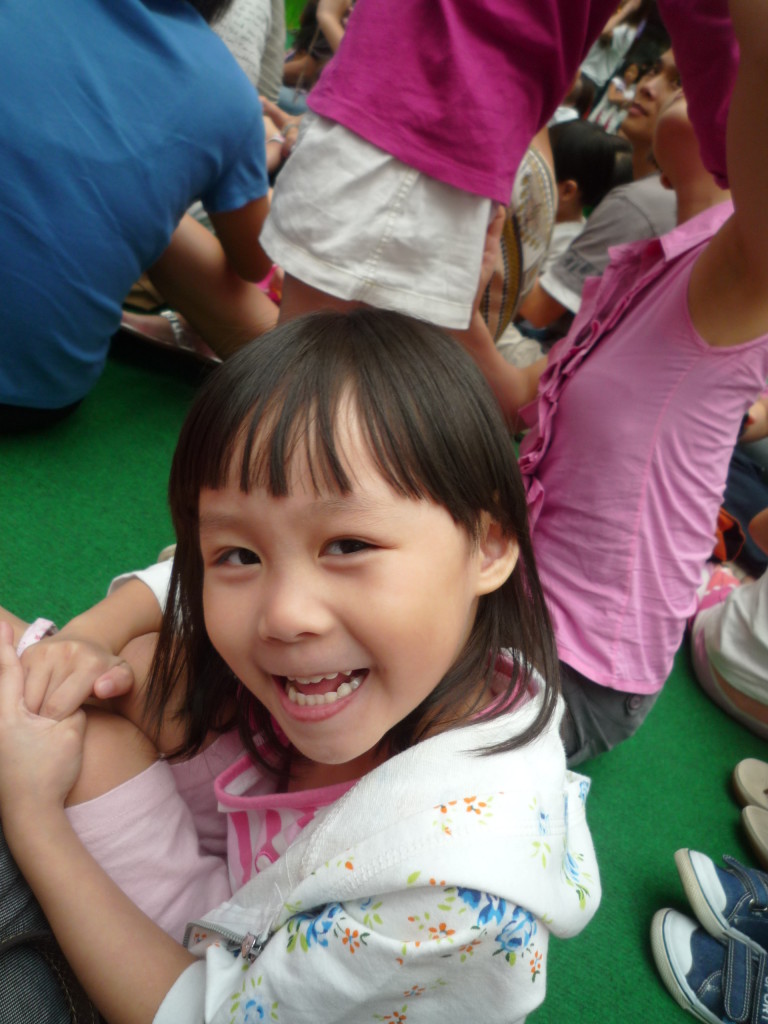 Poor Daddy had to stand outside because only one parent can accompany the child inside to the stage area.  Still remember the pregnant me standing outside during the Christmas Show last year?
This shot is priceless to me, just look at Dawn's eyes you will know what I mean :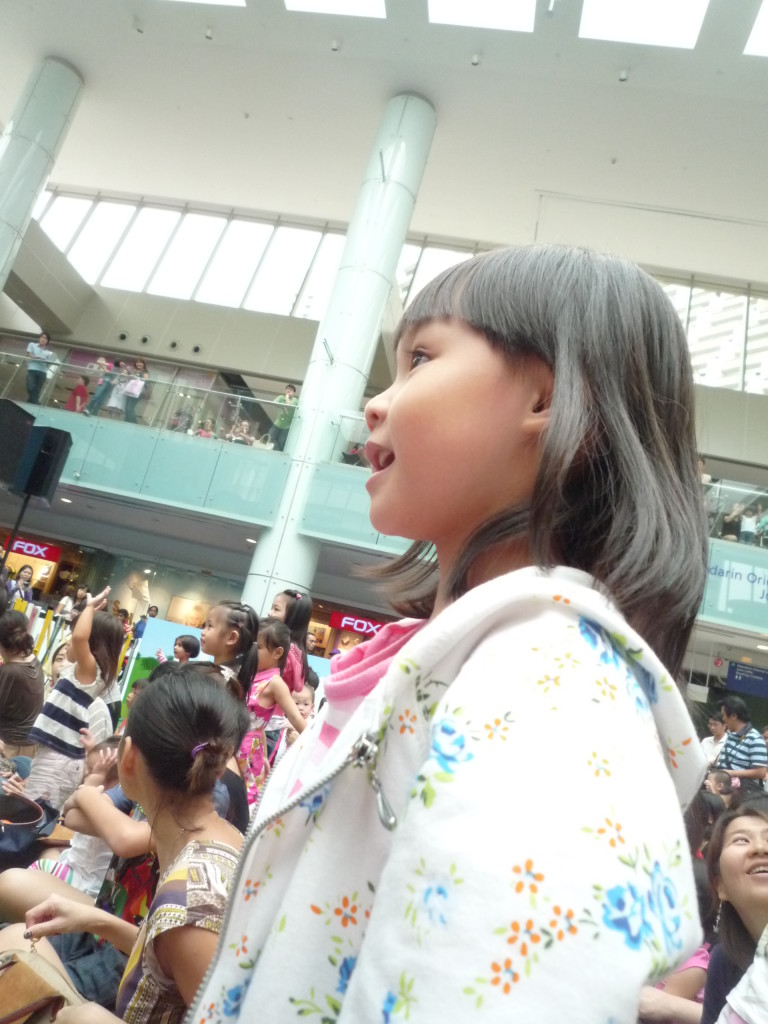 Children's eyes are the most non-pretentious.  They show you their moods, whether tired, disappointed, sad, happy or excited.  The sparkle in those eyes are the most rewarding presents for the parents!
And here comes Barney and friends!  Enough to make the children go crazy…
The show was short as compared to the Christmas show. It was less than 15 minutes with about 4-5 songs.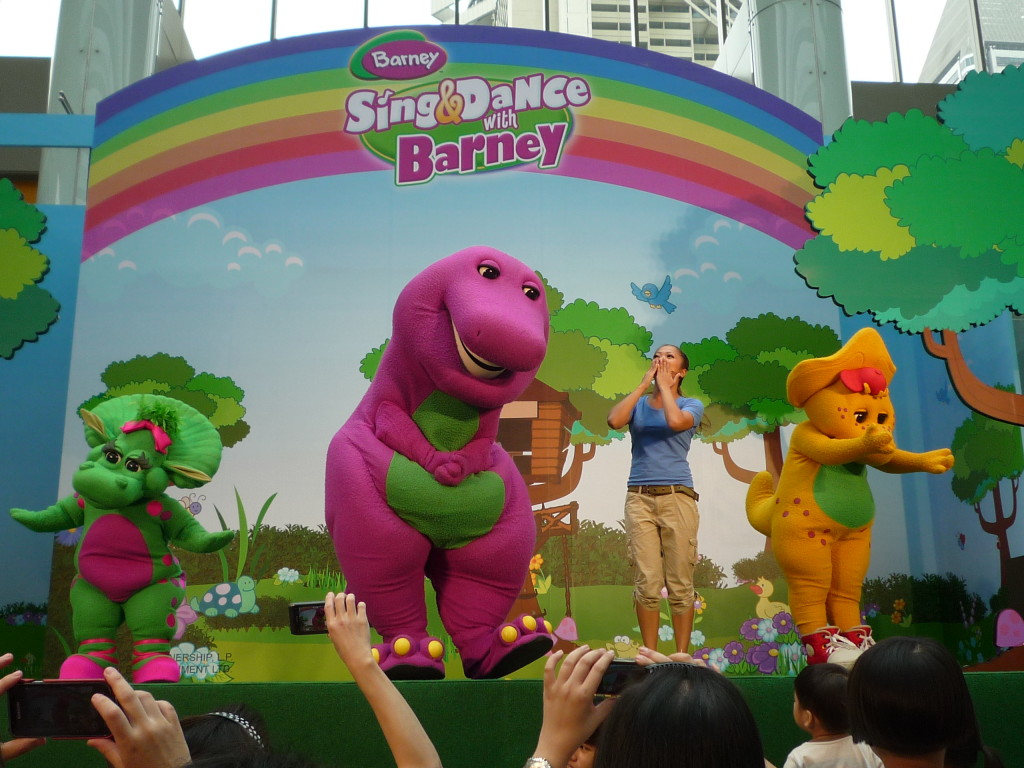 And here's our photo with Barney & Friends.  Little Dawn, remember this, daddy & mummy queued 1.5 hours for you!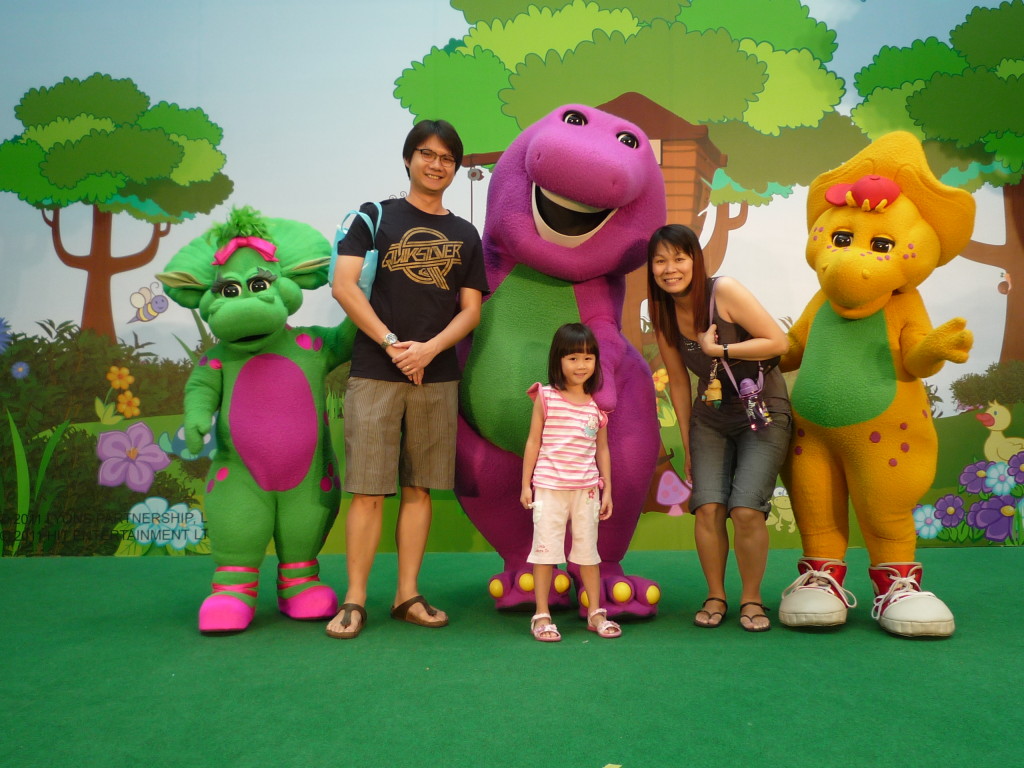 Dawn saw the huge "Bouncing Castle" news on TV and wanted us to bring her there.  So off we went on a Sunday afternoon.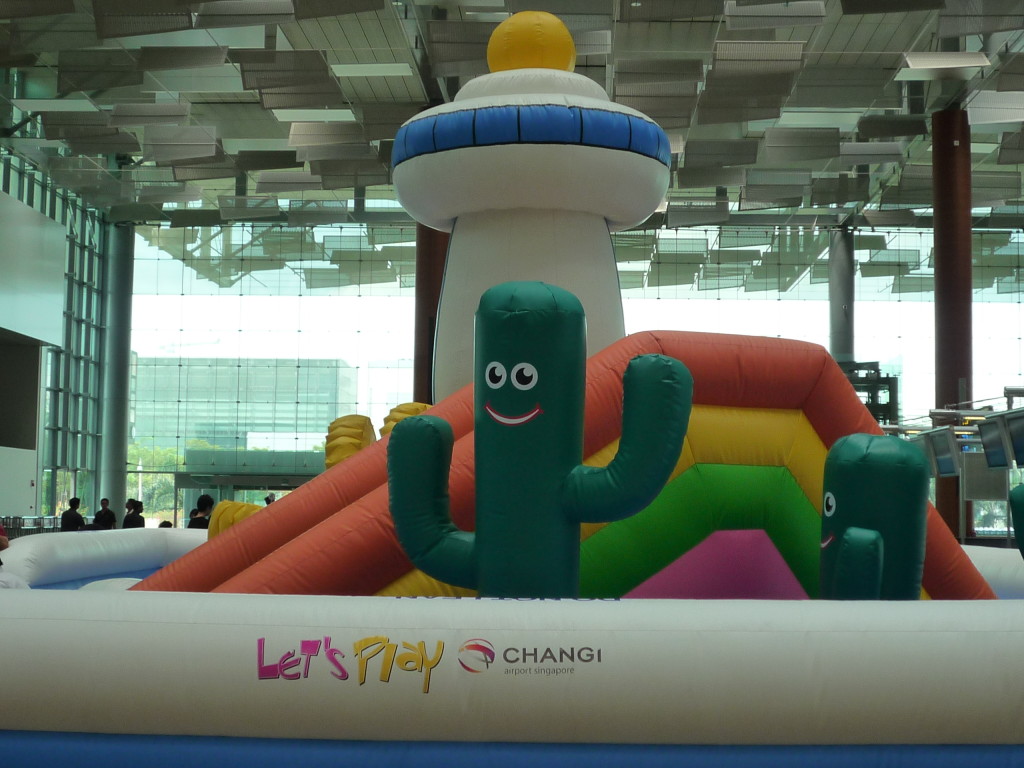 In order to get on to this, we need to produce a receipt of any amount to enjoy one free play.  Each play is 8 mins.
The Kor-Kor will give a short briefing on the safety precautions with the children first before each play. Love the sunflowers and the very cute control tower!
And Dawn chose to bounce beside the cactus most of the time until I shoo her to play with the slide.  She might have thought that she can be on this forever instead of just 8 mins…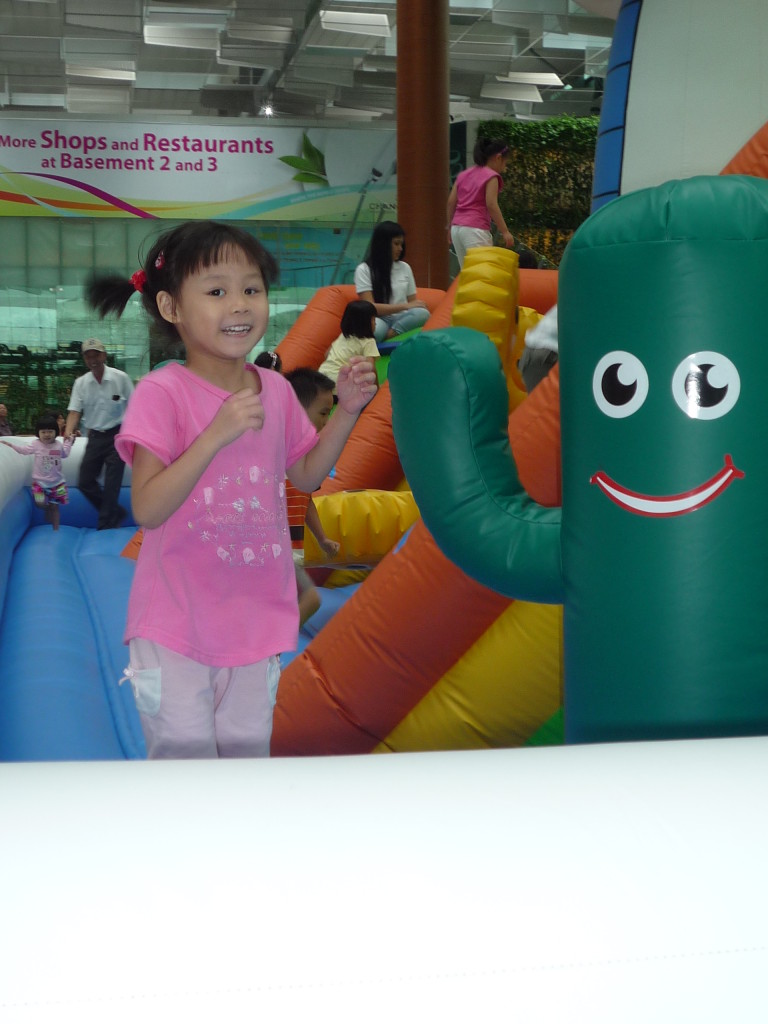 Weeeeee…nice slide!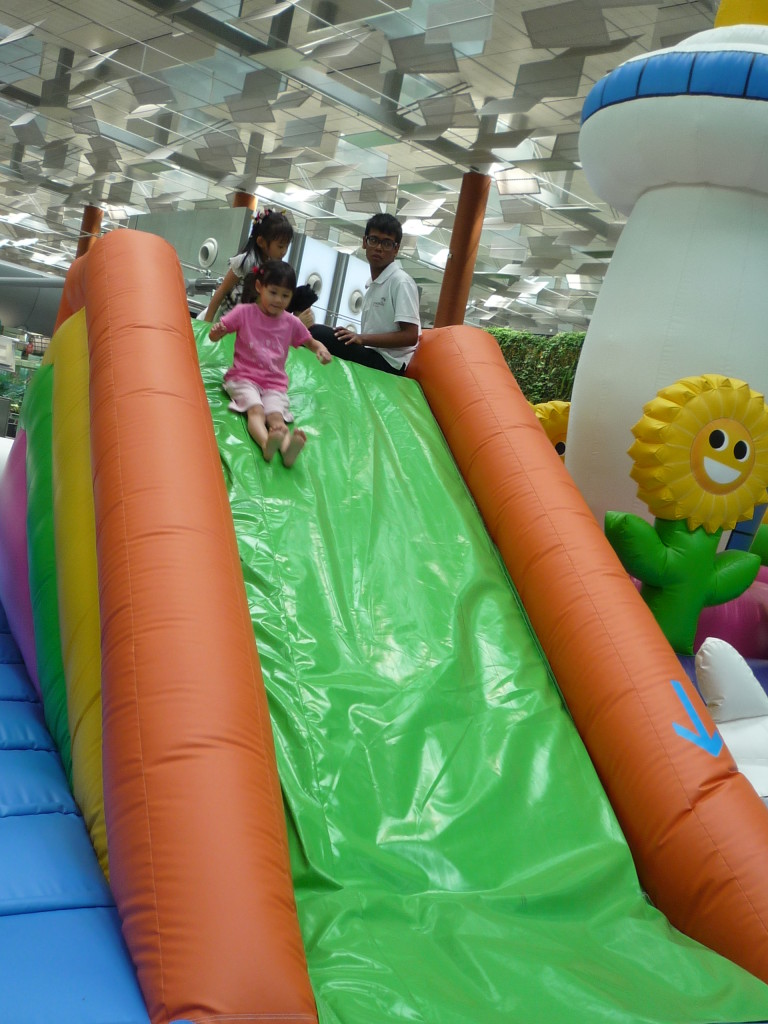 Look Mummy! I am riding a plane!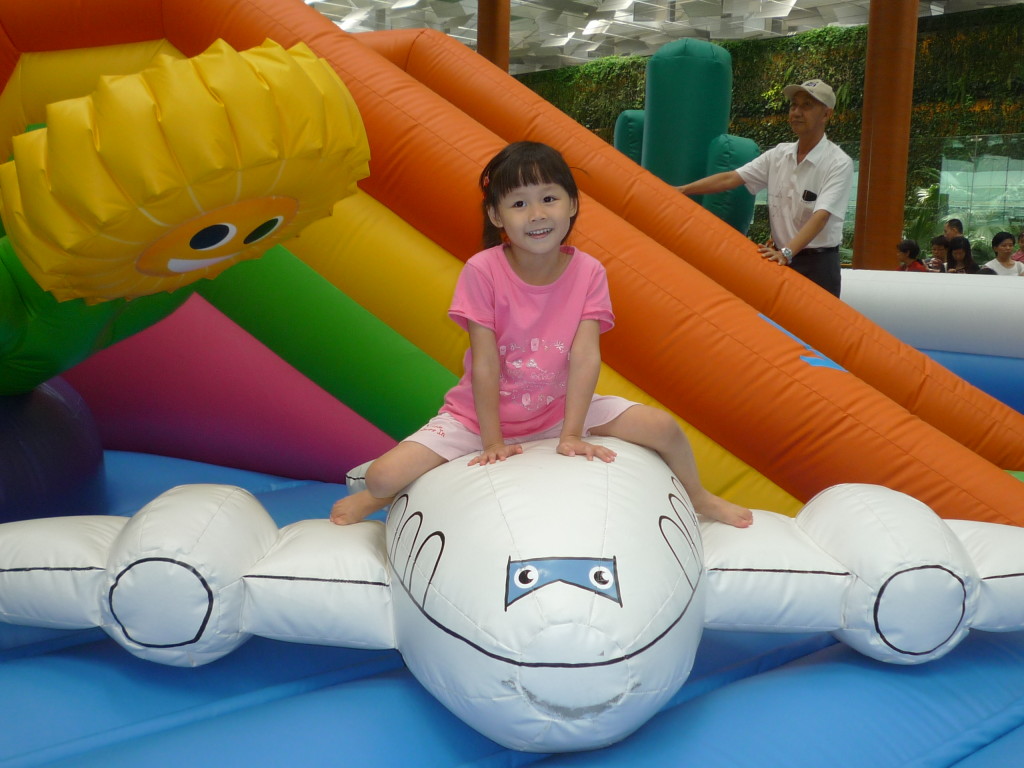 If you are interested with this, the Changi Airport's giant inflatable playground will be there till 26th June 2011. It's at Changi Airport Terminal 3, Level 2, Check-in Row 11 (In front of The Coffee Bean & Tea Leaf). For more details, check it out here.