I am not someone who can take in a lot of spicy food, mainly because my mother had seldom (never!) cook spicy food for us since I was young. My spicy journey only started after knowing my hubby and later on had a fast-track progression after staying with my in-laws.
Despite the fact that I am a better spicy-food eater than before, I still prefer my food less spicy so that the taste of the food remains "real". I like my plate of Char Kway Teow to taste like Char Kway Teow and not like a plate of Char Chilli Padi – if you know what I mean.
Having said the above, I still cannot remember why and how I learn to eat cut pickled green chilli with fried bee hoon, or with gravy hor fun. I can't even remember where my courage first came from. Many will say that green chilli is not spicy but this is something I will not totally agree to as I tasted really hot green chilli before!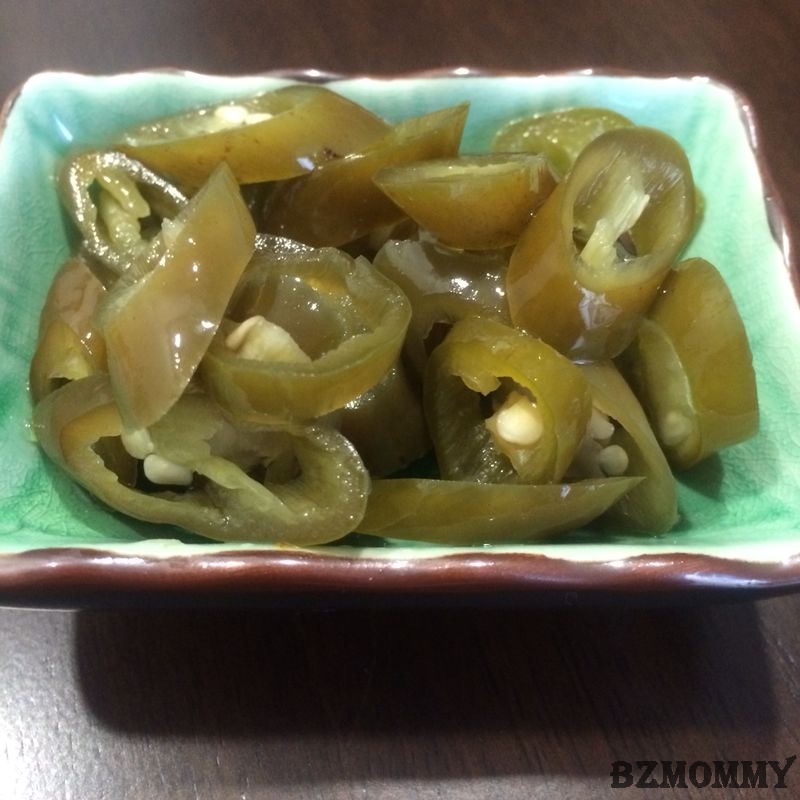 I chanced upon Noobcook's pickled  green chilli recipe and decided to follow and make my own. After all, the Zi Char stall will only give a miserable small packet of green chilli whenever we buy take-away.

Home-made Pickled Green Chilli
Author:
Adapted from Noobcook
Ingredients
1 packet of green chilli (NTUC sells them in a packet - about 10+ green chilli)
1 cup white rice vinegar
90g fine sugar
½ TSP salt
Boiling water
Instructions
Soak the chilli and gently wash them clean (I use a brush for my vegetables).
Slice the chilli and place the sliced chilli in a colander.
Pour boiling water into a bowl and place the colander of chilli into it. Let it stand for 20-30 seconds.
Drain the chilli.
Dissolve the fine sugar and salt in the vinegar using low heat on the stove.
Leave the vinegar to cool.
In the mean time, put the drained chilli into a glass bottle.
Pour the cooled vinegar into the glass bottle (make sure that all the chilli is covered by the vinegar. Refrigerate it.
It will be good to use disposable plastic gloves to protect your hands while slicing / handling the chilli. We didn't do that during our first attempt and ended up with fiery hot fingers!
The chilli will look bright and green for the first few days, and will slowly turned to a dull shade of green.  From my experience, the pickled green chilli will remain quite spicy in the first few weeks and will lose the spiciness after about 4 weeks.  It will taste like what we get from the Chinese restaurants or the Zi Char stalls, if not better!
You can also get a glass bottle easily from Daiso. I love this glass bottle of mine because it comes with a handle at the top.
I keep the pickled green chilli for a few months in the fridge and they still taste crunchy and delicious. I do not have an idea how long they can be kept, but since this process seem to be doing some form of food preservation using sugar, vinegar and refrigeration, I assume that they can be kept for quite a while.