I never had a birthday party during my childhood.  The first party I had was when I turned 21 years old, in the then famous chalet at Pasir Ris. And I told myself that was the first and the last party that I will have for my birthdays (yah, even when I get to live till 80 grand birthday).
Birthday parties or celebrations are rather common for this new generation of children now.  I got a little shock when Dawn came back from the childcare centre with bags after bags of party favors. That was 5 years ago, and my journey of jumping into the trend began.
Besides the celebration in schools,  it is also our family practice to celebrate children birthdays in a larger scale (than a family affair) at the age of 4.
Why 4? Because that's the age that they will remember the party, even when they grew up. It's not meaningful if they cannot remember about their own parties, right?
Why only 4? Because both parents (aka hubby & me) think that it's too extravagant to hold such celebrations every year, plus the child will not likely to remember anything from the age of 1-3 years old, plus both of us do not feel good to ask our friends to spend money on gifts or their precious weekend. And most importantly we do not want our children to grow up thinking that birthday parties every year from age 1 is a norm!
Eva had her 4-year-old birthday celebration in a small cozy function room on a Sunday noon. It's a simple affair with no frills – no magician, no games, no special sweets table that wow the guests. But the kids are equally happy, and their smiles are still genuine.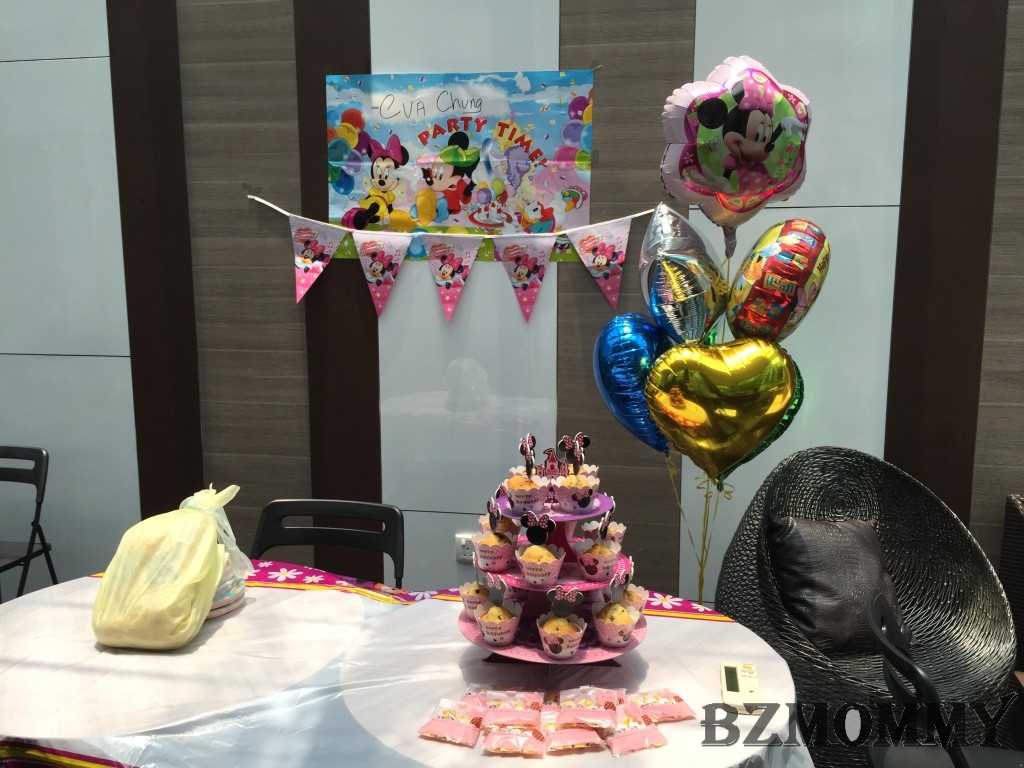 Both Eva & Dawn woke up early that day and baked muffins to thank their guests for attending the event. It is also a way for them to be involved in this preparation of the celebration.
I ordered the birthday cake from Pine Garden. Because of license issues, they no longer collect the cartoon figures from customers, but leave the décor on the cake empty and let us express our own creative on the cake. This cake is design by me – including the placement of the beetles, butterflies and the flowers.  Pretty?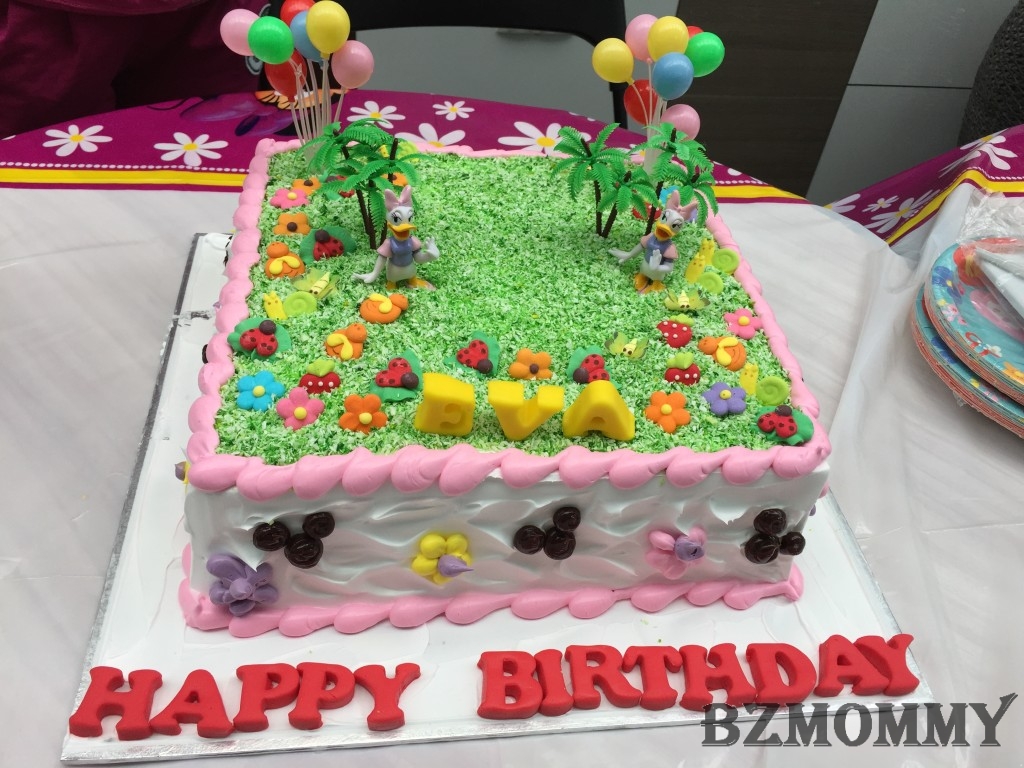 When asked 2 months before the actual day, Eva said that she wanted a Daisy Duck themed birthday. Knowing that there isn't much Daisy Duck decoration available in the market, I tried to ask her for other choices, and she went on saying, Groofy, Donald, Pluto…almost everyone of them except for Mickey and Minnie Mouse! I had to "convince" her that the theme will be "Mickey & Friends". 😀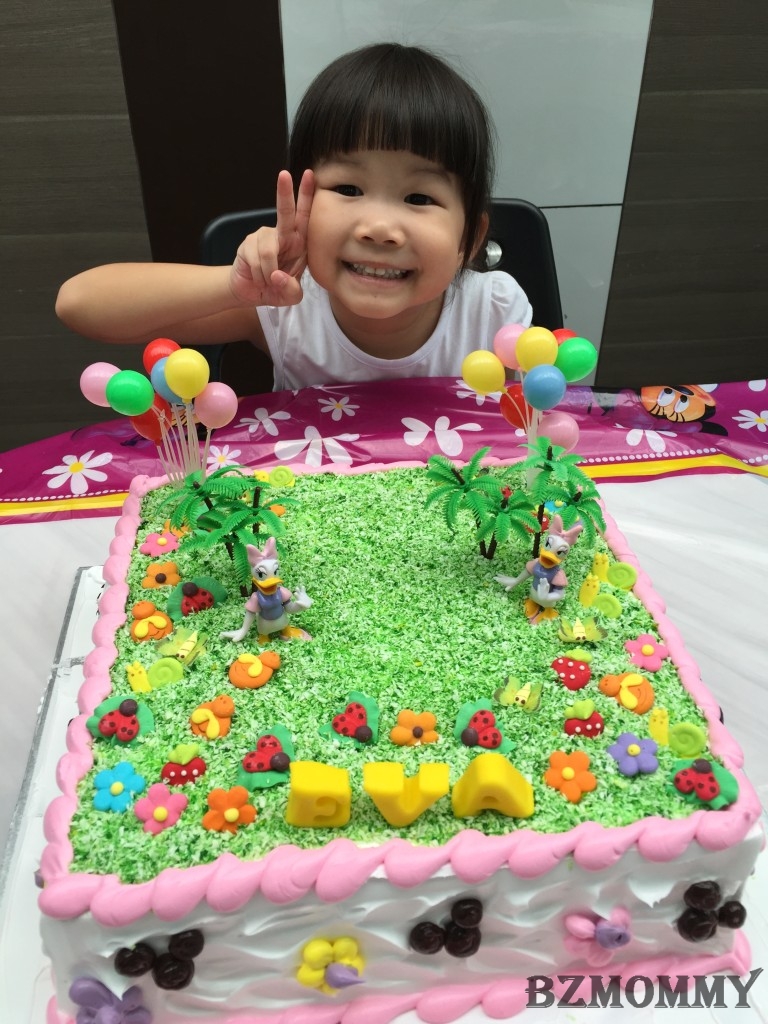 I love this photo of both Dawn & Eva. How many of us parents know that siblings can fight and quarrel behind the scenes (aka at home) but their hearts are still close?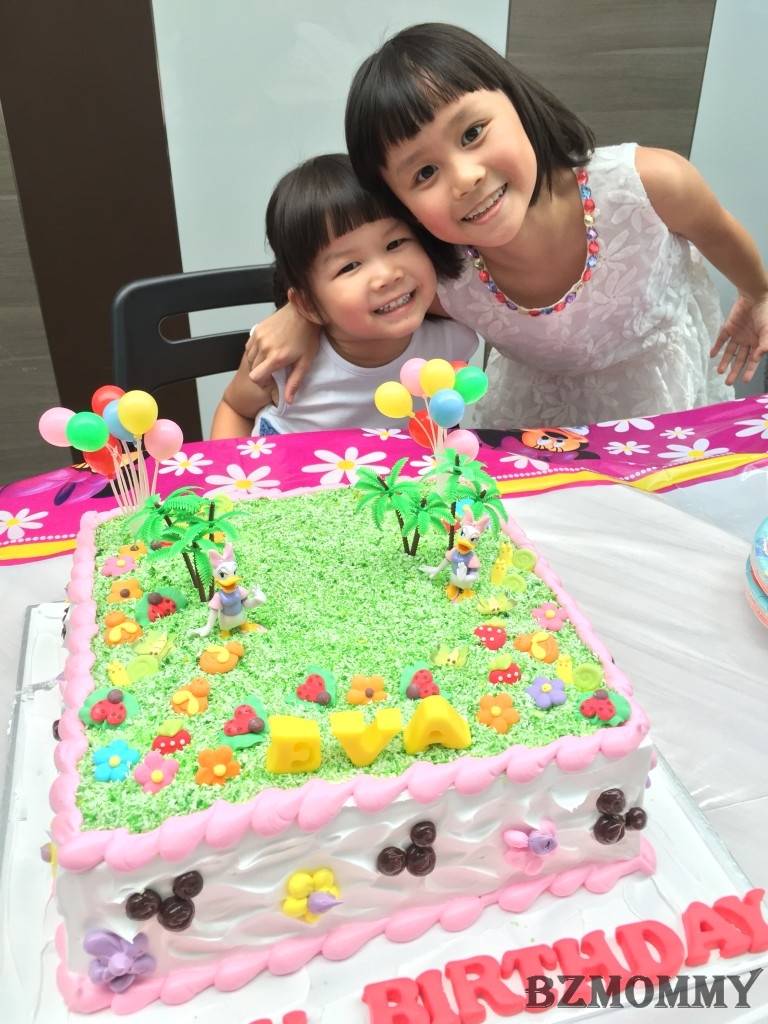 The décor is not anywhere near extravagant. In my opinion, who will really see, be bothered and pick with such things? 😀 The balloons are from the neighbourhood store, and the Minnie balloon is still floating after 3.5 weeks!
The food was from Casserole Catering. Till now, still cannot forget the delicious Chicken Curry.
Sweet Birthday Girl with the muffin which she made together with Jie Jie.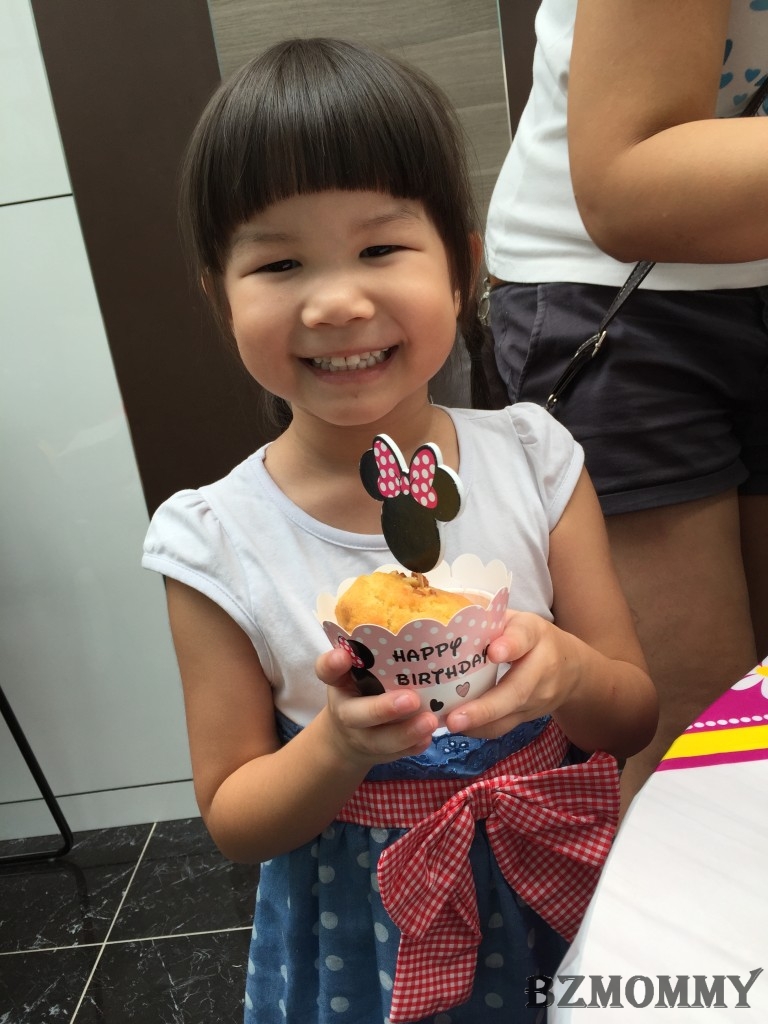 Eva's presents from many aunties and uncles.  Thank you so much!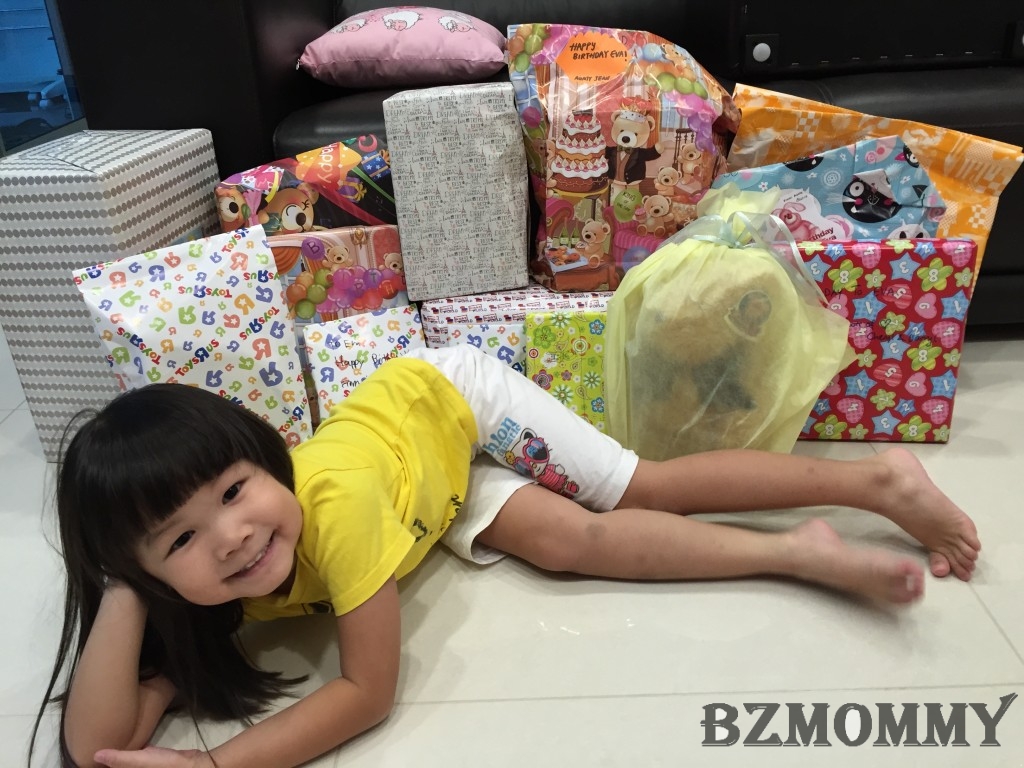 A group of my colleagues bought presents for Dawn as well – so that she doesn't feel left out or that all attention is on Eva. Very sweet of them! 🙂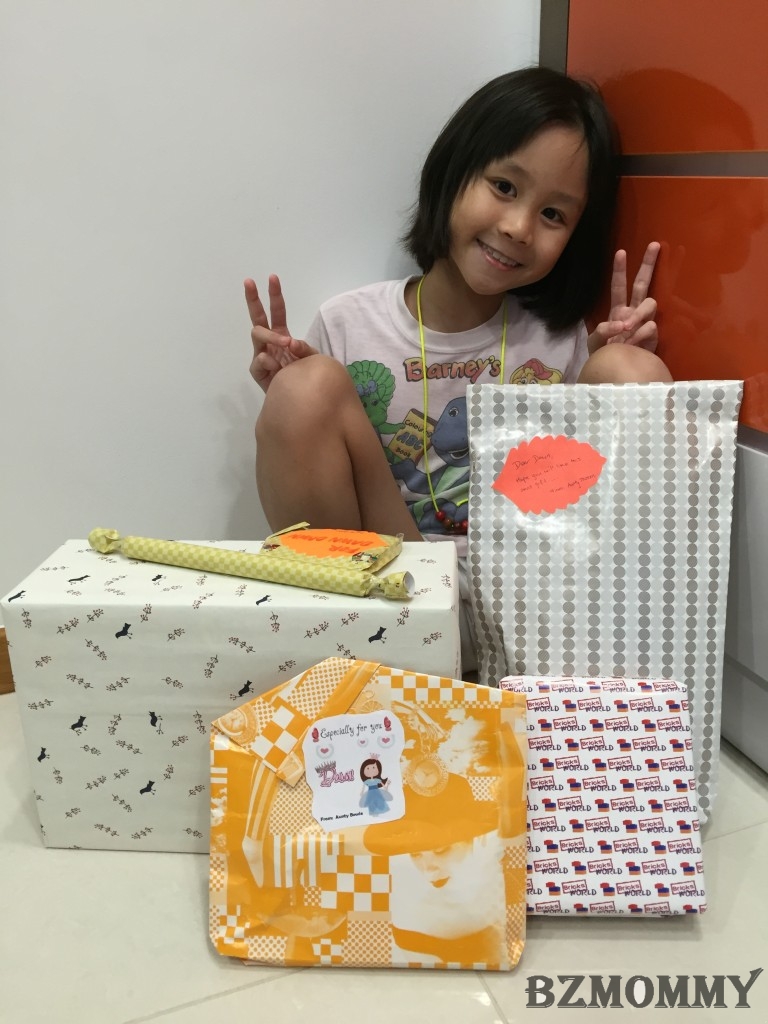 Presents galore….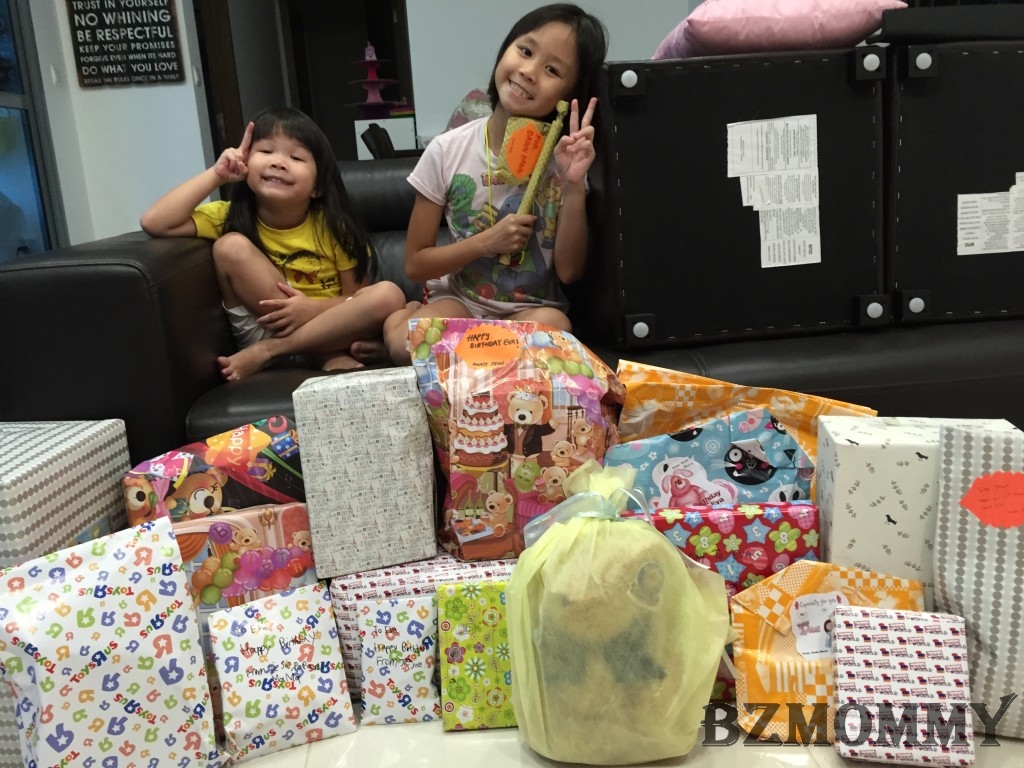 The happiest moment for the birthday girl – opening presents after presents.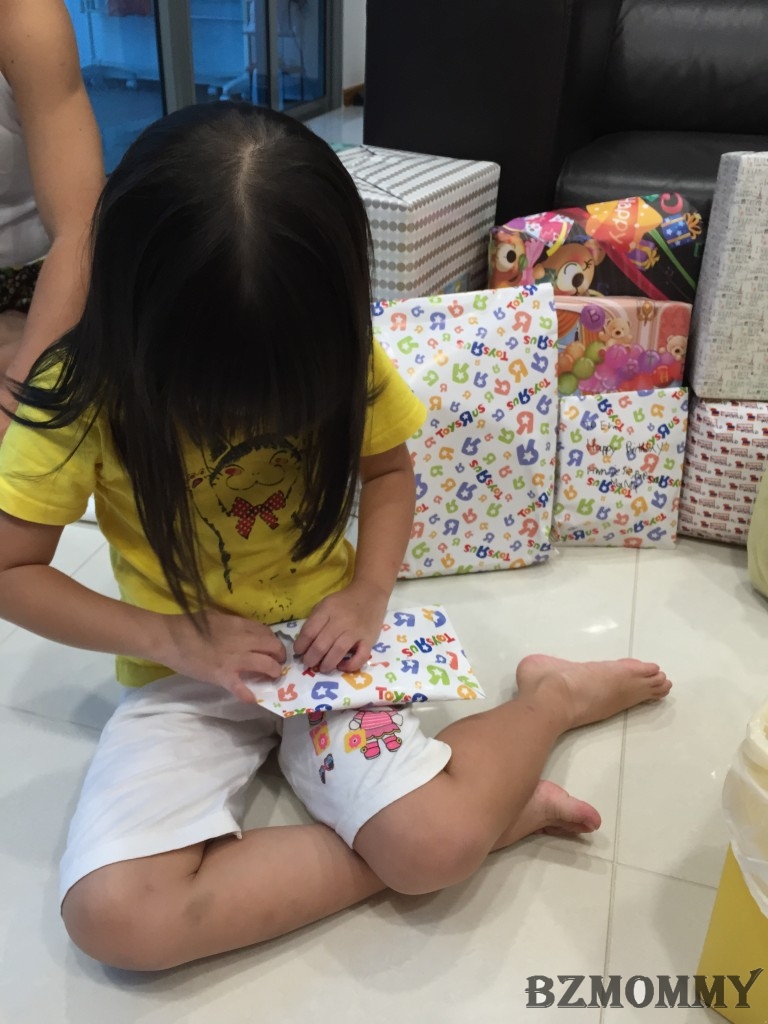 I asked Eva to pose with the balloons, as like how Jie Jie done it 4 years ago.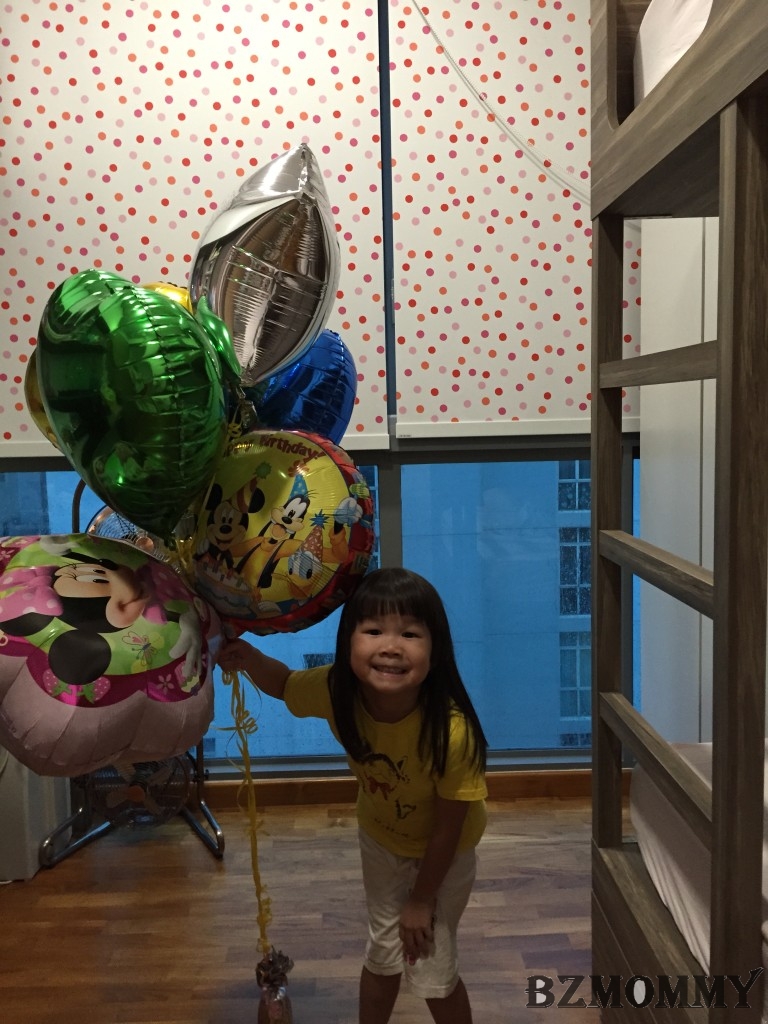 On the actual day of Eva's birthday, we brought the cake and goodie bags to her school. She chose this Strawberry Shortcake design because of her favourite colour – green!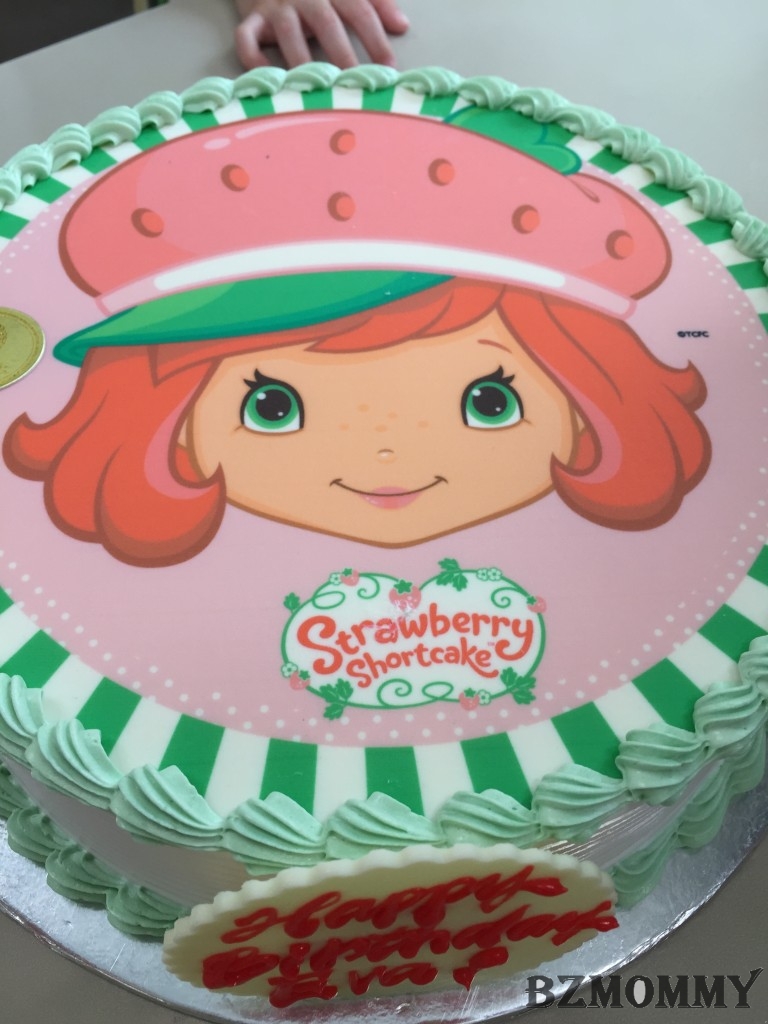 Eva gave out the goodie bags to her classmates. I had to tell the kids that auntie (me) doesn't want to give out sweets & chocolates to little children without their parents agreement, so auntie (me) only put in art and craft item inside the goodie bag.  I know the kids will be kind of disappointed, but well, for the good of the children, even though they are not my kids!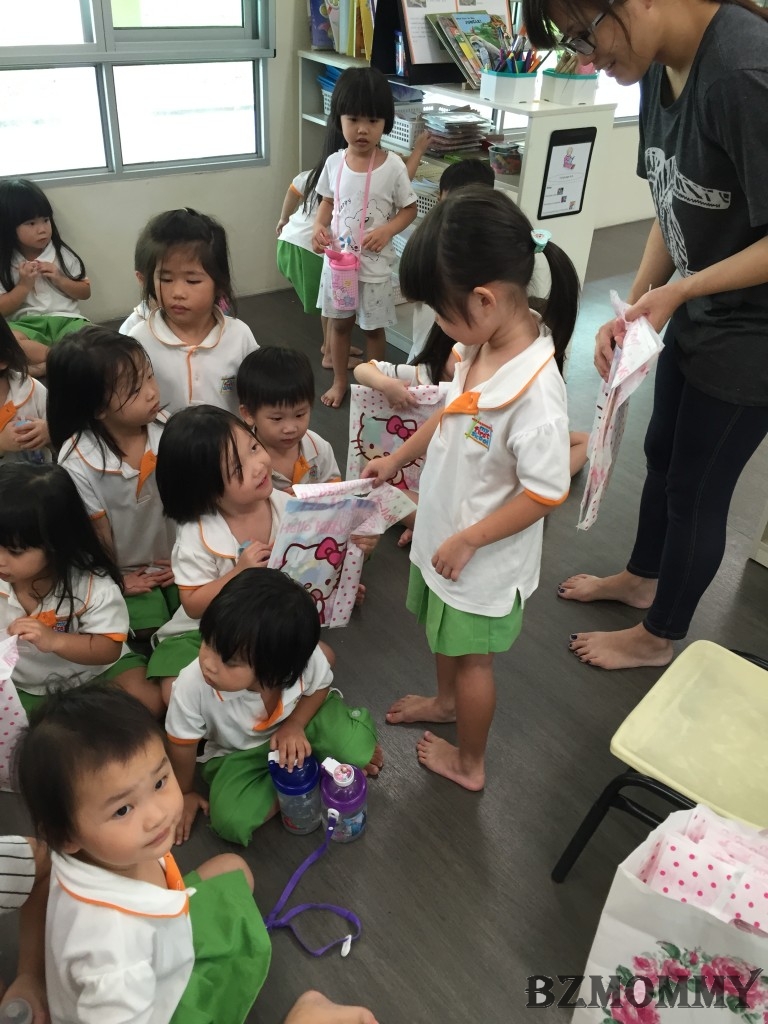 This sums up on Eva's 4-year-old birthday celebrations. These 4 years had been a fruitful time for every aspect of my roles, whether as a parent, mom, wife, daughter, employee, boss etc. The smiles and the things Eva says and does are so priceless that I will not change it for any other things. Simply wish that her kisses and hugs to us will continue as long as we hope for.