A milestone for all of us, Dawn is 4 this year!
We decided to hold a birthday party for her, mainly because this is the age she knows and understands what's a birthday party.  Hope that she will remember this birthday party.
We sent out an invitation via facebook and this is Dawn telling the guests "You Are Invited!" 🙂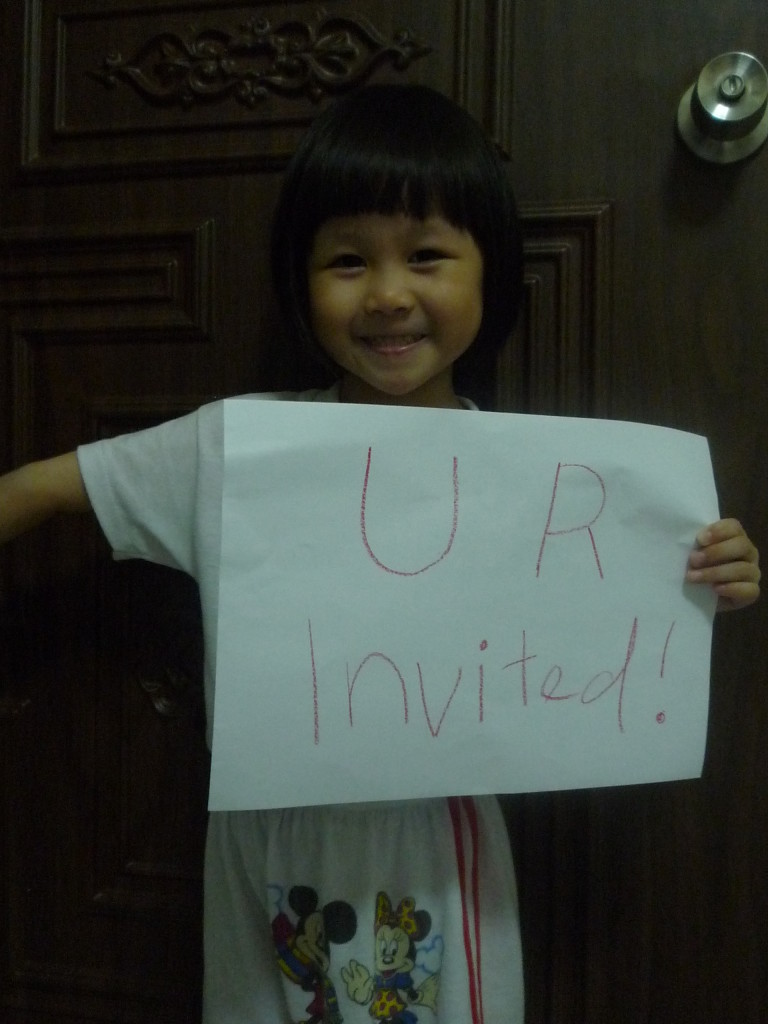 We had the party at my sis's condo's function room.  Dawn wanted a Strawberry Shortcake Birthday cake for this party and thus we decided to have a mini Strawberry Shortcake theme.We did up a simple decoration for the room.
Balloons were sponsored by Kat, my eldest sister, the strawberry shortcake theme balloons are quite worth it 'cos it last for more than 2 weeks!  We had bought Dawn an Elmo balloon before and we do not remember that it last that long.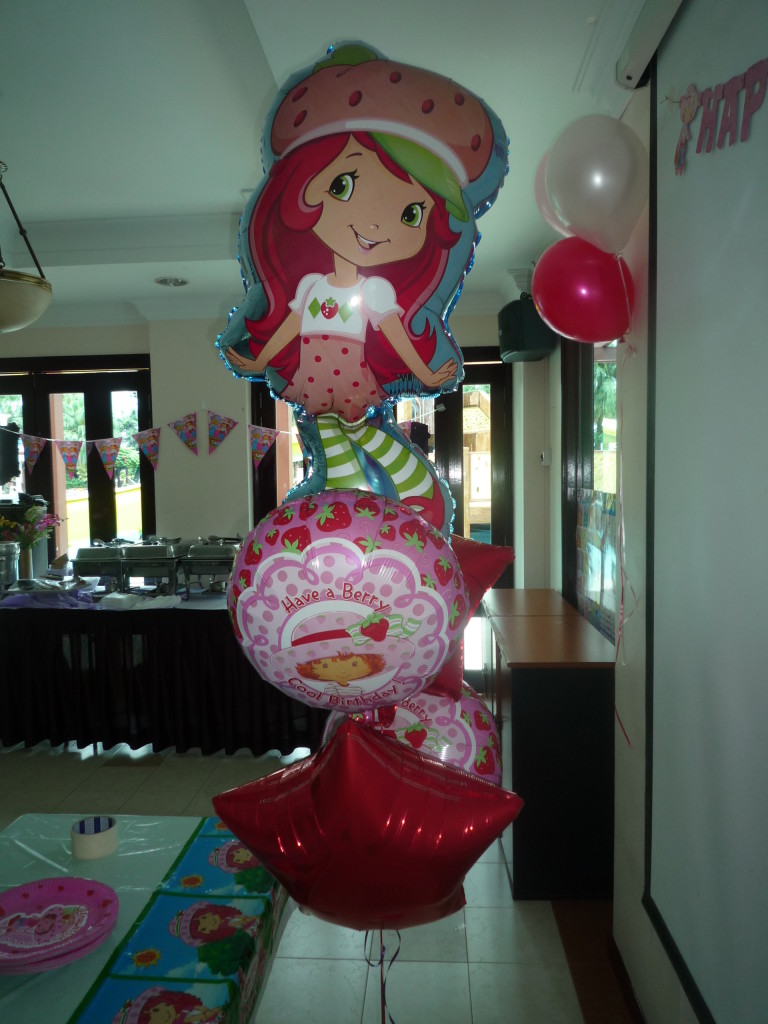 The buffet area, with strawberry flags above.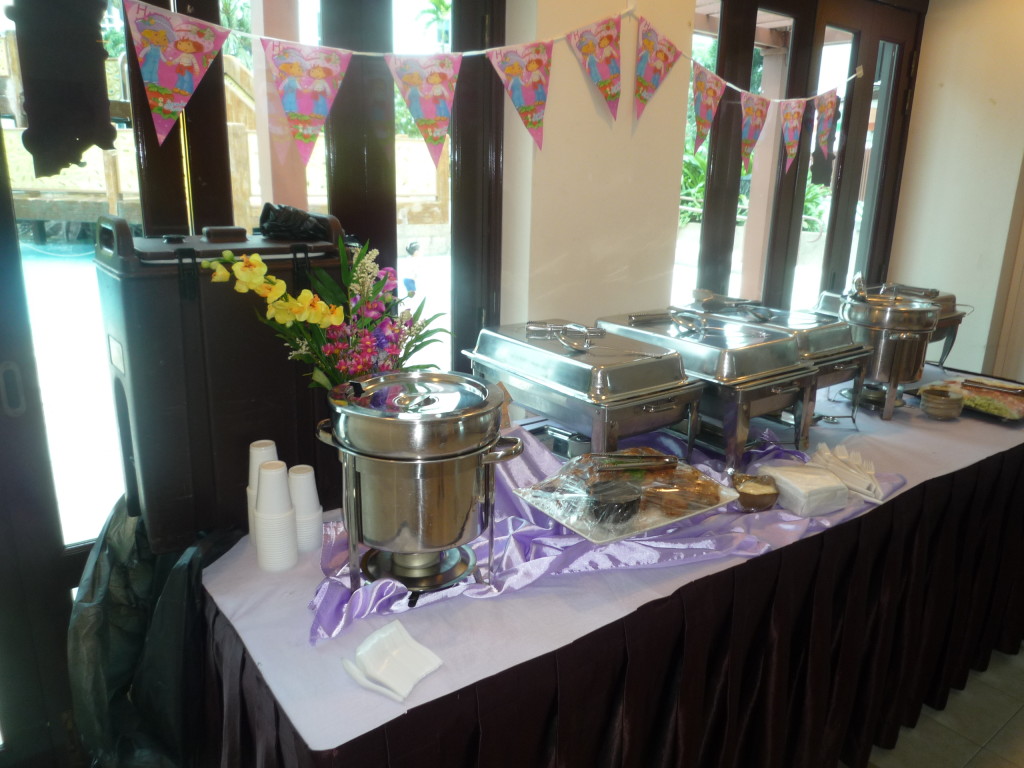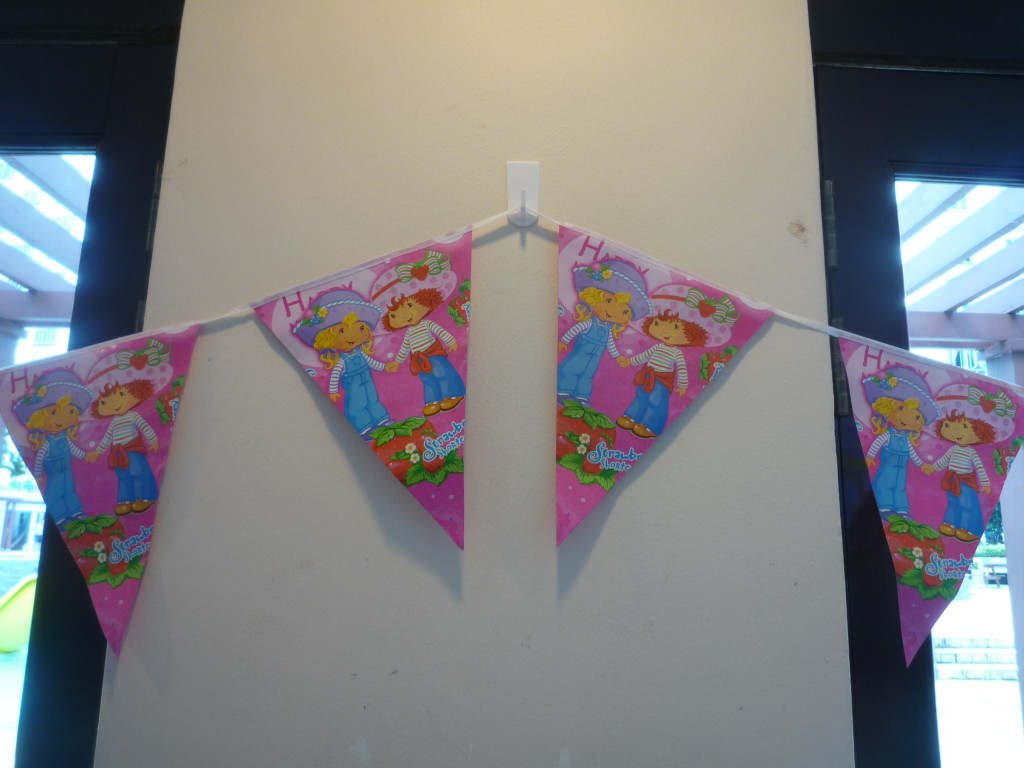 Here's the place where Dawn cut her cake.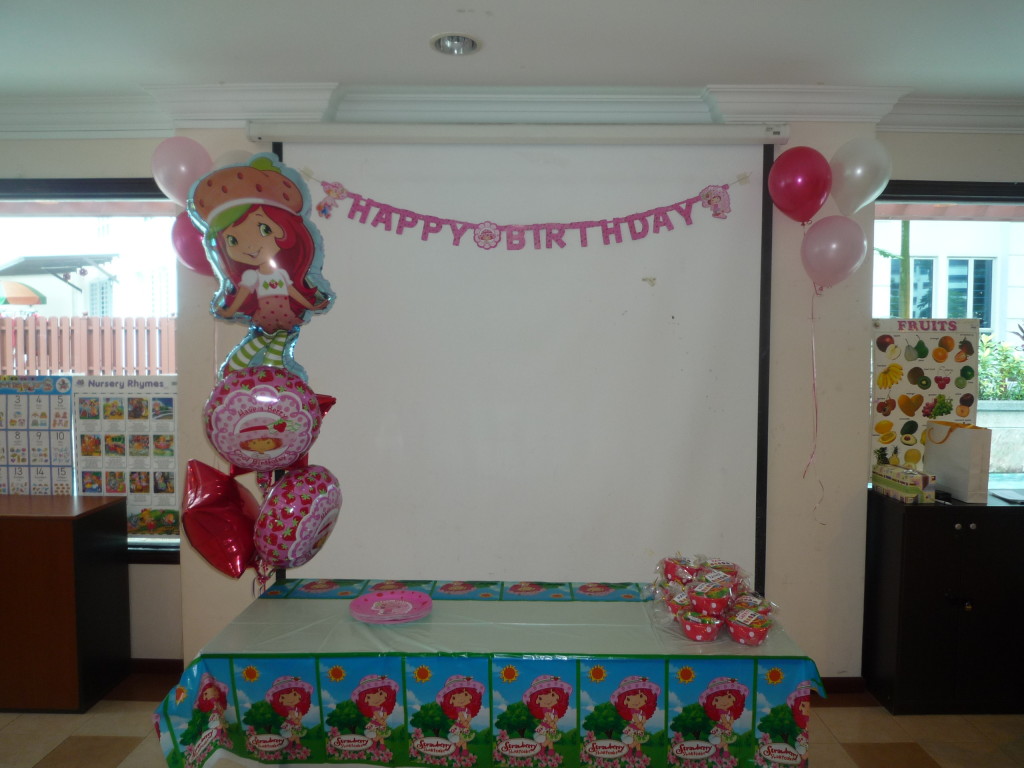 The theme decorations are expensive in Singapore! I managed to find someone selling in some bulk purchase forum and it cost $4 per decor. It cost more than that in party shops!
We also prepared party packs for the little kids.  Dear was sharp to spot a strawberry bowl in Daiso and we were thrilled that our party packs need not have to look plain and yet follow the theme!
Pretty?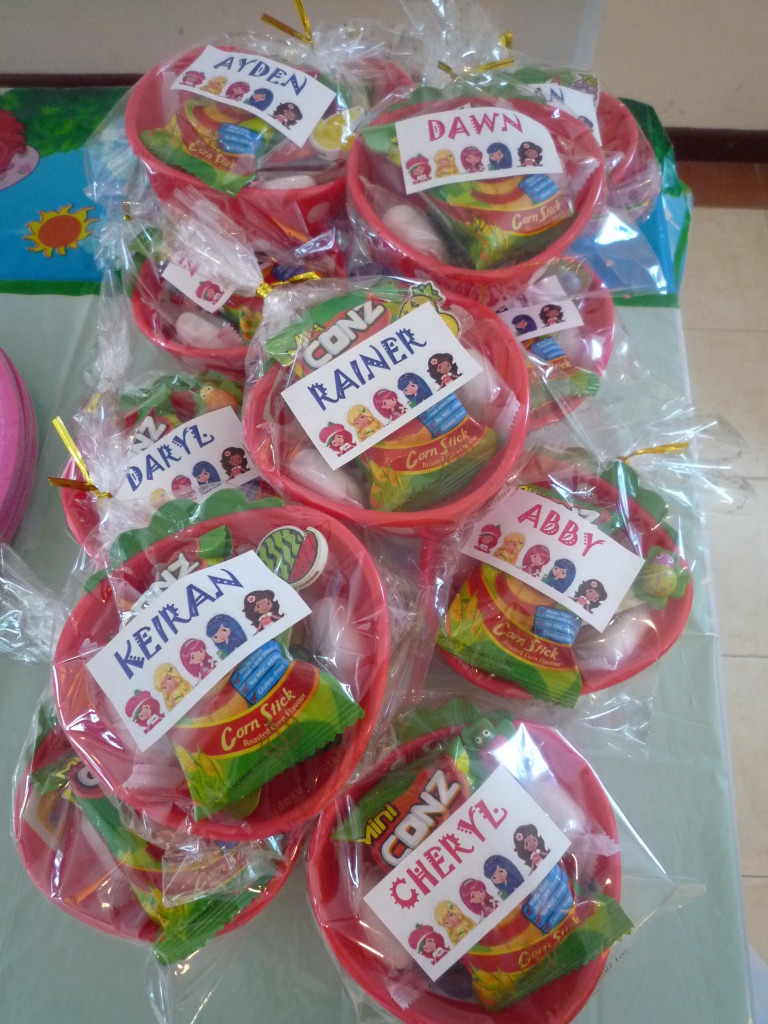 There's one for Dawn too!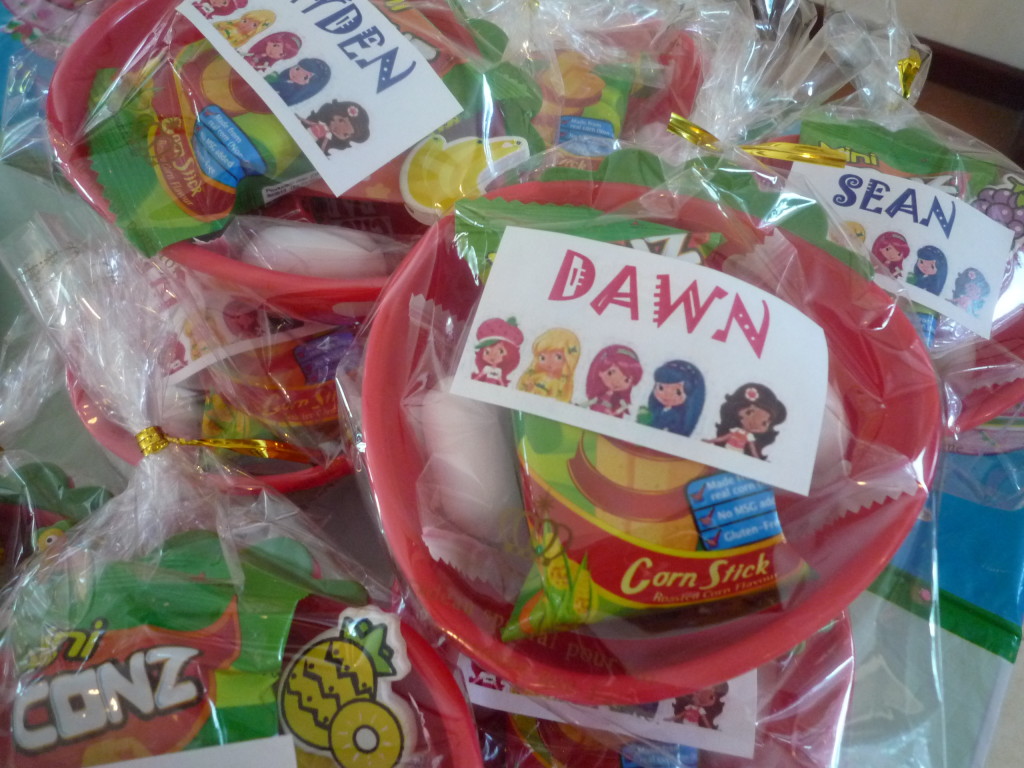 We also have a simple kids corner where there are strawberry shortcake colouring pages, puzzles and stickers for them to be occupied with.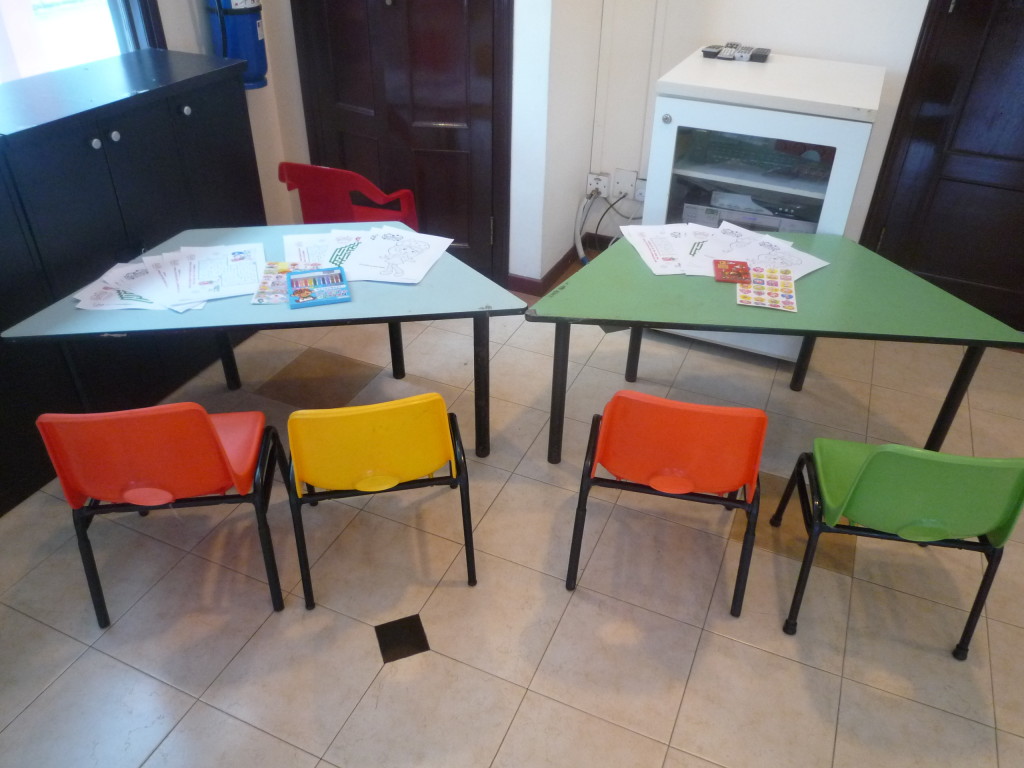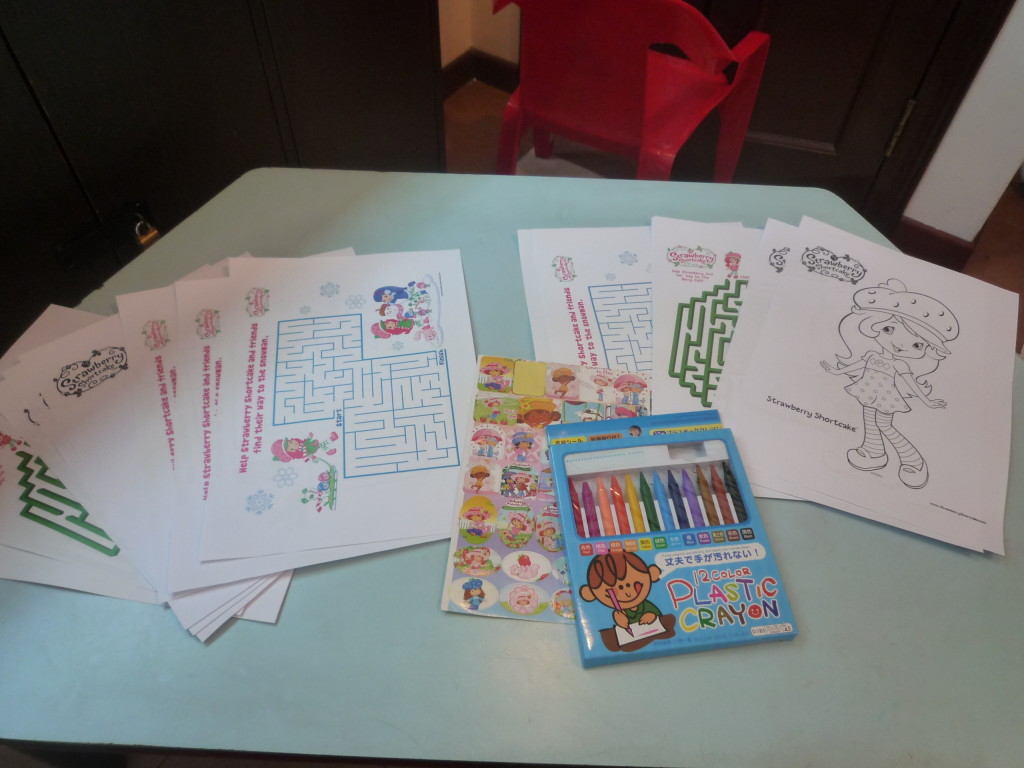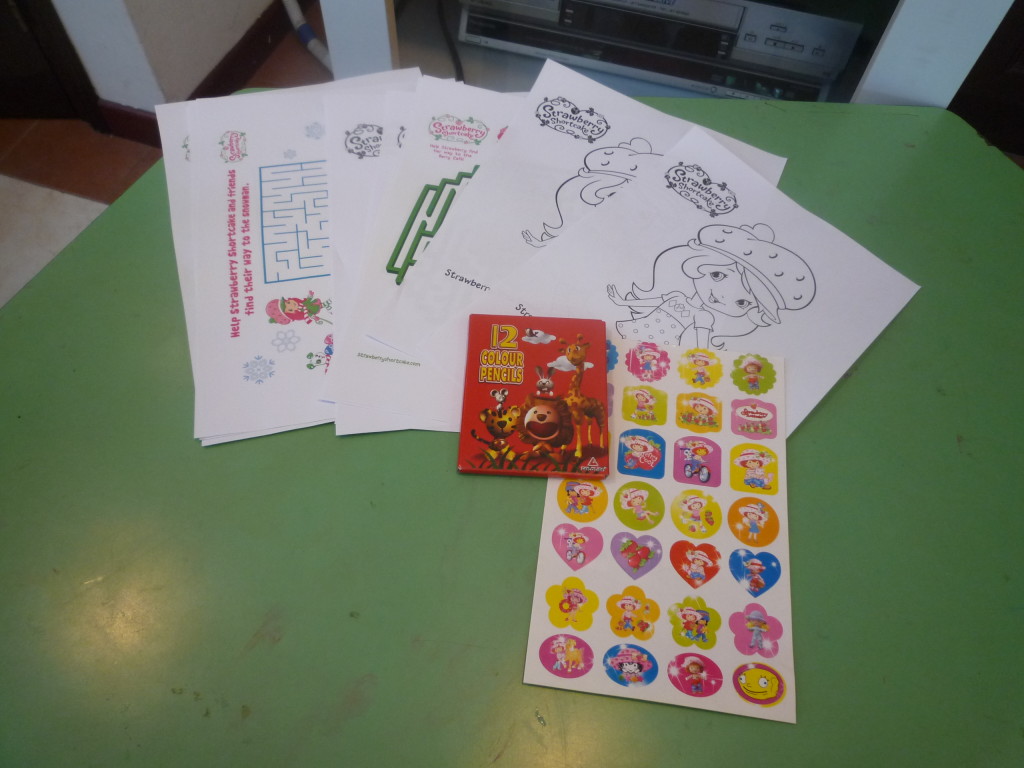 Food~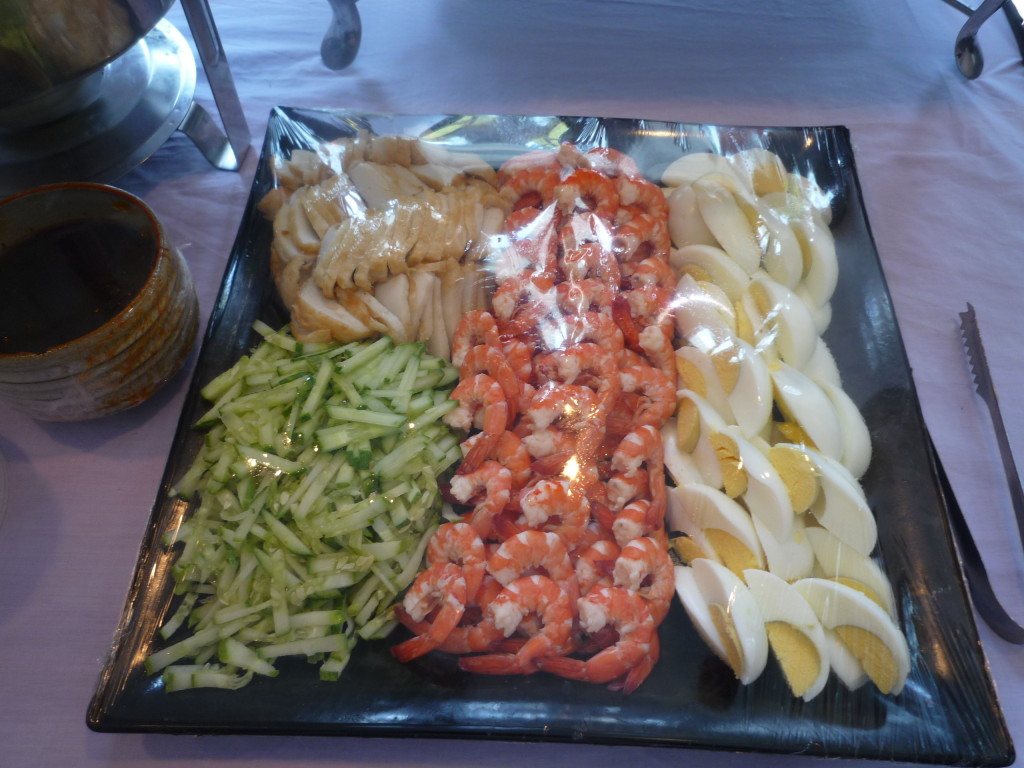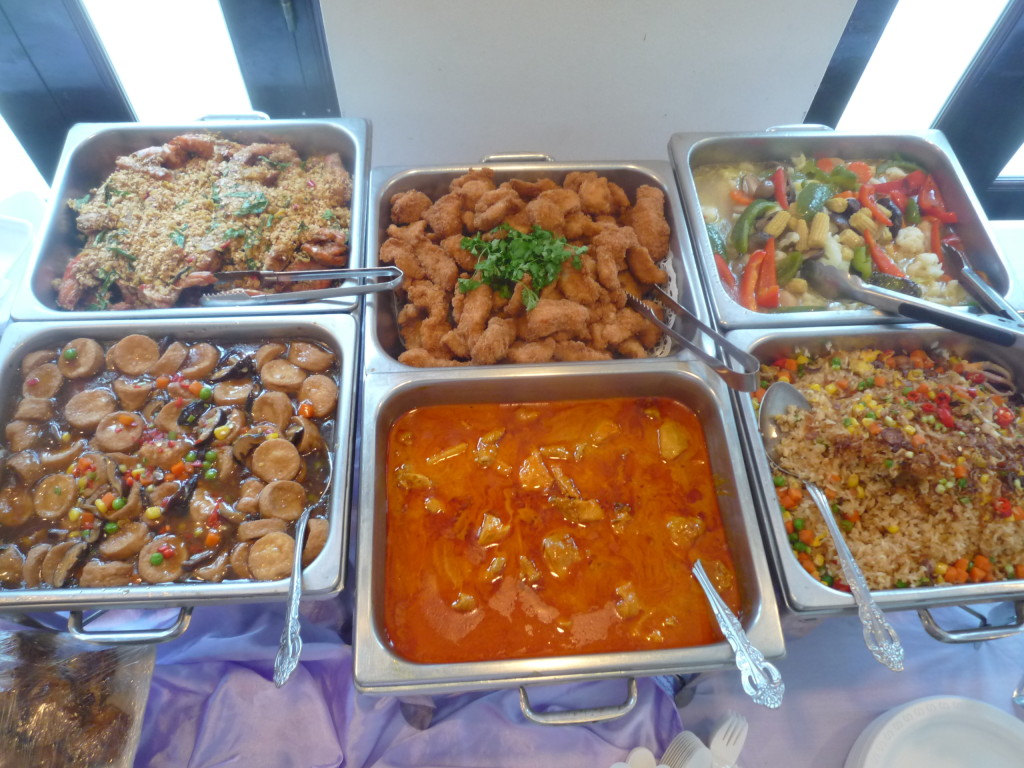 The birthday girl having her lunch before the guests arrived.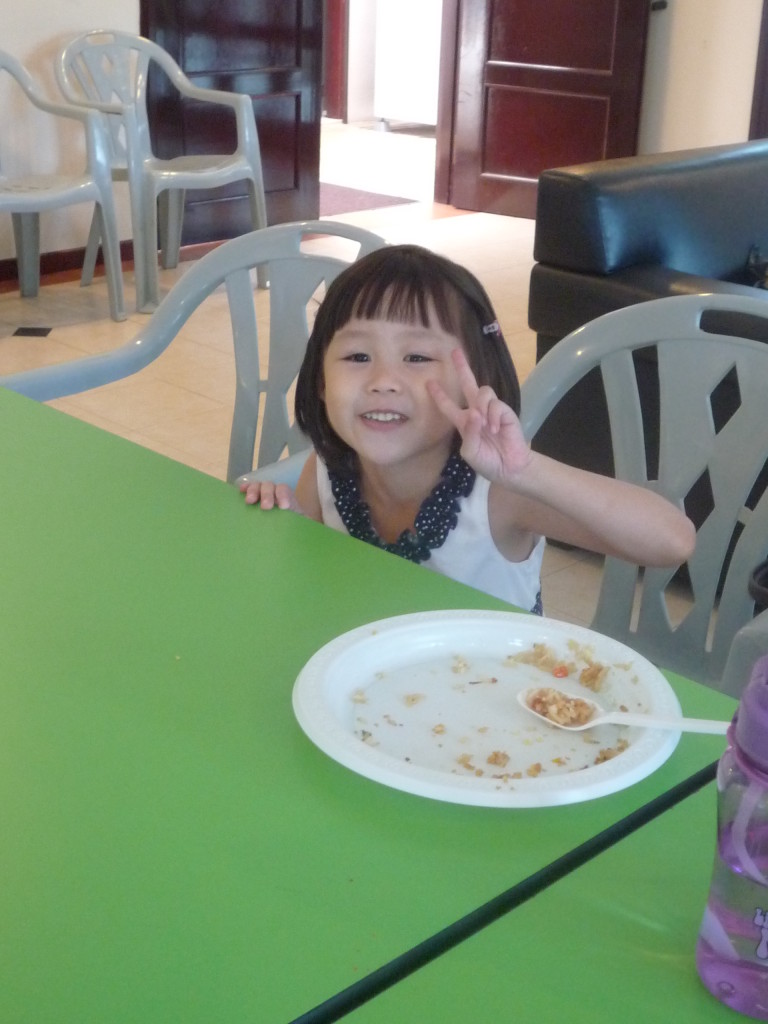 The kids corner was quite popular! I was happy! 🙂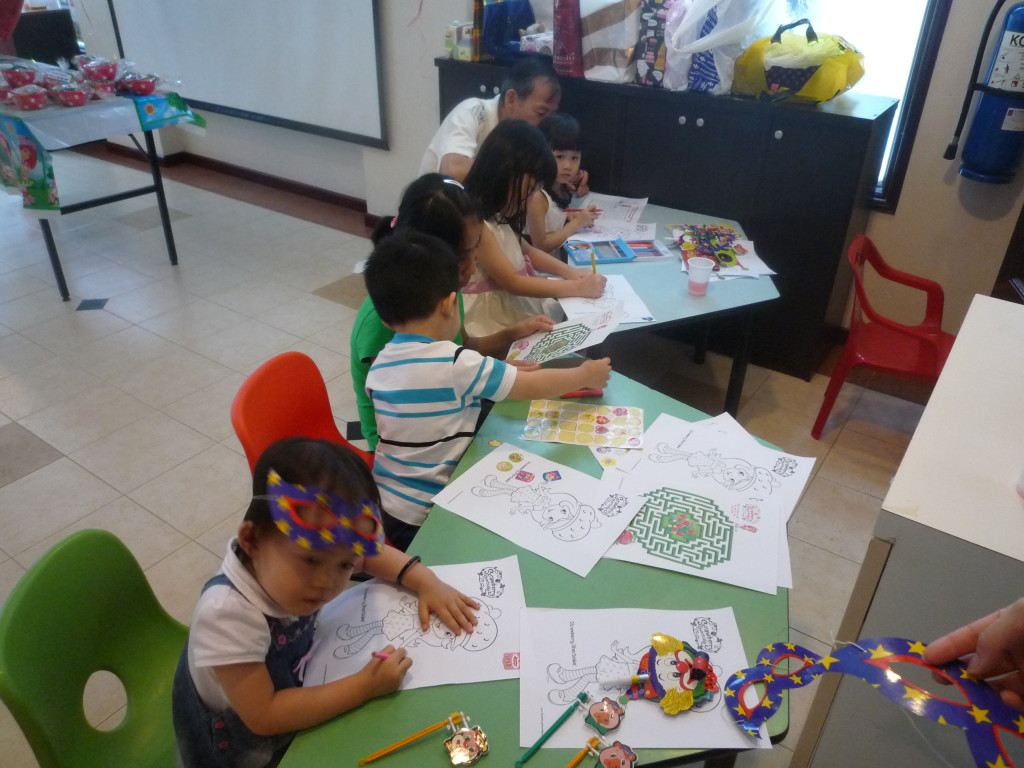 Dawn's birthday cake, from Pine Garden, cost a bomb! But it's nice la…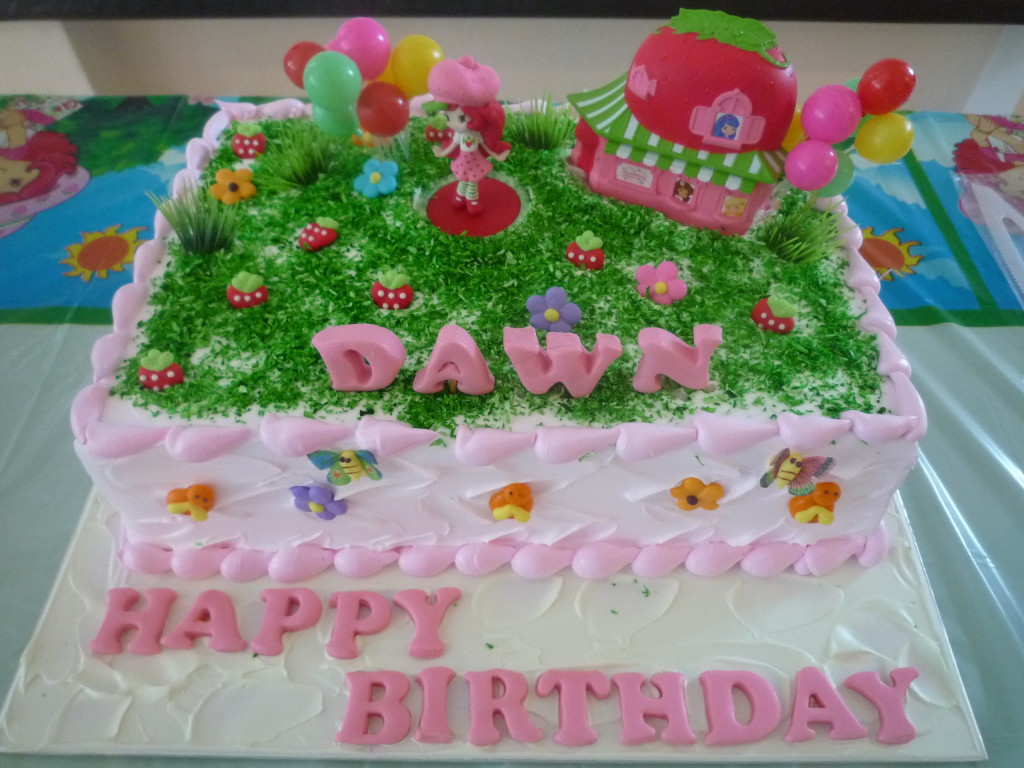 Birthday girl with her birthday cake!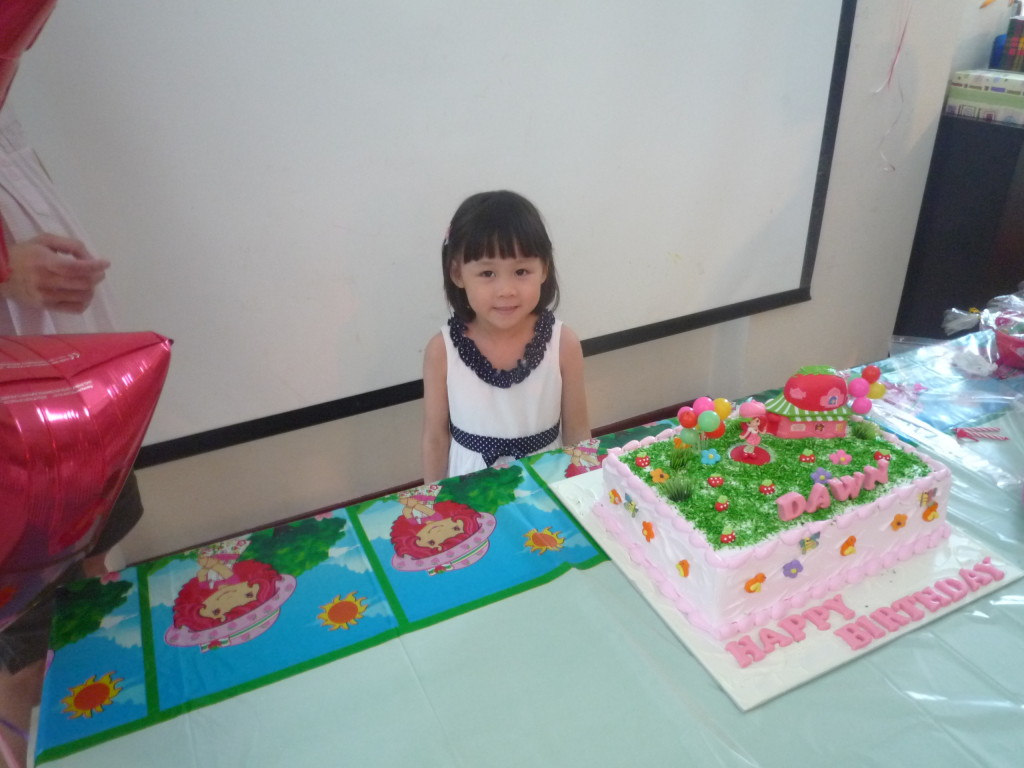 The family 🙂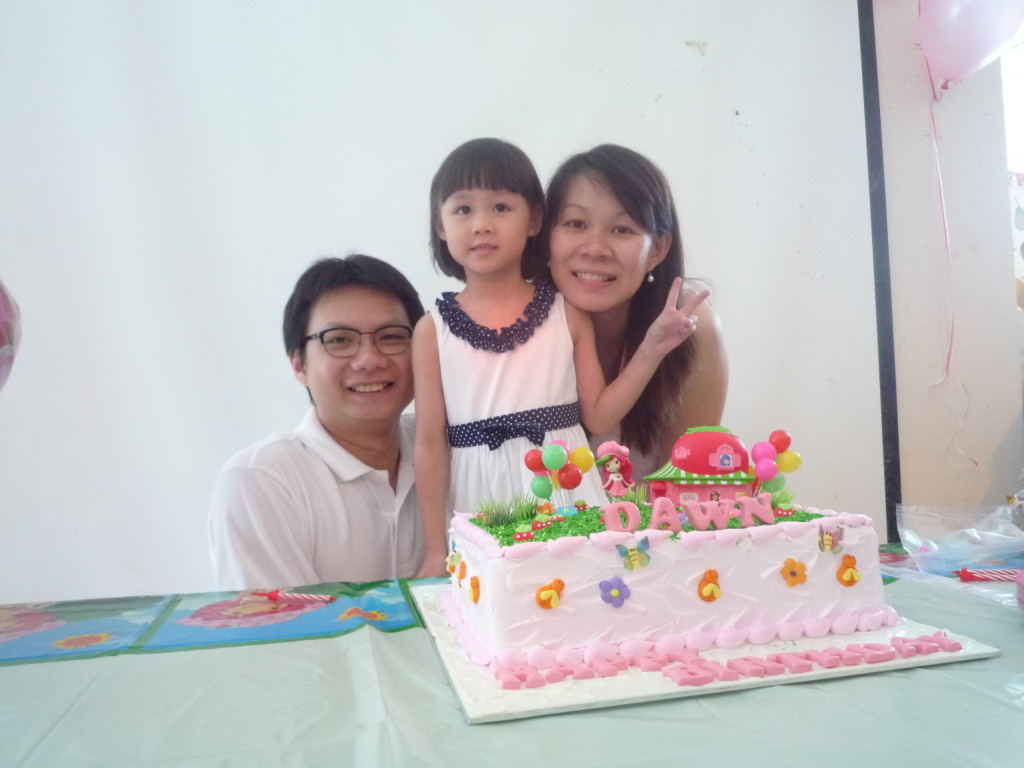 Dawn's face lit up when Daddy lighted the candles.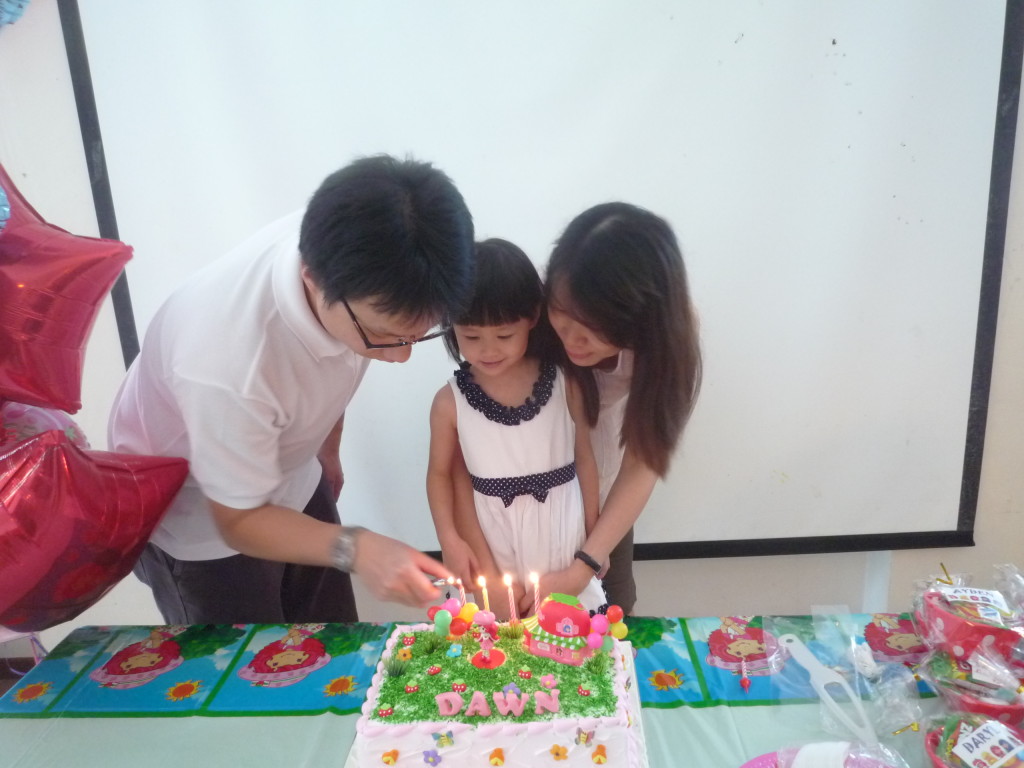 Singing the birthday song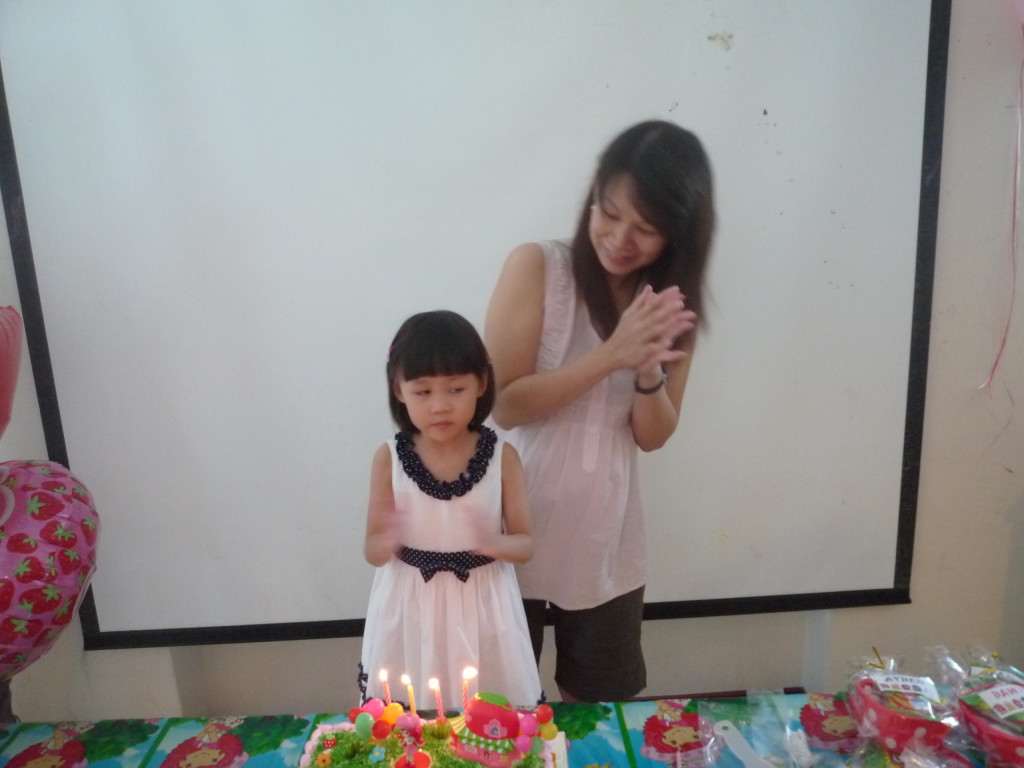 Making wishes….I wonder what she made?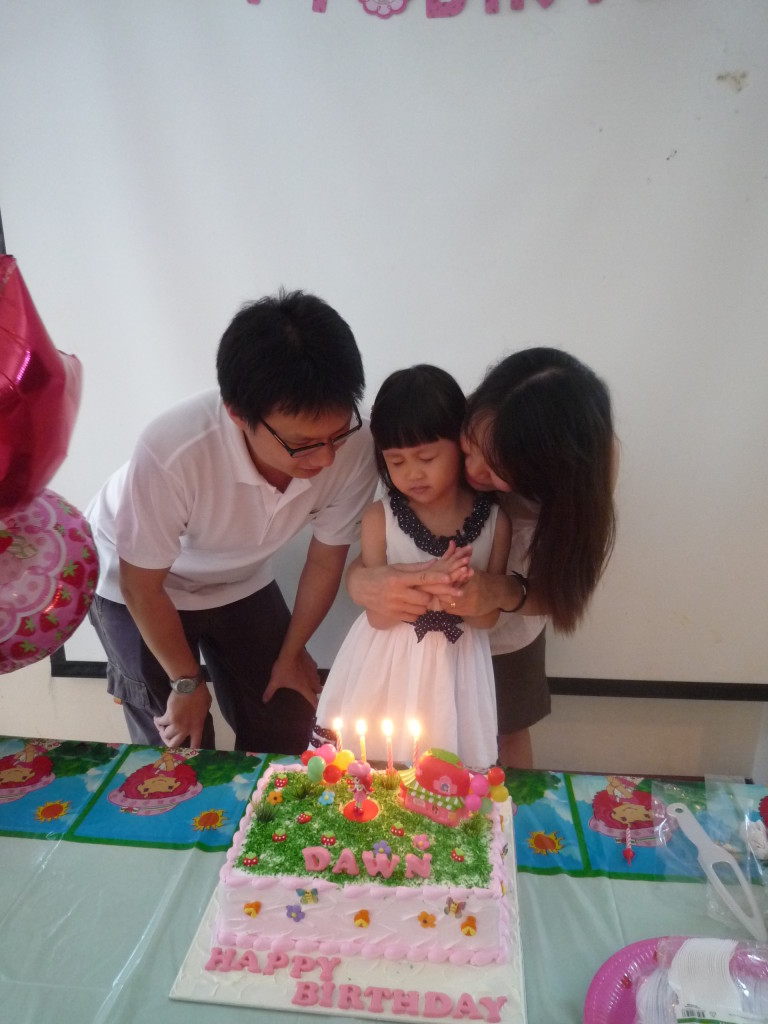 Blowing the candles and cutting the cake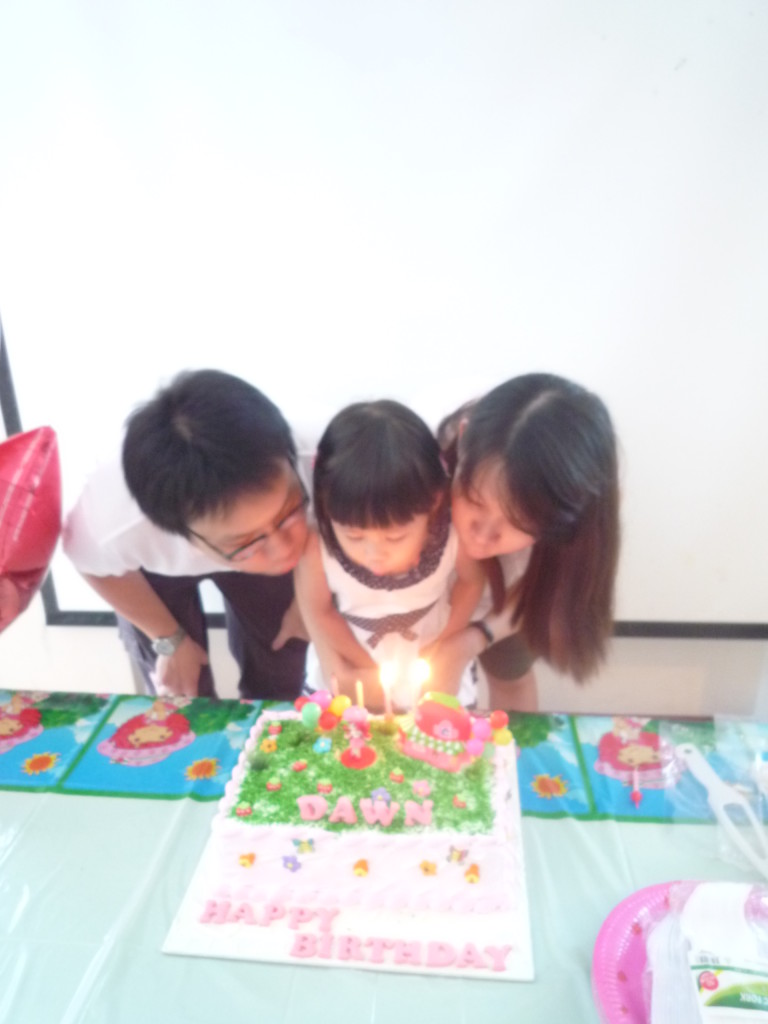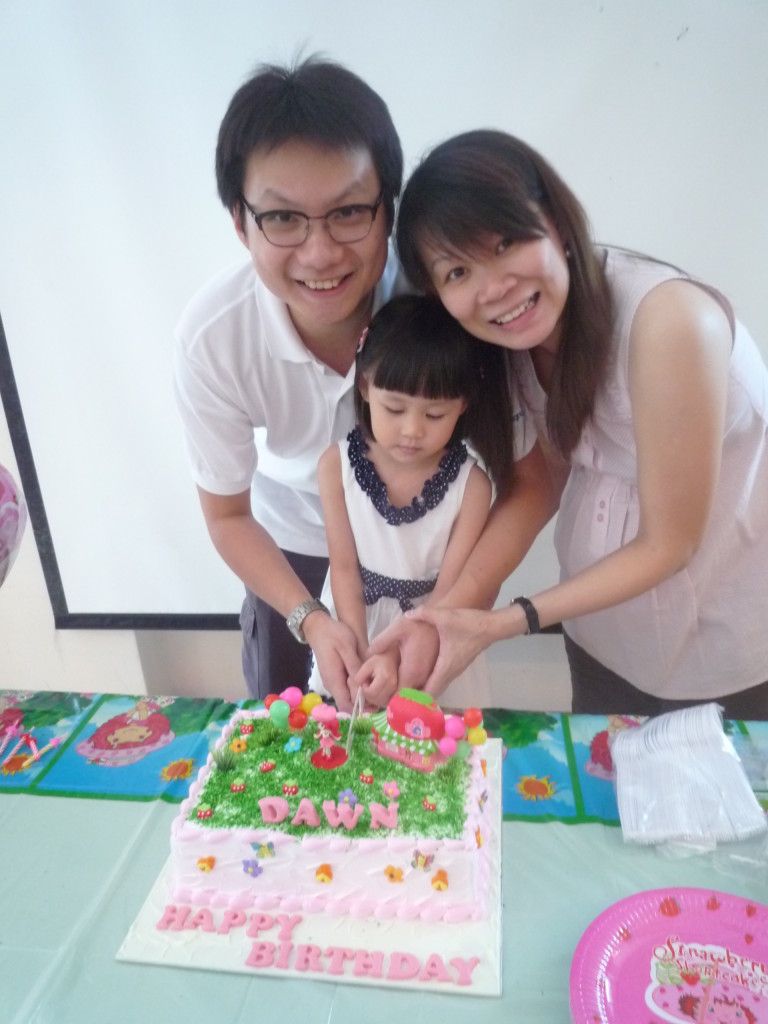 Dawn received a lot of presents  and she can't wait to open them all! Now I know why children love presents because Dawn's face really lit up whenever she managed to tear the wrapping paper…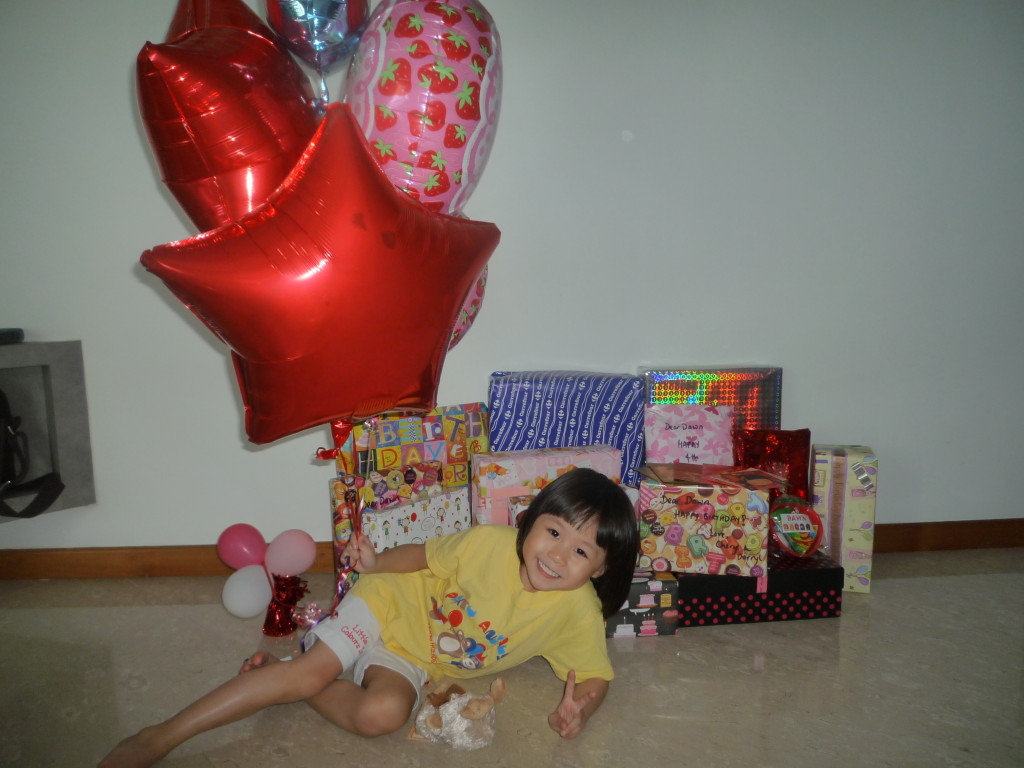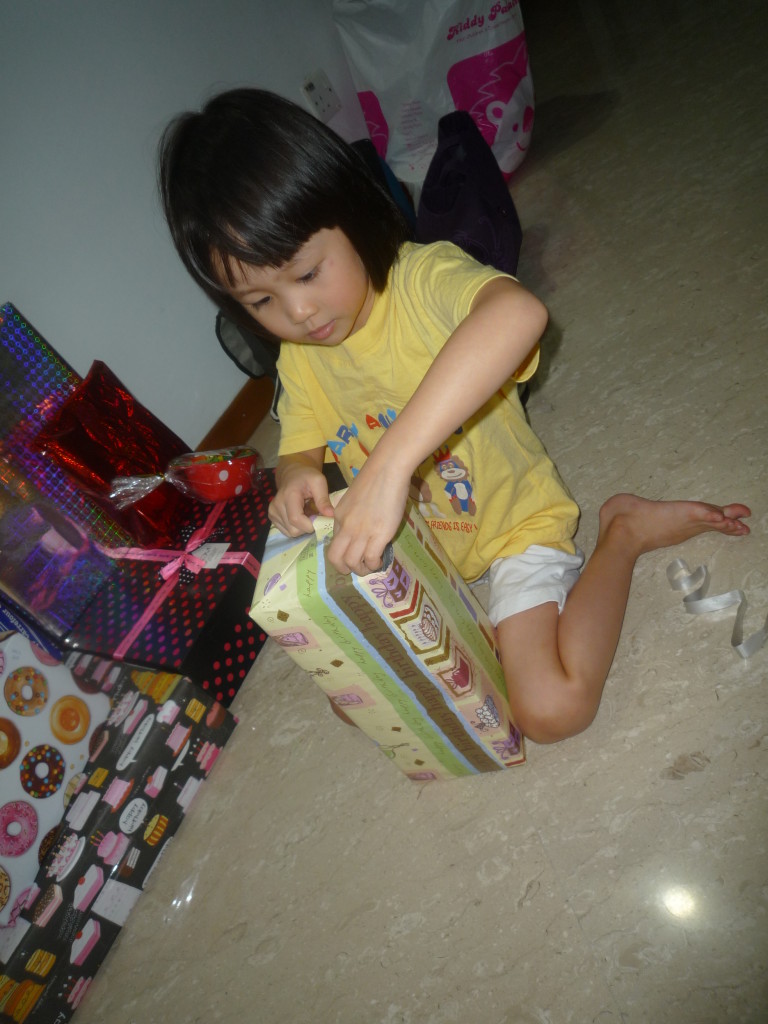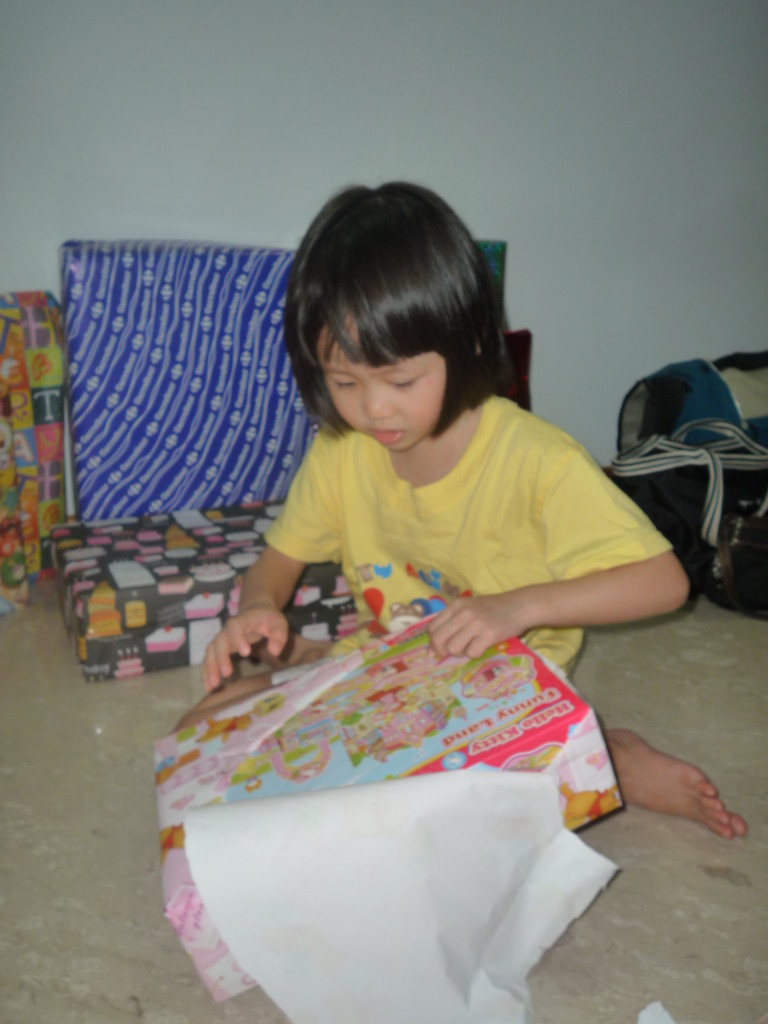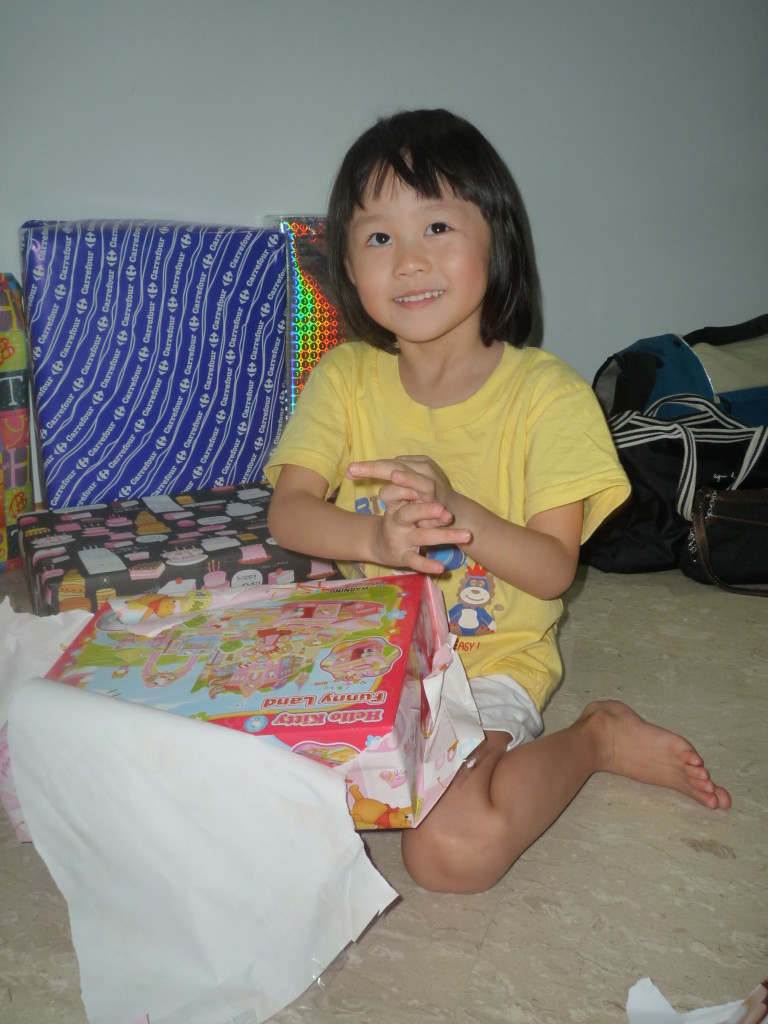 Dawn with the balloons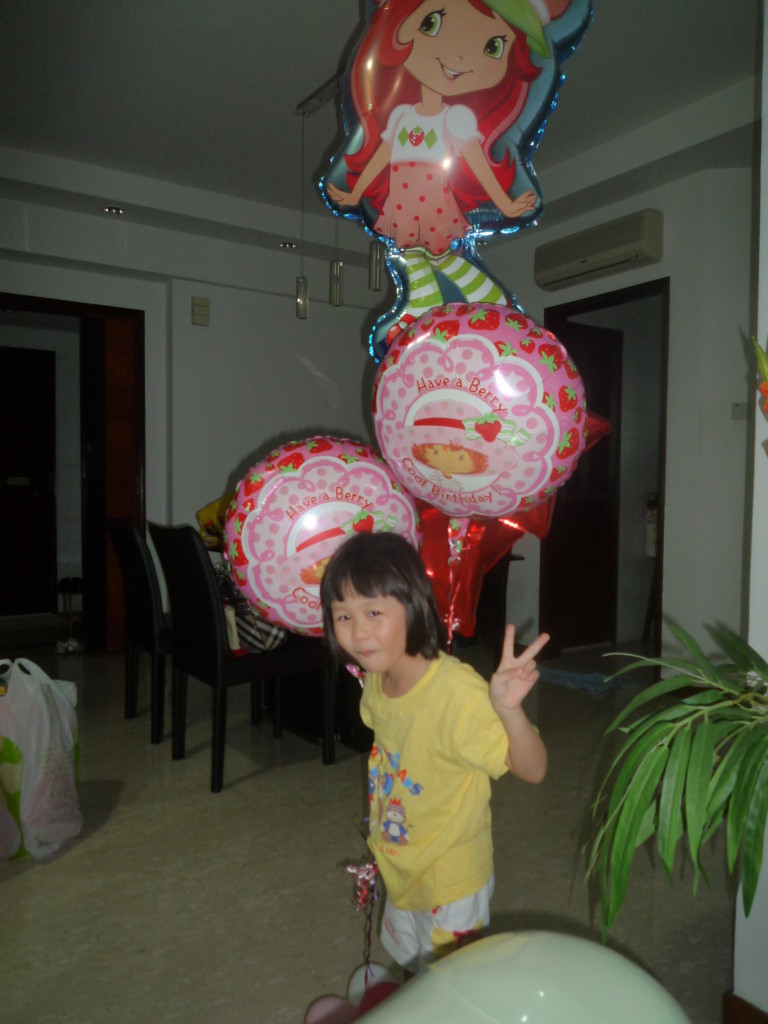 Dawn had another mini party in school on her actual day and she requested for a Barney cake.  This is the cake which she chose :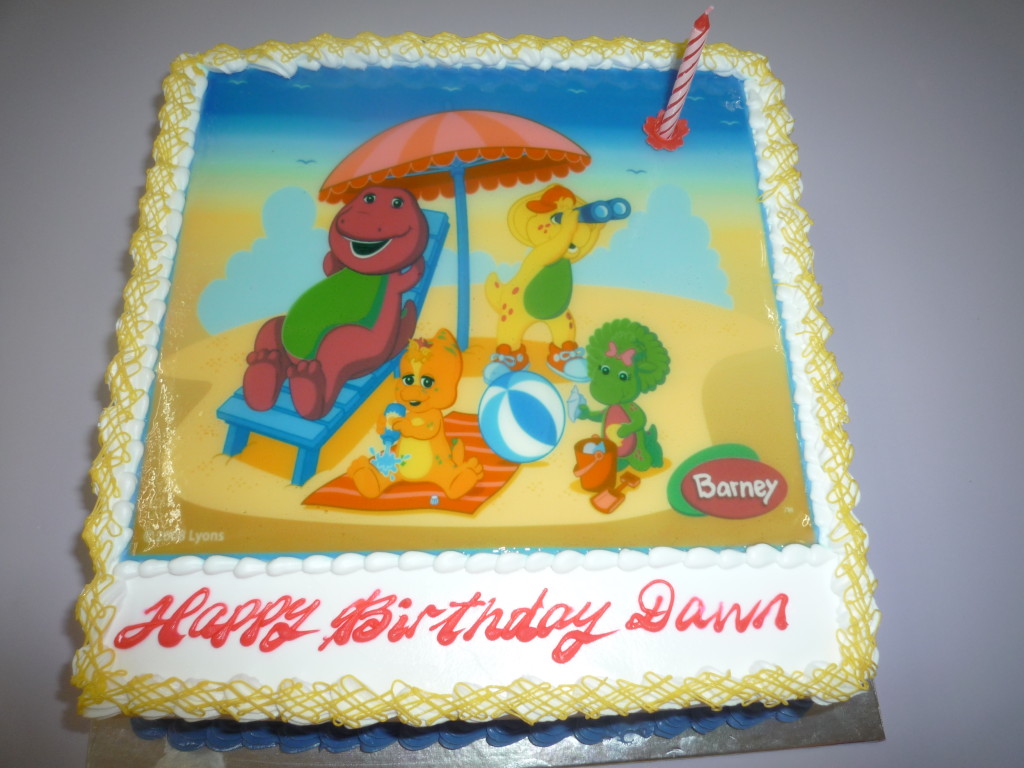 Dawn with her cake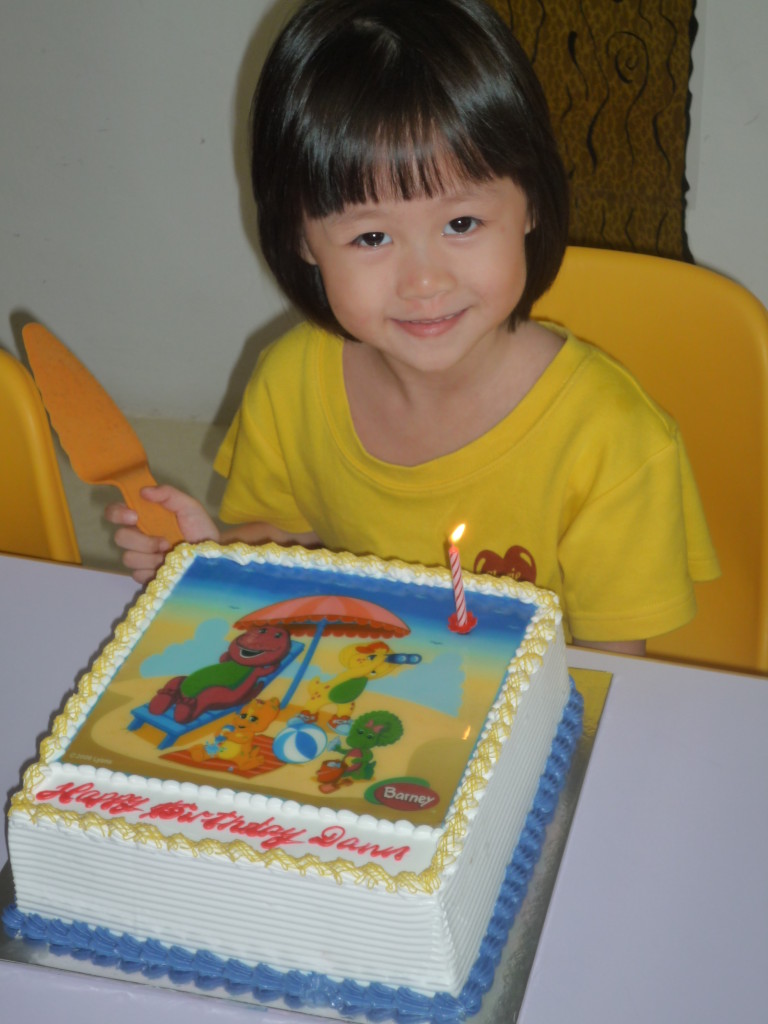 With mummy and daddy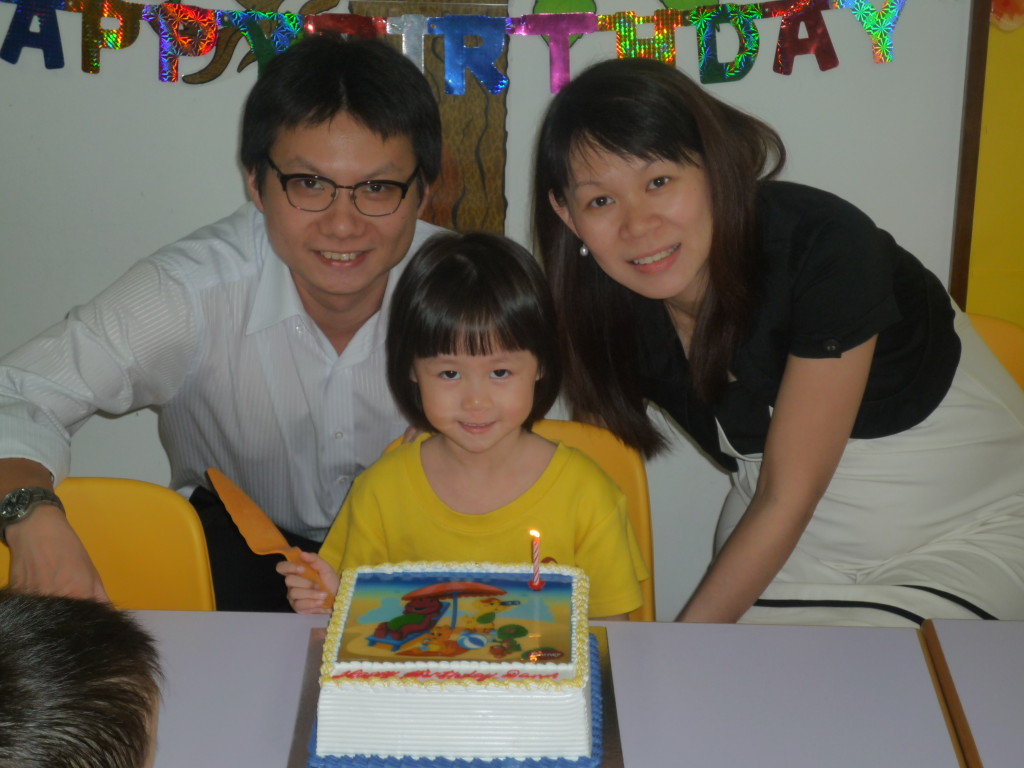 With her classmates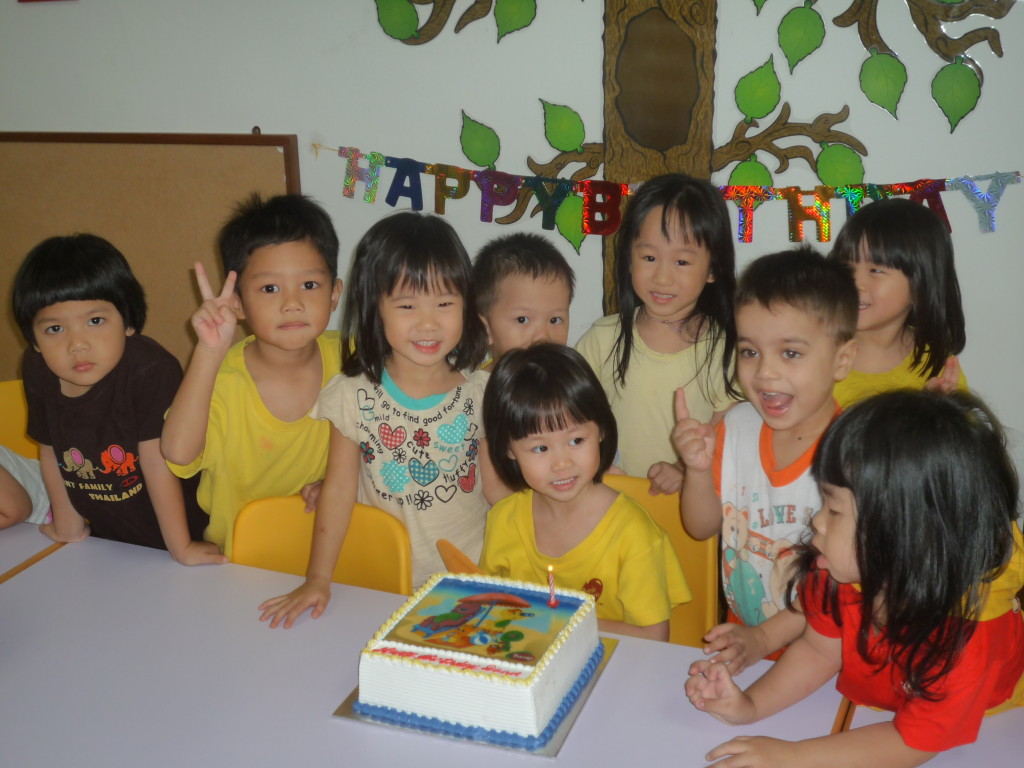 And singing the birthday songs…they did it in 3 languages!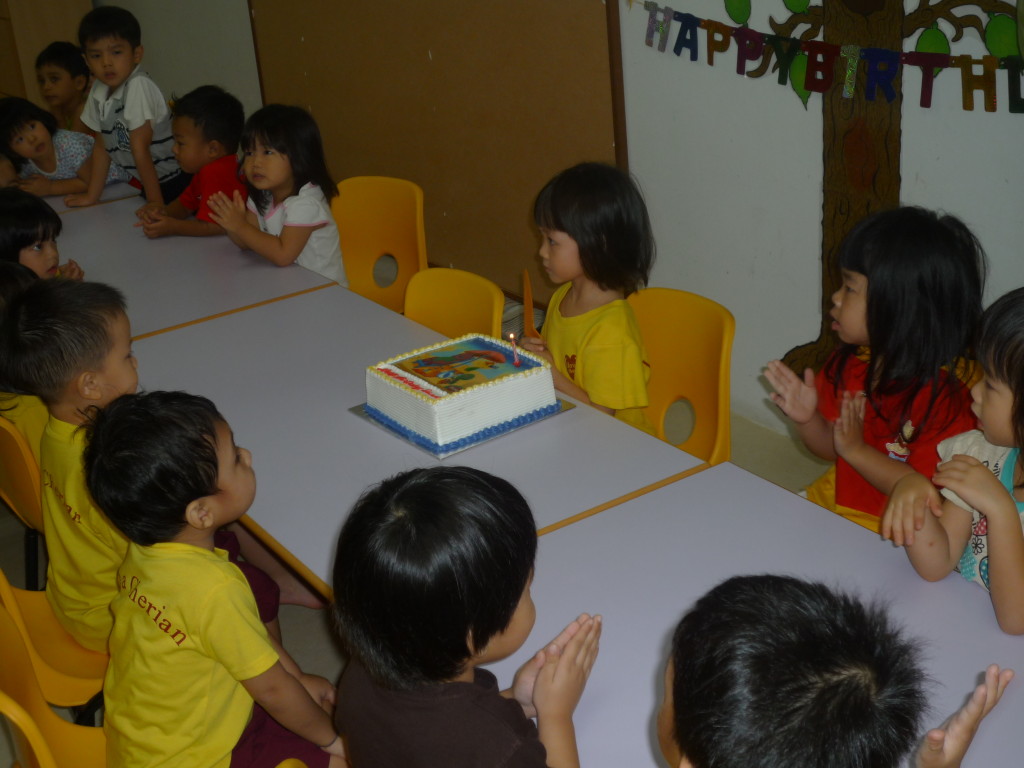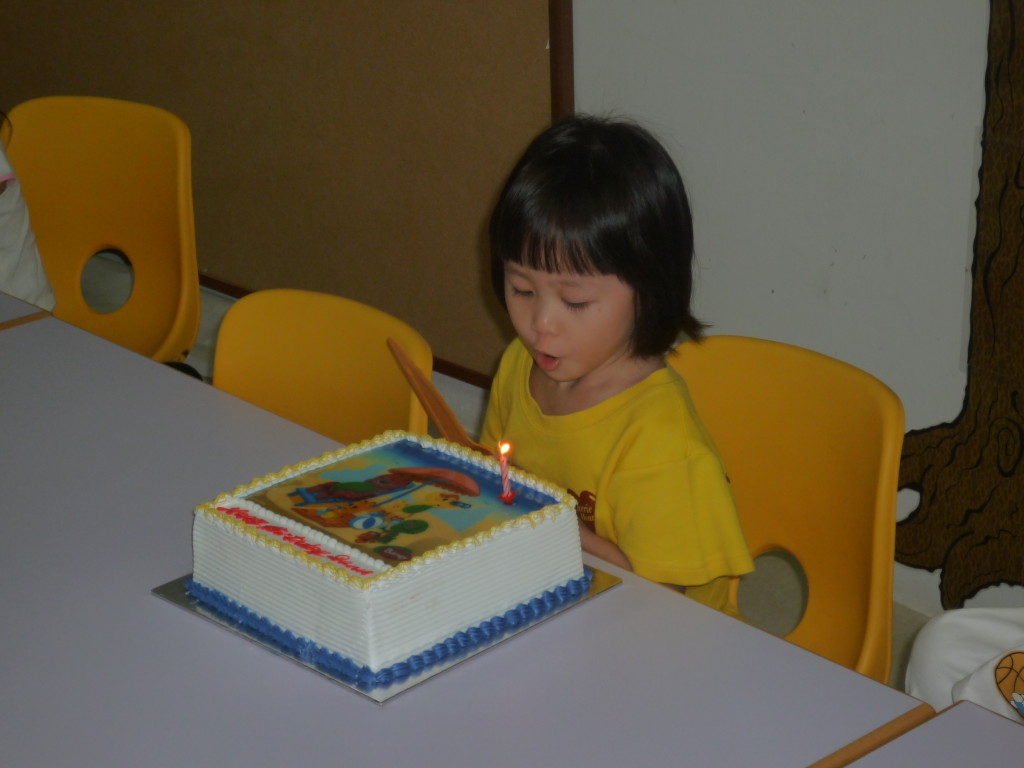 Dawn cut her own cake without any help too!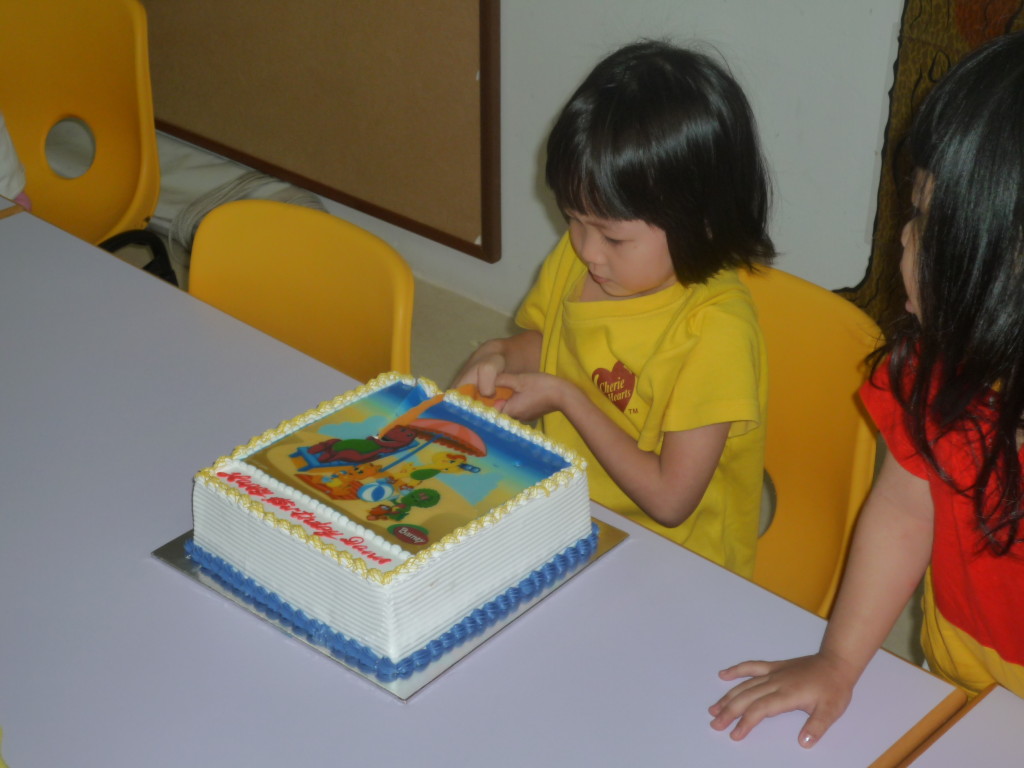 Yummy Yummy!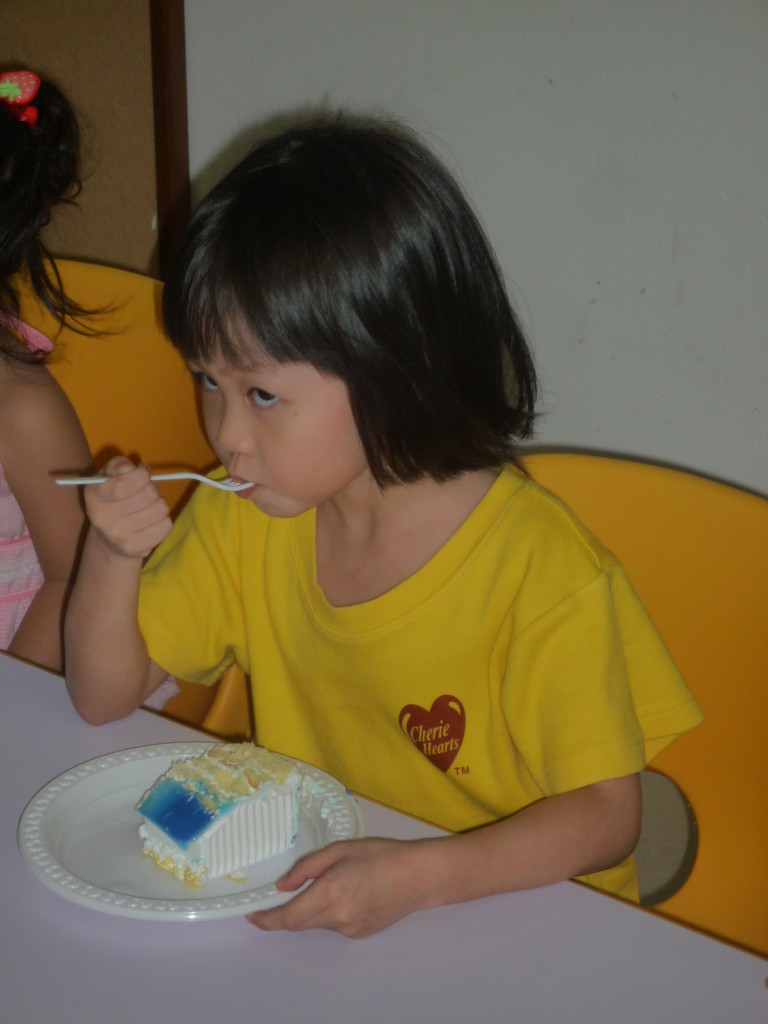 It's really a long 4 years.  To see her grow, to see her progress in her speech and intellectual, to see her getting more independent… There's definitely a sense of "accomplishment" for see her grow.