This is nothing new to most of us.  With an aging population and increasing prices, I cannot help to be concerned about whether we have save enough for our own old age. Are you?
Even though it is NOT something new to me, and knowing that it is better to "start early than later" kind of theory, how many of us are really doing enough about it?  After our daily expenses plus the fixed commitment, and the expenses on the children, how much are we left with each month to save or invest? I do not know about most of the people around us, but it can sometimes be depressing to look at myself.
I never really thought of looking at the magic number for the longest time in my life, probably I do not want to be depressed further. However, as what most will say, knowledge is king! And so I must know!
So, I need to find out 2 things:
The magic figure that I need for my retirement years, and
The gap that I need to close in order to reach the magic figure by my retirement age.
I did a search for "Retirement Calculator" and was directed to a few local sites that offer an online retirement calculator. It is important to use a local site because it may be closer to our standard of living.
And guess what?
NTUC Income suggested that I need $555,000 based on the retirement lifestyle that I have chosen. And that's $1,850 per month for 25 years of retirement.
I moved on to try Aviva Retirement Planner and this is what the planner suggested: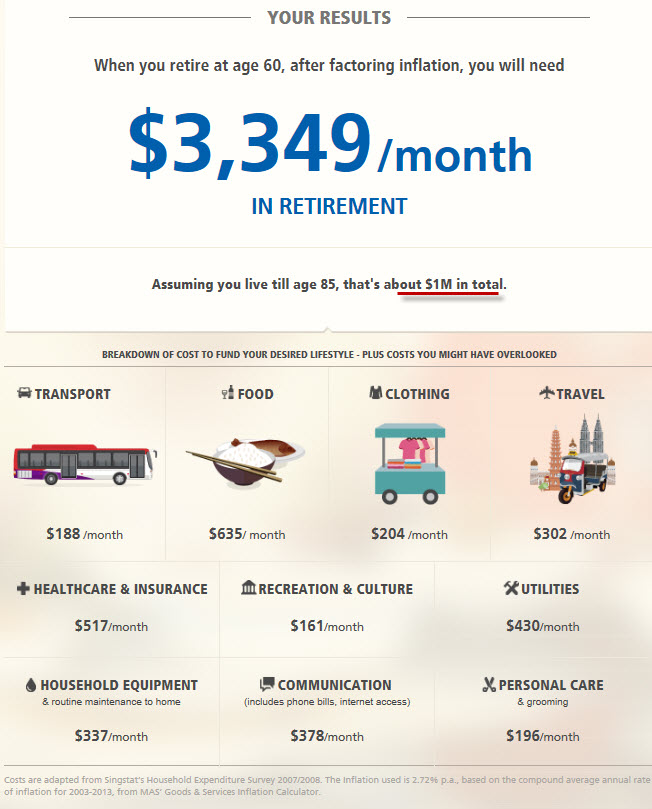 Notice the huge difference between the magic figures? Well, Aviva's planner factored in other spending such as healthcare, household to even phone bills! While we can say that we can live a simpler life when we retire, I will definitely want to stay connected with my children and grandchildren in this digital age, right? So I still need mobile devices (for God knows what it will be like in 40 years time??) or connection then.
Wow! So my magic figure is between $550,000 – $1M. I guess having to chose the really basic "needs" in these calculators, this amount is about the same for most of us (unless you belong to the high net worth population or require an above average kind of retirement lifestyle).
So what's next after knowing the magic figure? It is to look at what's the current status, and what are required to be done with the leftover years before the chosen retirement age.
I tried 2 calculators, one from Tokio Marine and the other from DBS/POSB. There are others such as from CPF board, Manulife etc.
And that's where depressing news sets in….whether I am not saving/investing enough, or I am not young anymore! Ewwwww!! (Results differ from different sites, so please use at your own discretion)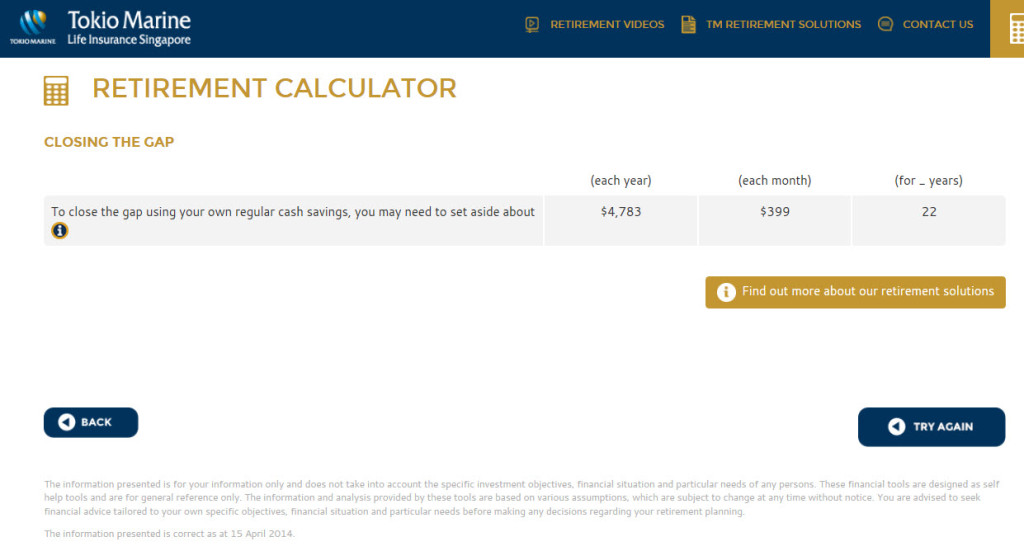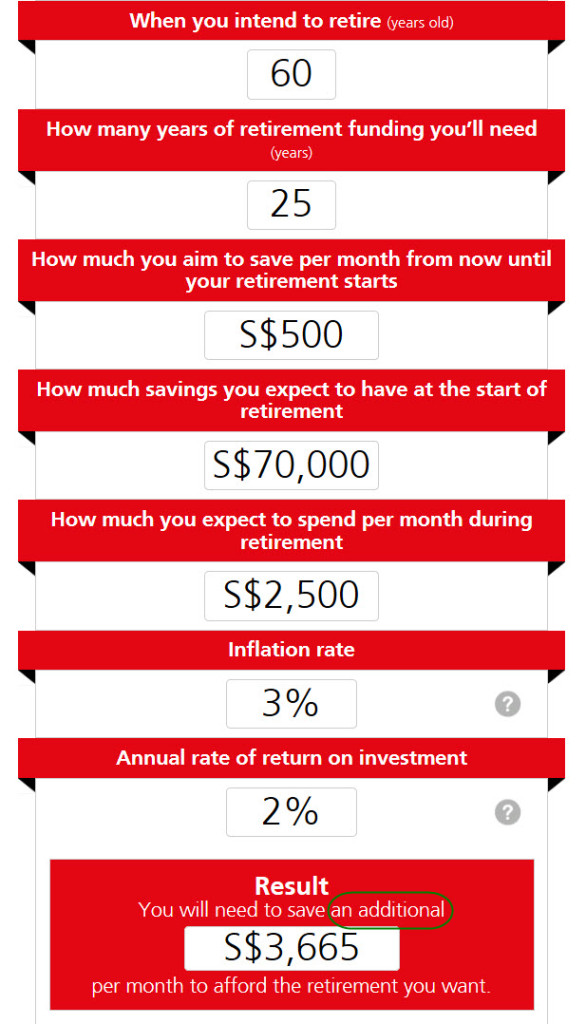 Ok, maybe it's not bad for most of you.  Just treat this as a finding-out for knowledge session, and use it to plan forward. Whether the figure comes out to be out of reach or difficult to achieve, we need to be realistic and most importantly, start to do something about it. It's always better to know it now, then at age 65, right?
Disclaimer : The link to the sites stated above are from my own research. There are no affiliation between them and myself.