The first time I came across Tom Yum Pasta was at Eighteen Chefs.  I didn't dare to order it because my colleagues said that it's quite spicy for them.  I am not someone who can take very spicy food, and most of my colleagues are spicy food lovers.  If the dish can make them go *sniff sniff*, it means that I will cry and kao tolong once the food gets into my mouth.
The second time I came across Tom Yum Pasta was at PastaMania.  I am not a fan of PastaMania but Dawn is. During one of the dinners, I ordered the Seafood Tom Yum Pasta and it was a great discovery! It was delicious and it changed my impression of PastaMania.
This is my 2nd attempt of my own creation of Tom Yum Cream Pasta, with Garlic Butter Prawns. Simply love the sour-ness and the spiciness just nice for me.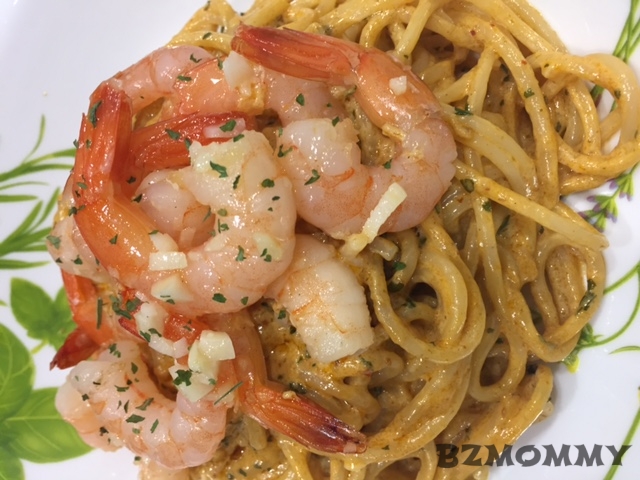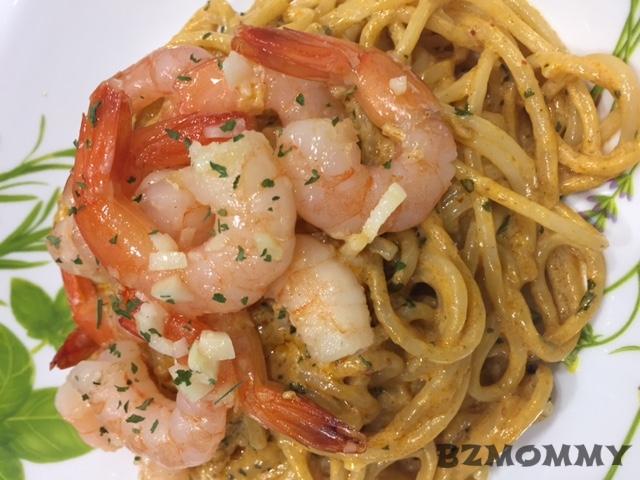 Tom Yum Cream Pasta
Ingredients
3 cloves of garlic - chopped
1 tablespoons butter (est)
1-2 chilli padi, sliced
Shelled prawns
Pasta of your choice - Spaghetti, Angel Hair etc
2-3 tablespoon of pasta water
Cooking Cream (about 100g)
2 teaspoon tom yum paste - more if necessary
Chopped parsley
(optional) ¼ stalk lemongrass (the white portion), thinly sliced
(optional) 1-2 kaffir lime leaves, cut to small pieces
Instructions
Cook pasta in a pot of salted water, until Al Dente. Drain and put under cold running water to stop the pasta from cooking further. Set aside.
Set aside about 2-3 tablespoon of pasta water.
Heat the pan, and melt the butter. Add in chopped garlic and do a light fry.
Once there's a nice aroma, add in the prawns and stir fry till it is cook. Set aside the prawns
With the remaining butter and garlic in the pan, add in sliced chilli padi and do a light stir.
Add in the tom yum paste, lemongrass (optional), kaffir lime leaves (optional) and about 2-3 tablespoon of pasta water, mix evenly.
Pour the cooking cream in and mix gently under low heat.
(optional) You can add milk if you prefer more sauce.
Add in parsley and mix evenly.
Add in cooked pasta and mix the sauce together.
Dish the pasta, place the prawns on the top and sparkle with some parsley.
I am so glad that I found a new taste for our home cooked pasta meal!