…. in Mt Alvernia Hospital…haha!
I think this stay is expensive, We can go HK 3D2N stay for 4-5 times with the same amount of money spent… ><;
Had previously requested for a normal single room (as my loving hubby wanted me to rest well and also to accompany me hehe), but by the time I delivered Eva, all the single rooms are taken already and we were asked to decide on Single room Deluxe or double room. The nurse told us that the double room will still be double room (which is different from what was stated in the brochures – in the event that single rooms are not available, a double room will be converted to a single room) and so hubby decided on the deluxe room.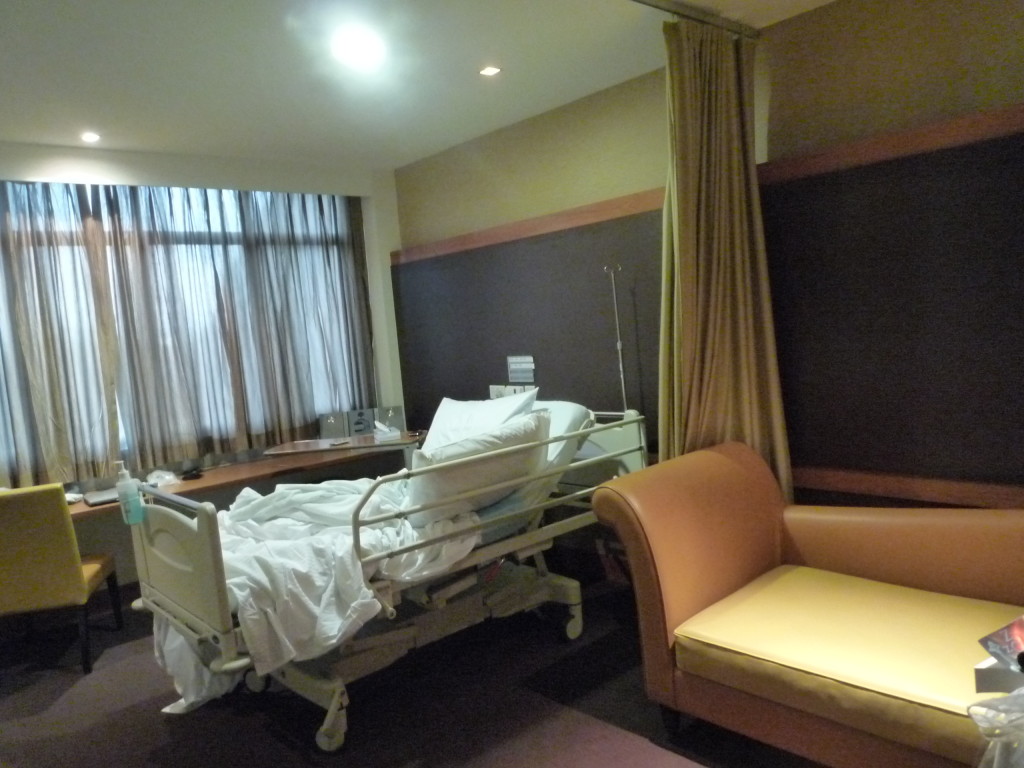 The difference between  a single room and a single deluxe room was carpeted flooring & different views (one facing expressway and the other facing buildings). Haiz, made us spend more money 🙁
The couch is where hubby slept and he had to pay $75 per day for the meals and staying overnight.
Food!  Forgot to take photo of my dinner on the 1st day 'cos was too hungry. Was given Confinement food – I remember it's the pork vinegar and a veg dish. Can't remember what my hubby had.
My 2nd day breakfast – Mee Tai Bak soup :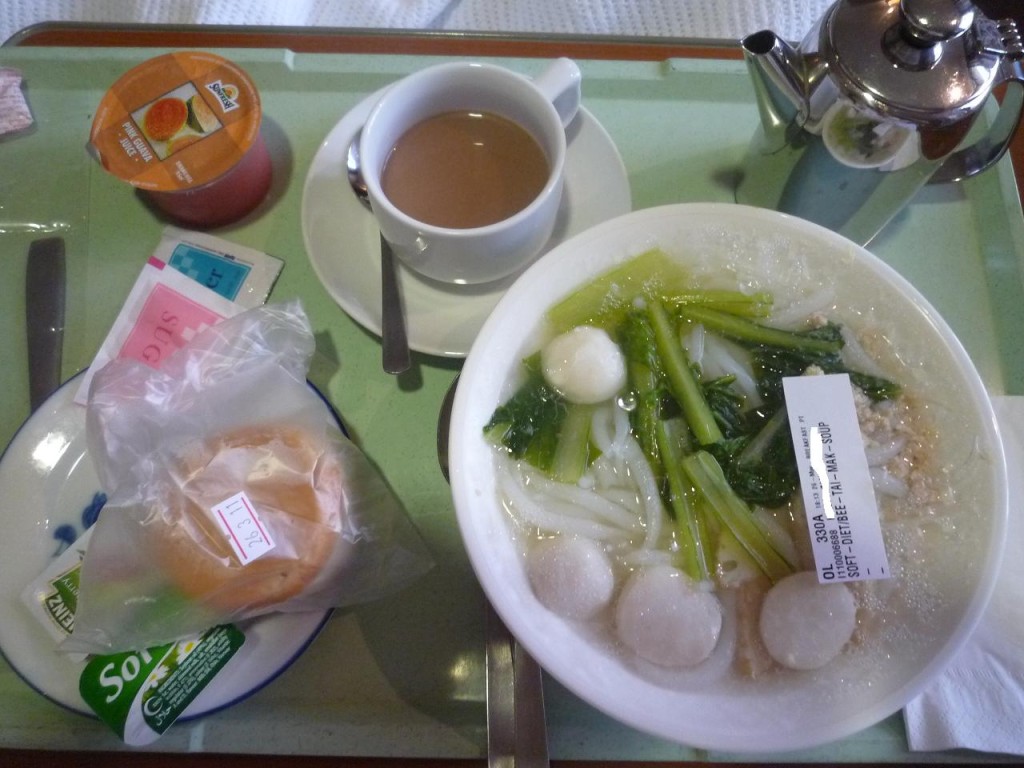 Hubby's breakfast – look so good right? I always like American breakfast!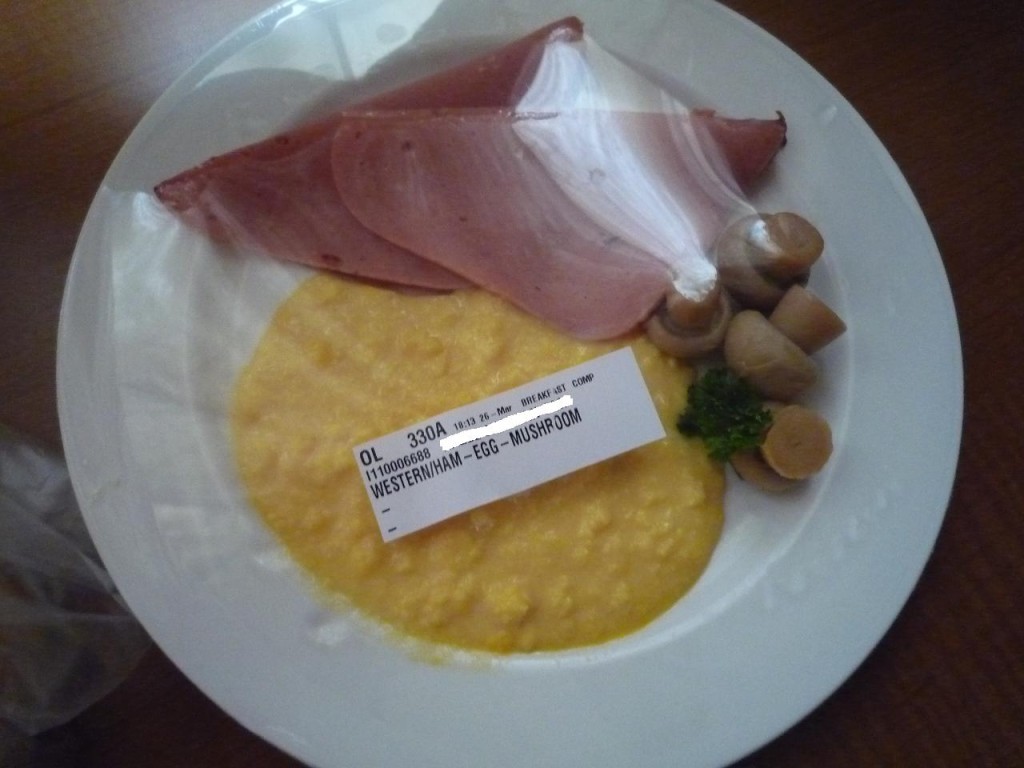 My 2nd day lunch, the minced pork tasted funny.. 🙁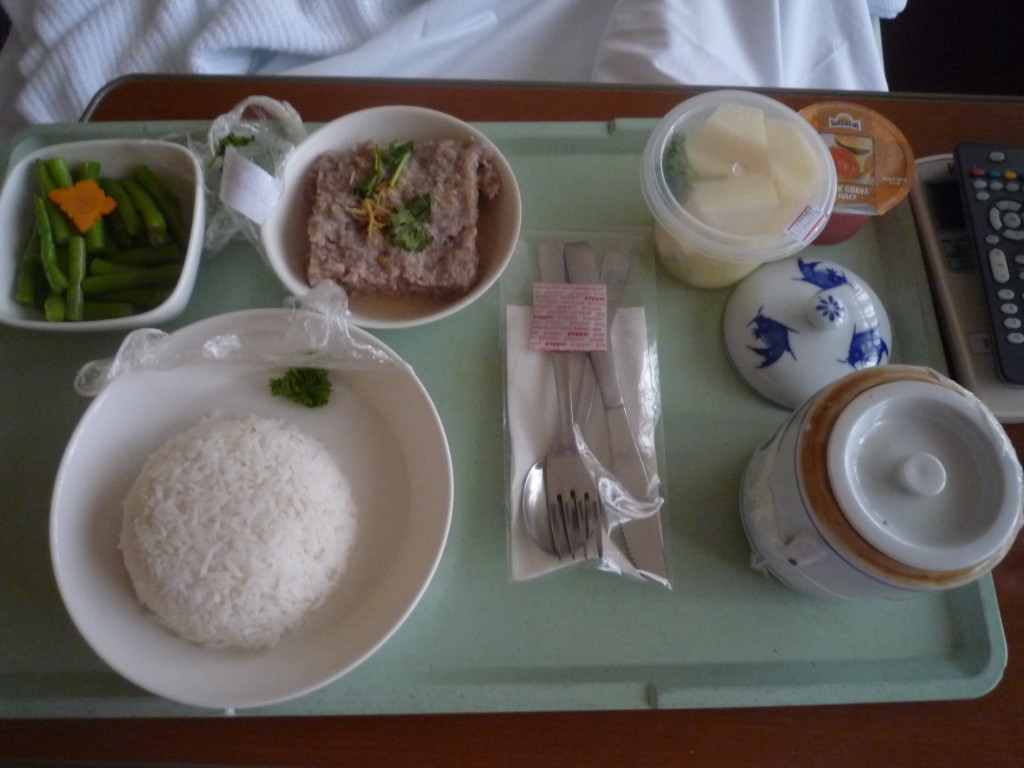 Hubby's lunch :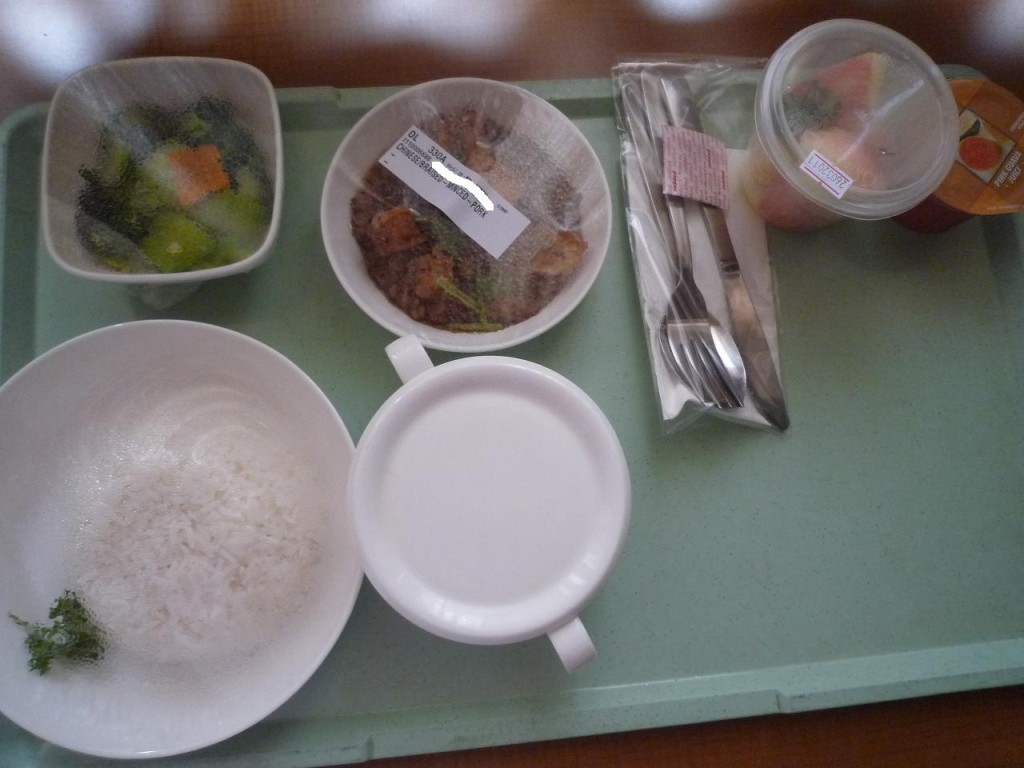 My 2nd day dinner :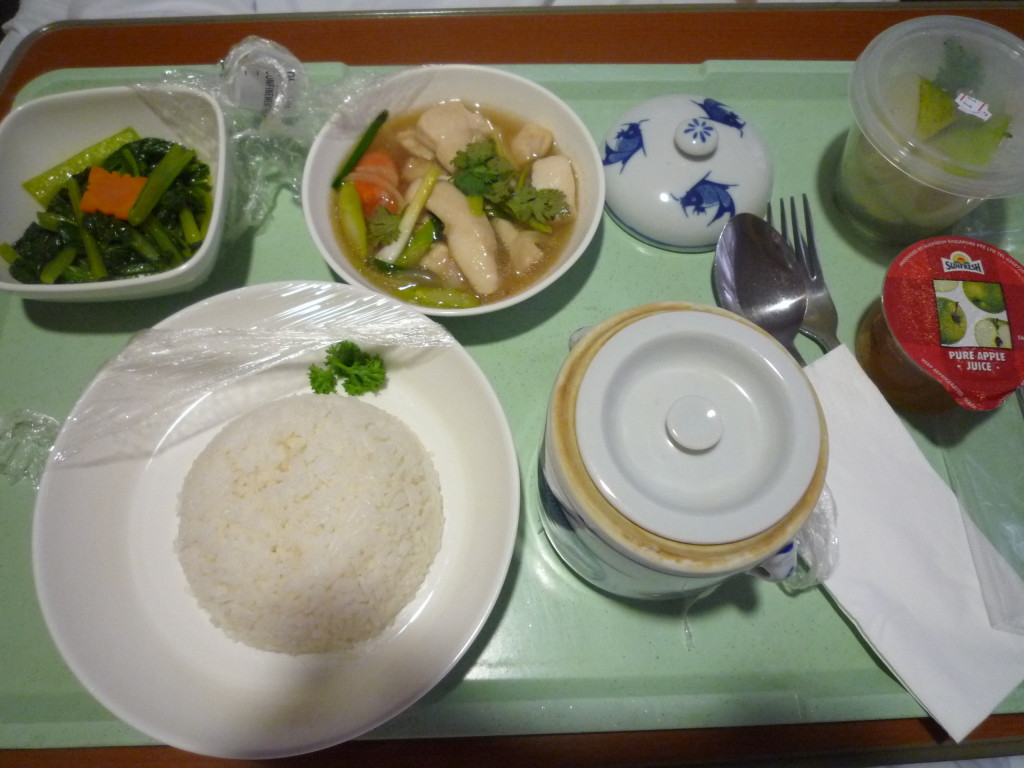 Hubby's dinner :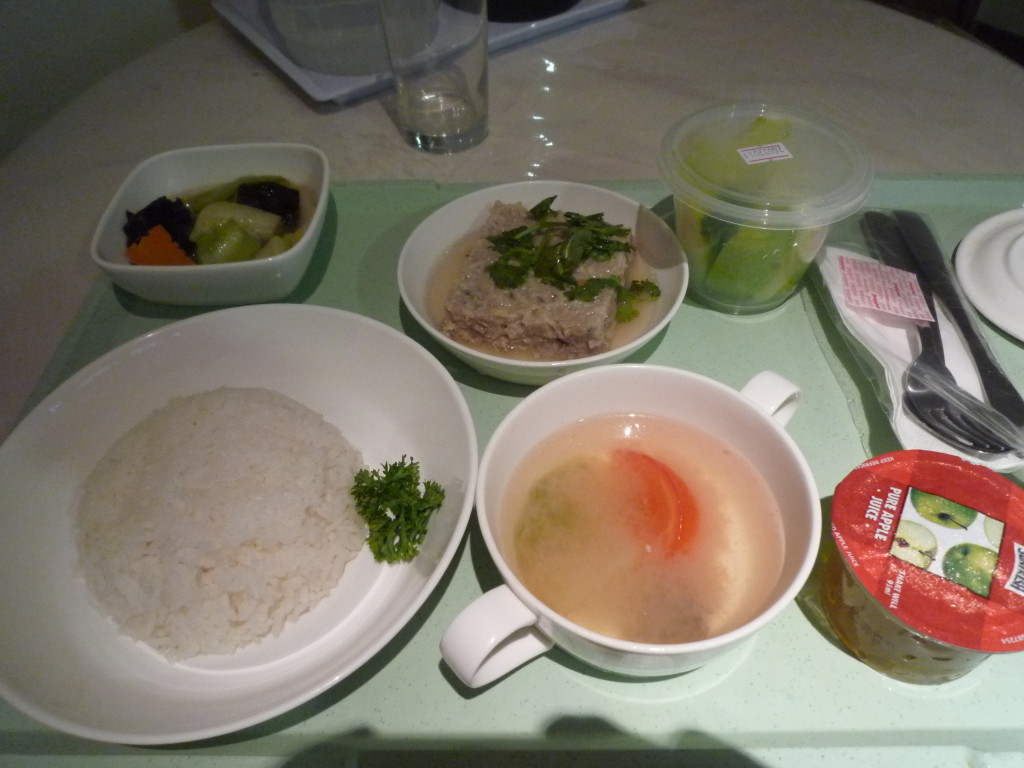 My 3rd day breakfast, this is the best meal that I had there….the pastry is so good!!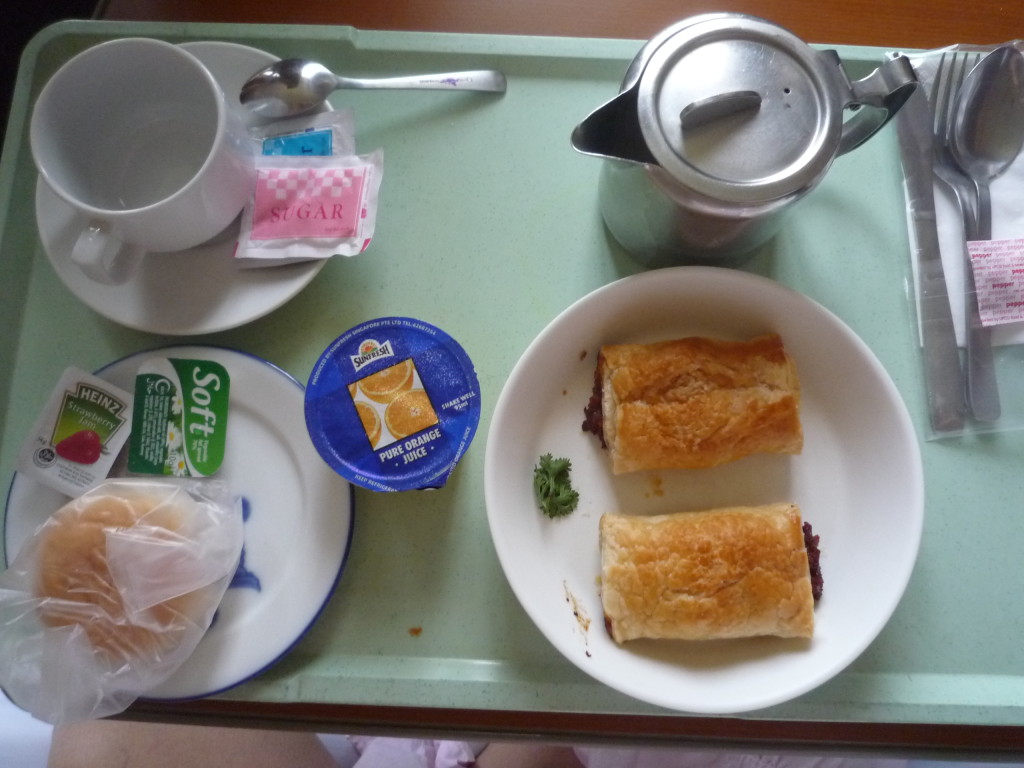 Hubby's breakfast :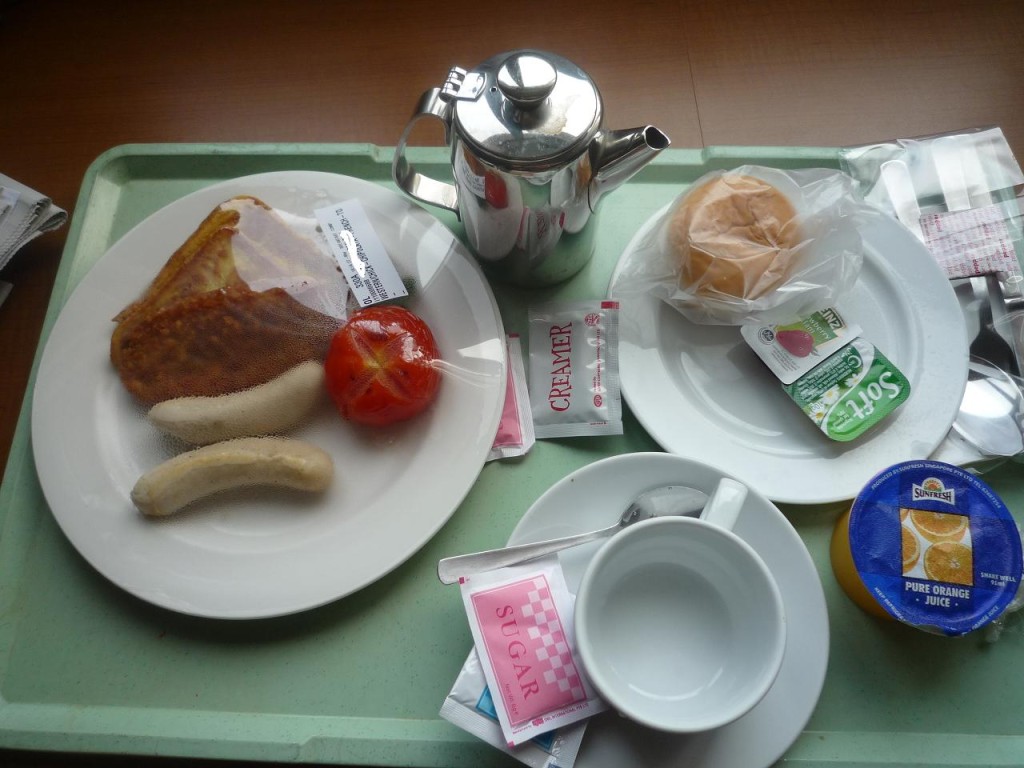 I finished all the herbal soup provided.  But they tasted like got MSG 🙁
Oh ya! I love the sandwich vending machine at the 1st floor of the Hospital.  It's by Hotbake and the sandwiches are really nice!! Hubby bought me on the 1st day and bought it again for my suppers! Yummy!
We received hampers and gifts from friends, colleagues and our companies during our stay.
From my team – something which became our best friends for both hubby and me during the 1st week.  Ber also gave us chicken essence~ They know we needed them!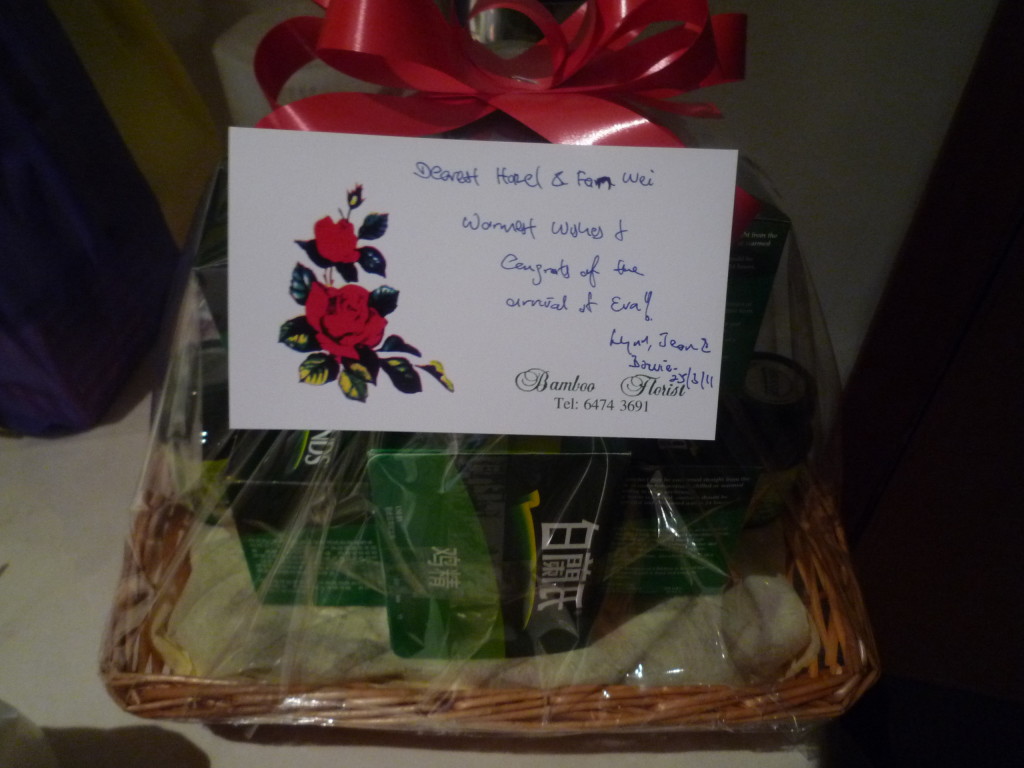 From hubby's company :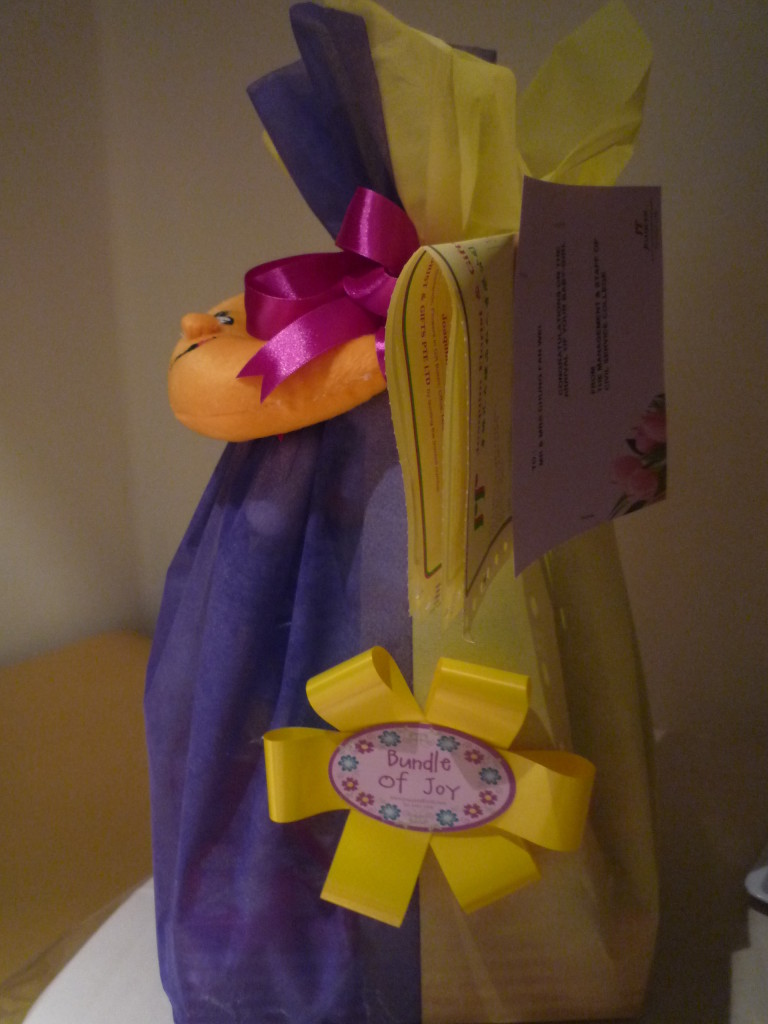 And the things inside the hamper :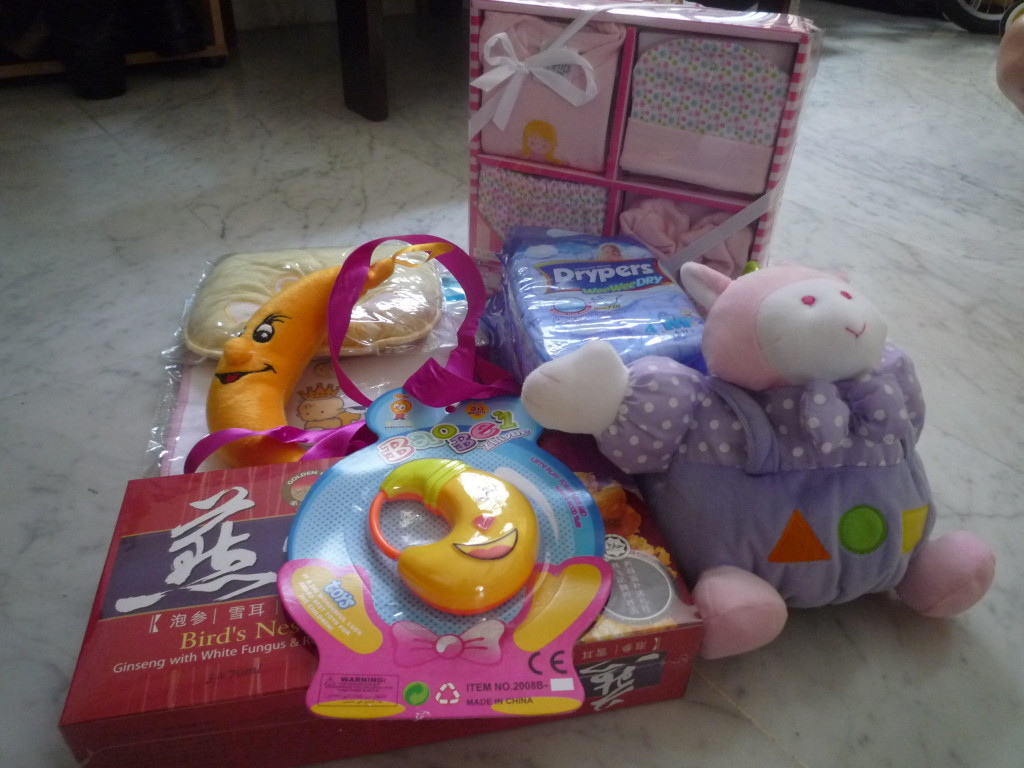 From my company, a baby rocking chair 🙂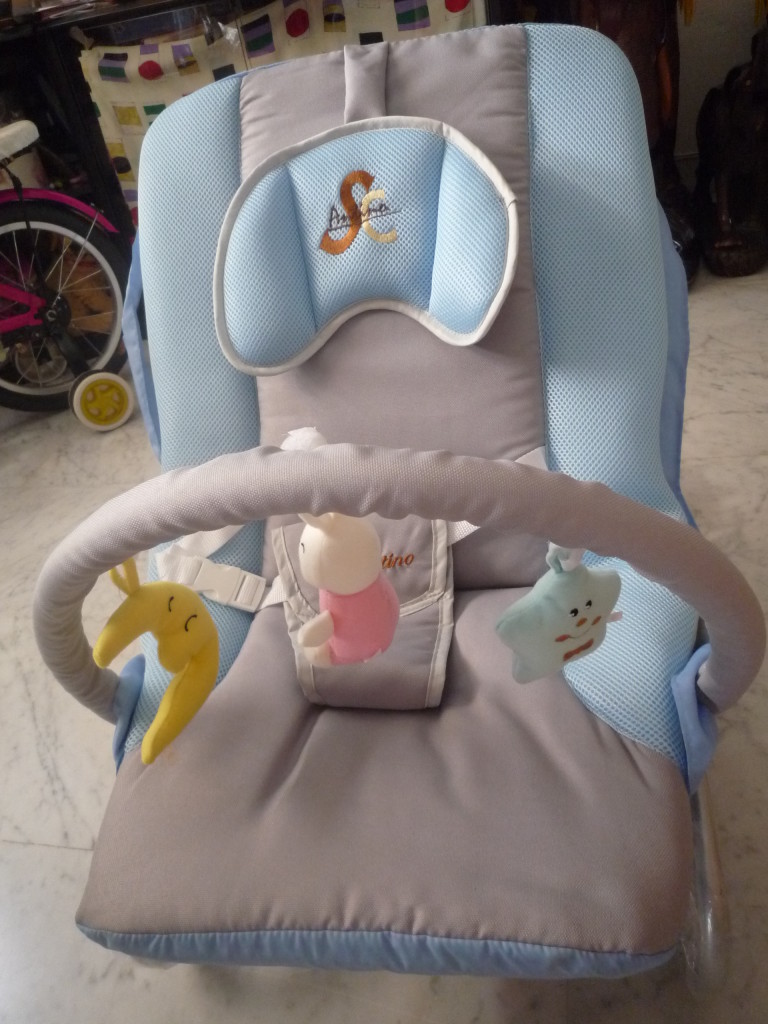 Junhui gave us a angbao and Wen & Rine gave us a bag of diapers and a romper for Eva. Thanks to all these thoughtful friends!
Finally went out of the room to visit the nursery on my 3rd day there before I was discharged.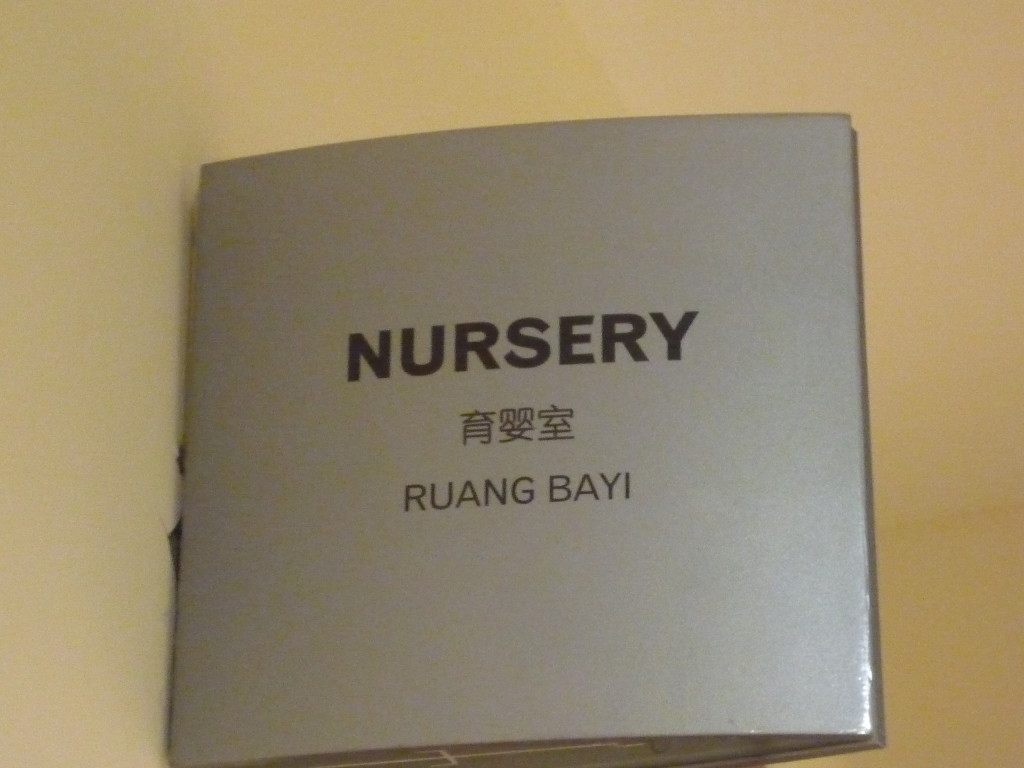 Didn't know that Babies' mothers can enter the nursery one…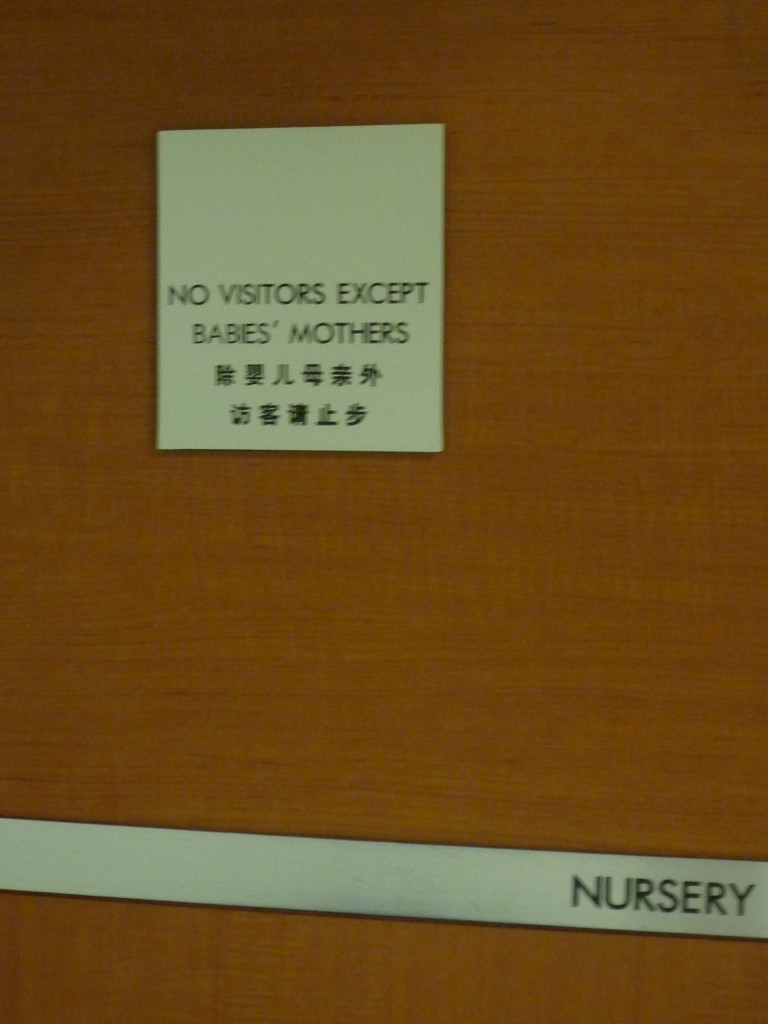 Can you spot Eva?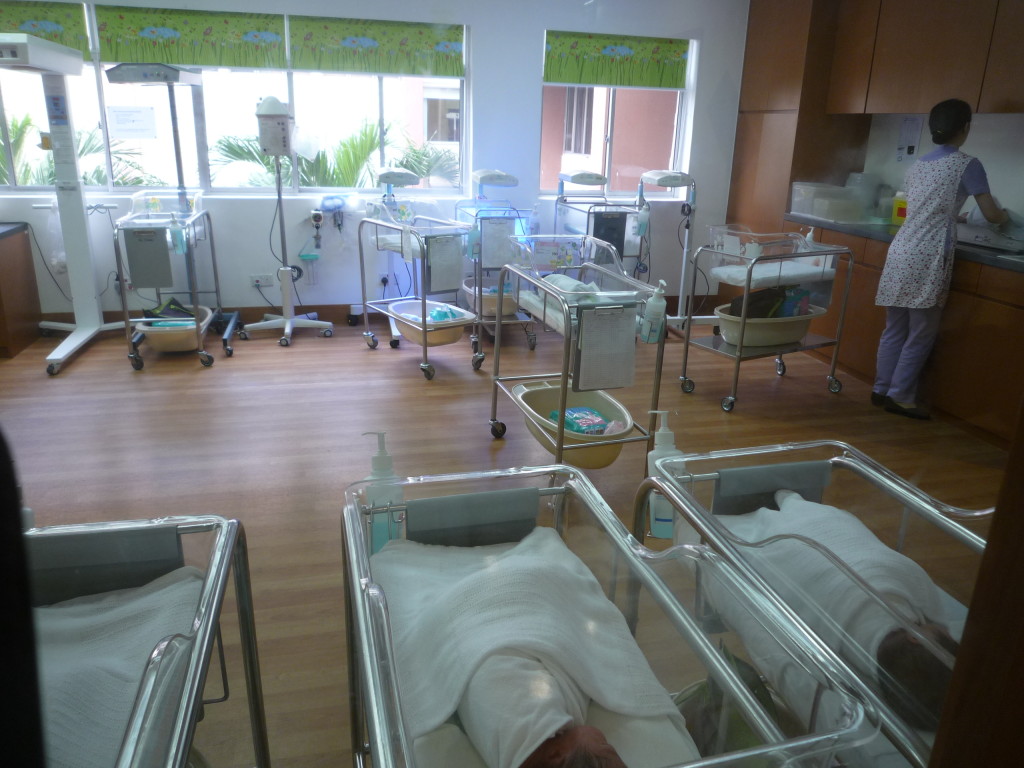 There she is, the one in the center as we are going home soon!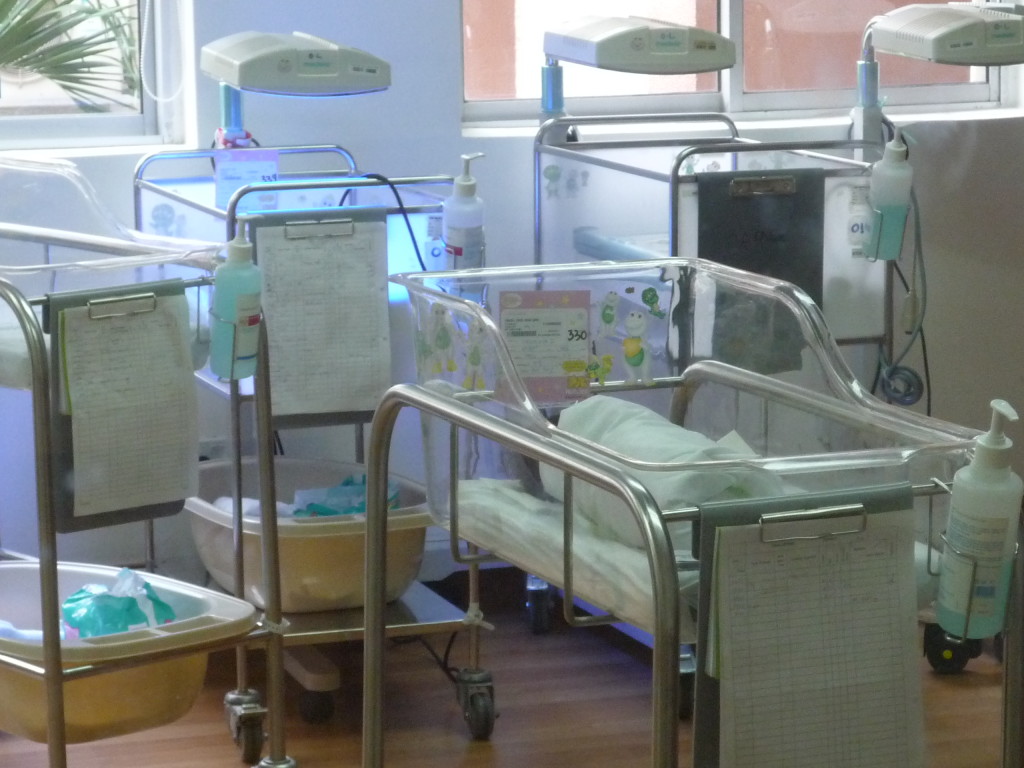 This is my gynae, Dr Fong Yang.  Both Dawn and Eva are "caught" by him. hehe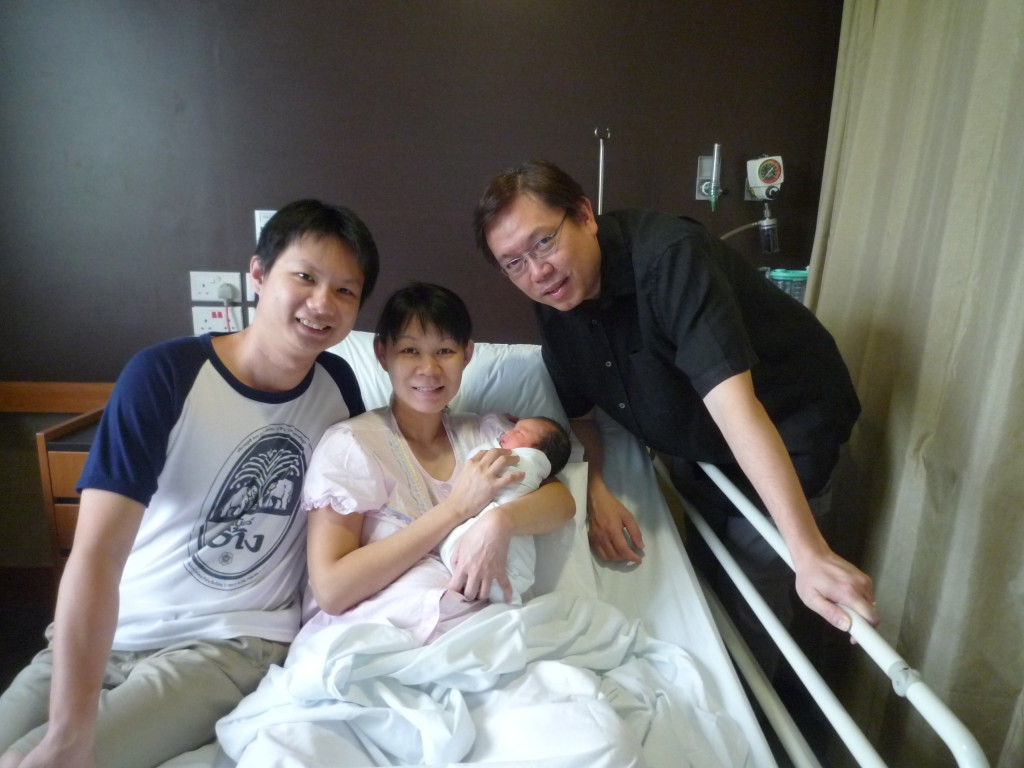 So what did Mt A gave us?
An Agnes B look-alike diaper bag – which is big and good.  What I like is the zip opening is wide and big, easy to find and take things in and out. And lucky I asked my sis to help me buy a diaper bag organiser from China – cost me 70 cents only.  It's like $10-20+ in Singapore!
Inside the bag there's a big bag of reading materials, samples such as diapers, baby shampoo etc.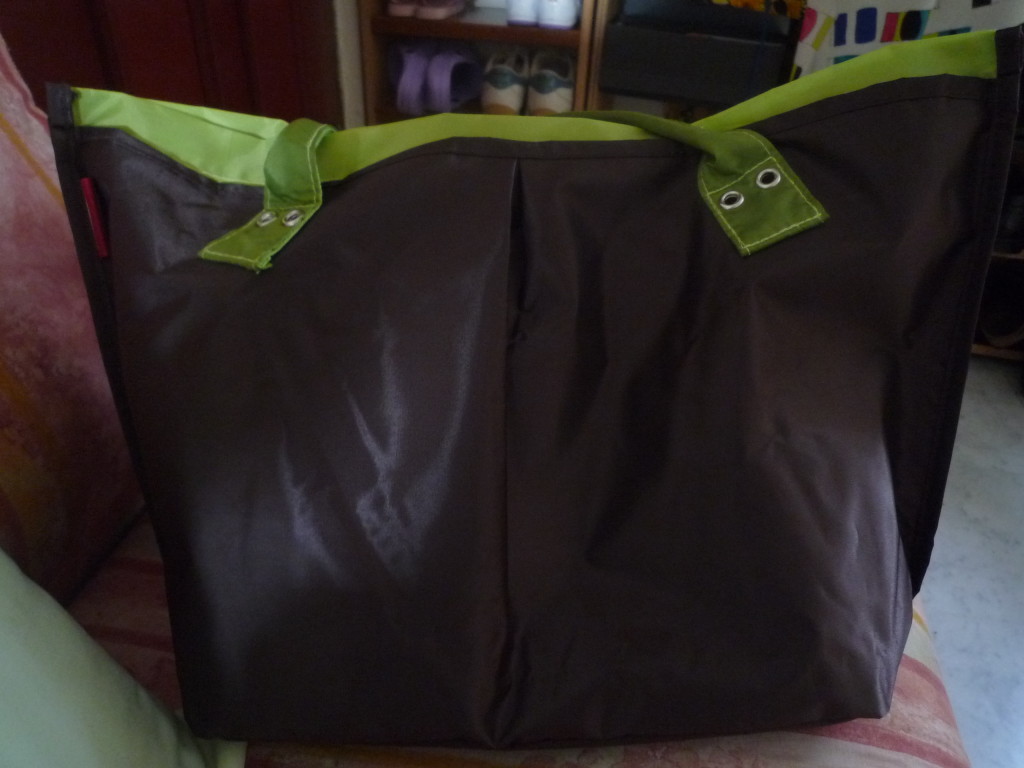 Mt A also have the left over diapers, this time round is Huggies.  Dawn's time was Pampers! And also the left over wet tissues and the bath tub.
Dawn's time still got a T-shit, a gold coin and a receiving blanket…they don't give these out anymore.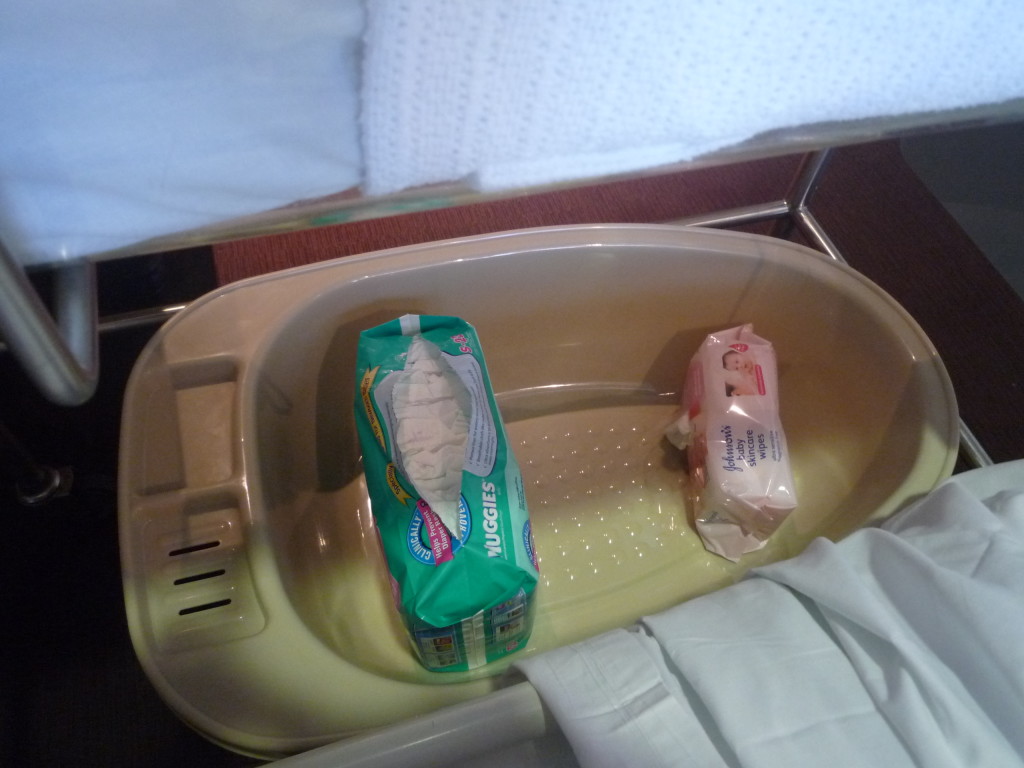 Oh, there's a free gift to be collected from the pharmacy too – they gave us an Avent NB pacifier.
And that's the end of our 3D2N stay in Mt A.  Back at home now having confinement. 🙂
Something to share with mummies who are reading this blog..remember to ask for glass bottles from the nurses if you intend to use the glass bottles to store breastmilk.  I like the glass bottles because the size is just right to feed baby during their first few months. You can buy the caps and seals from the pharmacy @ 1st floor.
Also to ask for sample formula milk – it's free.  They won't give much, gave me 2 only, but it's good to have it on standby or it's just good for saving money! :p
3rd thing, remember to get the powder for putting on baby's umbilical cord from the PD who does daily visits checks on your baby.  It's important as it might be too late to get when you revisit the PD in 3 days or a week time.  I learned this from my experience with Dawn.  Eva's umbilical cord was taken care very well as the powder kept it dry.  It dropped off on the 6th day.