It's been a while since my last flea.  I started this "once-a-while hobby" since I was about 20, at the then famous Clarke Quay Flea Market. I can still remember we had to bid for a stall on a weekday evening, and we can choose between a non-aircon or an air-con stall. The crowd was mostly vintage lovers, uncles looking for value-for-money items or collectibles, tourists who happened to be staying near the area and once a while, young couples who loved a sudden find of pretty sandals or a good book going at $5.
Due to redevelopment, the flea markets there stopped, and it kind of shifted to Central Square Mall… and till now, I can't remember whether I participated a flea there or not??! I seem to have lost some part of my memories…
In 2004 – 2007, Yahoo Auction became a very popular online marketplace. It was easy to use, time-saving, and less hassles comparing to lugging items to and from a venue.  Best of all, it's free! No rent, no commission! Too bad it was not a sustainable business for Yahoo, and it stopped.
And I was caught up with life…and the "rubbish" piled up, thrown and got piled up again.
Qoo10 started in 2008/2009, and I used that platform to try selling generally new unused items. However, as their market strategy was for commercial platform and not to be a marketplace like Yahoo Auction, I shifted my mindset too and started my small online business.
But my "rubbish" was not forgotten…and it's piling up every month. Don't ask me why I have so much "rubbish". Things that I have no use for (even for new bags or clothes which I don't use for whatever reason), could be a junk or rubbish to me, but it's someone else treasure. I always hold on to the 3Rs and will try to recycle or reuse whatever I can, to do my small part in saving this earth.
In 2013, after the kids got a little older and having good in-laws who helped us looked after them, I started looking out for flea markets again.  "For Flea Sake" started sometime in Year 2010 and got popular with the fleas which they organised in Scape. Scape used to be a quiet area inside Orchard, but the fleas changed it to be a popular weekend place for young couples and tourists. I participated once in the Scape Flea Market, the sales wasn't really good, it was hot and the space was tight.
For Flea Sake also started with another flea venue at Lucky Plaza, and I was quick to jump on their initial promotion where their rent was only $42.75 after a 5% app discount. The crowd there was crazy! It was a "profitable" experience, and it was not as hot as I was in Scape.  I sold most of my items and was happy that the items finally have new owners who see the value in them. But like many online reviews that you can find, the place was dusty, warm even with aircon but who cares really? The crowd and ready buyers were mountain-ful. Hubby and I weres dead tired after the flea at 7pm.

After this, Carousell got popular and everyone were excited because it's a good app to sell second-hand item.  For those who used to love Yahoo Auction, Carousell was like a "finally you come back" kind of feeling.  Yay! Another way for me to find new owners for my poor un-loved-by-owner items. I am using this since 2014 till now and happy that I had helped to reduce items at home.  Even my mom and sisters were amazed!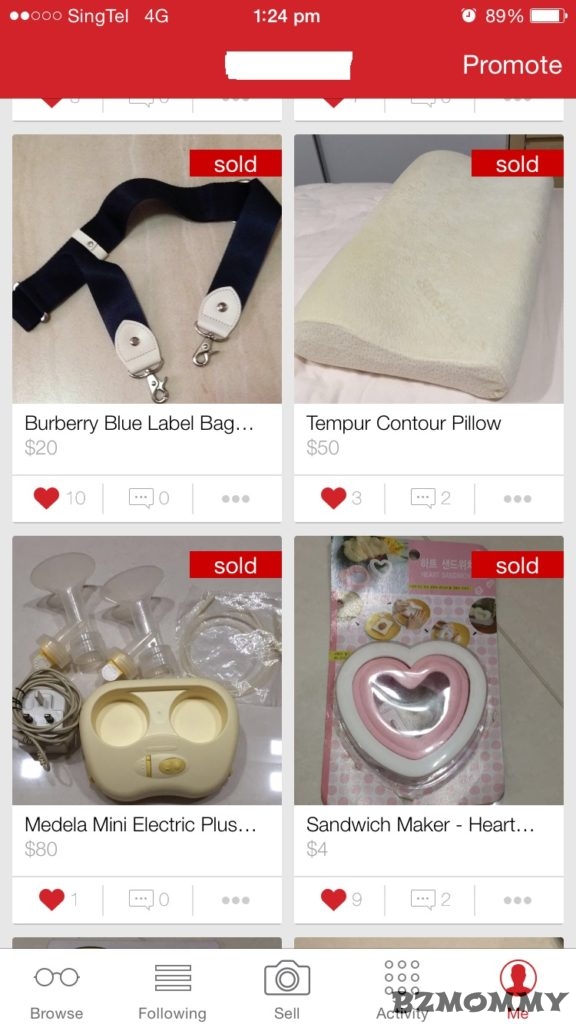 This year, my colleague "jio" us to go flea market at Lucky Plaza and 3 of us shared 2 stalls.  The rent had became $160 for a Sunday stall.  It seems that there were 2 flea area – one opposite Jollibee (the one I first went in Year 2013) and the other at beside Jollibee. In April 2016, the one opposite Jollibee were not available for booking anymore, and they had a "early bird promotion" at $120 per stall for the one beside Jollibee. So thank goodness for my colleague sudden in-prompt decision! 🙂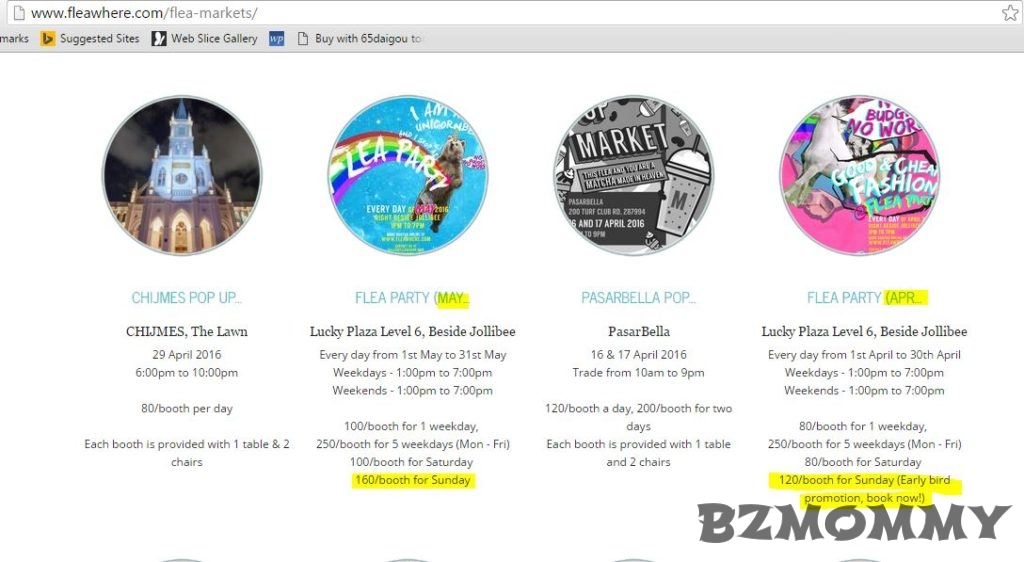 Screenshot taken from Fleawhere website
So while the experience over the weekend is still fresh in mind, I think I should write down on my "renewed" experience of flea market in Lucky Plaza –  the flea area beside Jollibee
This area is definitely hotter than the one opposite Jollibee. It felt cool in the morning, but trust me, the place turned into a hot oven when the flea starts at 12pm+.
The organiser's notes will state that there should not be queuing before the start of the flea. However, when my colleague reached there at 9.45am, she was already the 3rd in queue. If you have a spot in mind, do reach early to queue.  However, if any table is fine to you, just reach around 11+, you will still get a table as well. The area is small, so the potential customers will still go to any tables with good deals.
Yes, you can queue with your items.  Just do not start selling while queuing.  There are potential customers who will express interest. And there are also watchful eyes who are the event organizers.
Queue starts from the wooden door beside the lift lobby, not from the glass door.
The space seems tighter and the tables given were smaller in width but longer in length (compared to those wooden 3ftx3ft table)
We were allowed to go in at 12pm.
There's no time for table cloth or anything fanciful..just open whatever you have and start selling. (I have to state this because one of my colleague brought "table cloth" – I forgot to tell them that there was no need to).
Have a heavy breakfast or take turns to eat while queuing. EAT BEFORE 12pm.
Bring : Face masks, Eye Drops, Wet Tissue, USB/Portable Fan, Tissue & Water for yourself. I don't suggest wearing contact lenses, so put on a pair of specs instead. For those who doesn't need to wear specs, maybe a pair with no degree will help protect your eyes. Make sure you bring along the specs cloth to clean your specs after the flea.
The place is SUPER dusty and dirty. That explains the face masks, eye drops, tissue and wet tissues.
One of my colleague had USB Fan and it was a saver! But it also mean while it helped to cool us down, the dust get blown into our airway and eyes more than anyone else.
Don't need to buy new plastic bags, just collect those old paper or plastic bags that you have at home and bring many of them.
The potential customers are mostly helpers from Philippines and Indonesia.  I had a couple of Chinese speaking customers and some locals as well. In the late afternoon, I saw a few men as well.
Crowd started to reduce at about 6pm + but there are still buyers.  I can't leave because these people keep coming and I had to abruptly close my boxes. 😀
Don't worry about not clearing anything. My colleagues were worried and the thought of lugging back the things home was uncalled for.  Unless you are being unrealistic of selling the items at a high price, most items will surely find new owners. After deducting the rent, you probably will take back between $150-$350, depending on the amount of things you have to sell.
If you are driving, park you car elsewhere and not in Lucky Plaza. However, if you like the "convenience" or a ready place to go if you feel faint, the carpark fees from 10am-7pm is about $23. So do your maths.
What Sells there?
Clothes – Men's clothes inclusive. Children too. Average brand clothes such as Espirit , Mango, etc with labels sell well. However, if you can't let go your clothes as low as $1, then don't bother to bring. Prices usually start with $5 each or 3 for $10…and eventually those not very pretty clothes will be left… then that's the time the prices will drop to $2  then $1. So unless you want to pick the nice clothes out and lug home before you reduce the prices, if not, only bring clothes that you can let go at a cheap price. Children clothes between age 2-10 >> Good!
Accessories – Used or new. As long as it's cheap and still wearable…price is about $2-$1
Shoes – Depending on condition and brand, the price is about $10-$5.  I sold some old children slippers at $3 each.
Bags – Branded or no brand, new or used…all can. Of cos the "branded" ones will fetch higher price.$10-$5. Small coin pouches and medium size cosmetic pouches sells well too $2-$1.
Soft toys – this is a surprise to me…Palm size soft toys at $2 each (which later I sold some off at $1). Some soft toys are new but alittle dusty…but I am glad that they have new owners!
Cosmetics – ready buyers but Carousell will probably fetch a higher price..
Keychains – surprise again! For something which I had abundant of (due to past fleas), I sold about 20 pcs of the keychains and left probably 5. Happy!
My golden rule #1 : if there is something that can fetch higher price in Carousell, then don't bring to this flea market. 

My golden rule #2 : If you think that the item can fetch higher price in Carousell, but it had been there for months and no one is buying it, then you can try to get rid of them cheaply in the flea market.
Bye to Flea for now…can't go for another one soon as I don't have much left to sell to cover the rent 🙂