What is Malacca if one never try the chicken rice balls, nyonya dishes and chendol?  It is like in Paris but not seeing the Eiffel Tower!
We stopped by this restaurant at Jonker street to try the chicken rice balls for our early dinner.  It has lots of  celebraties' photographs on the wall, stating how famous this restaurant is.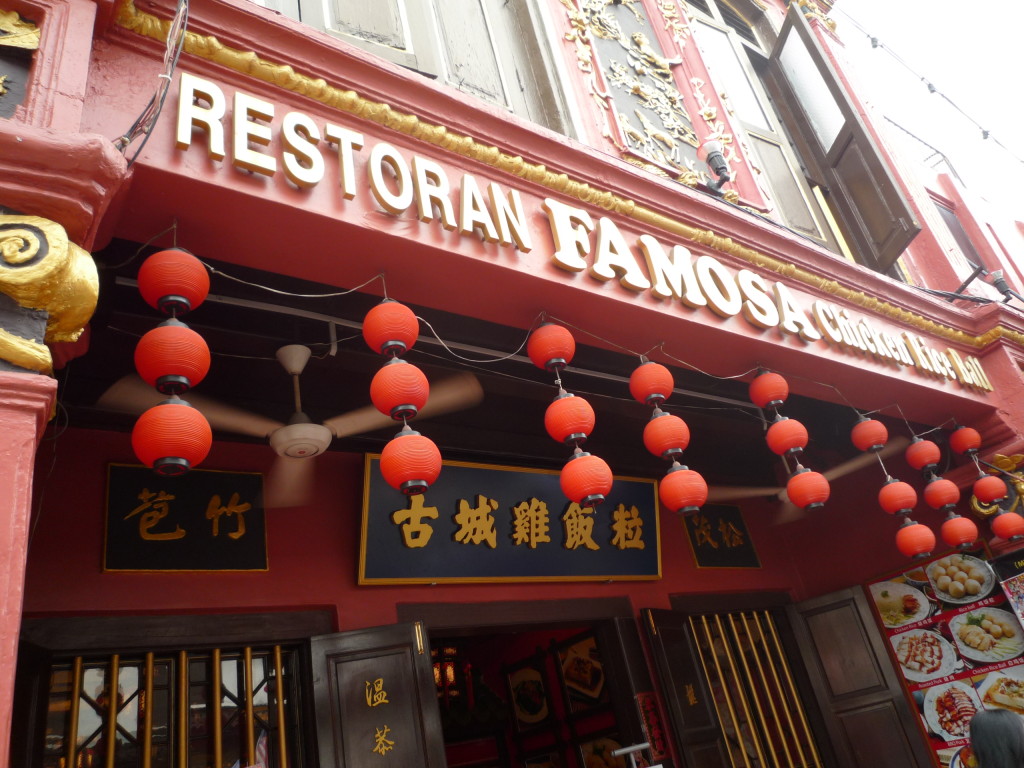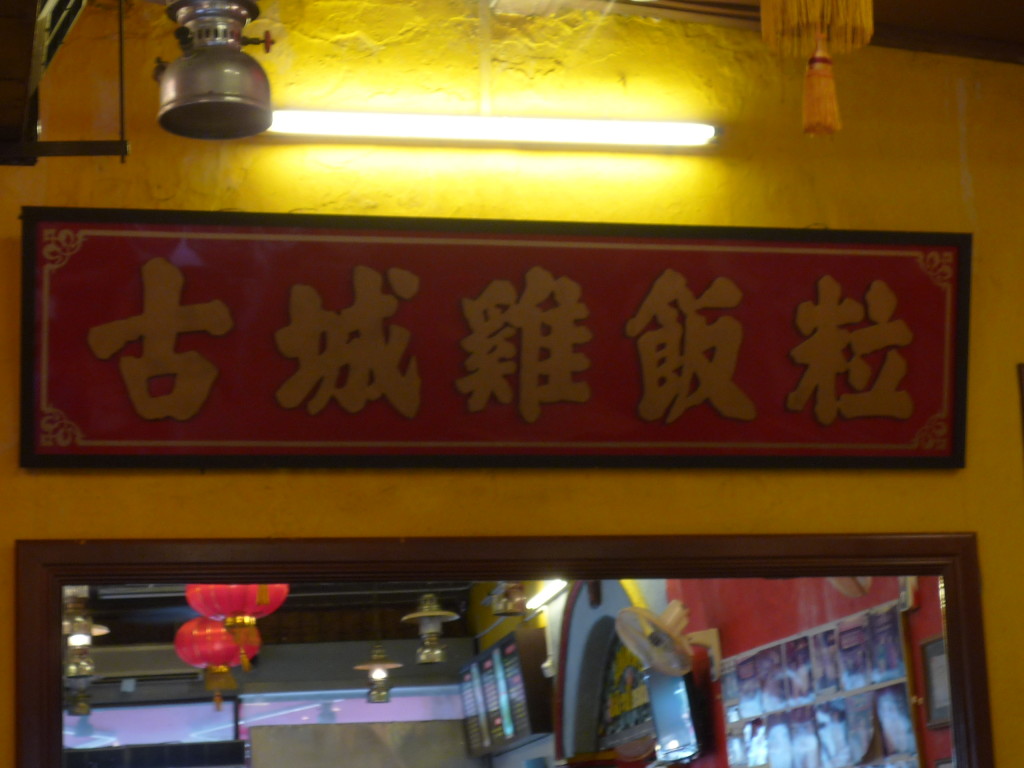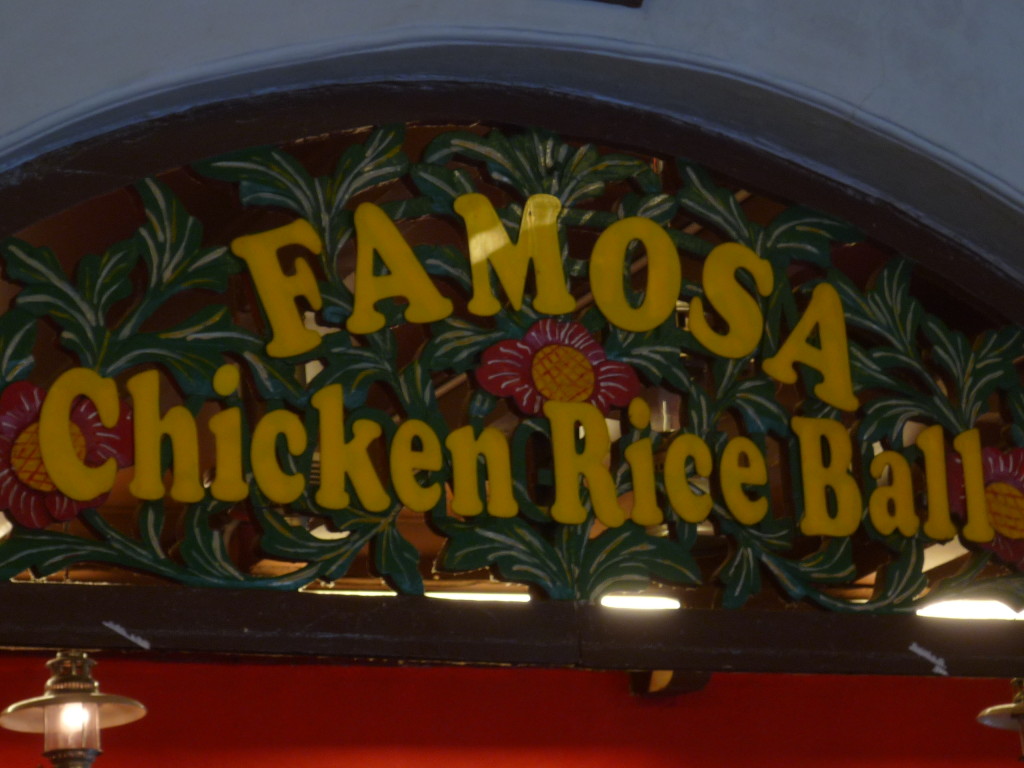 Apparently this place is not the best in the town for the chicken rice balls.  We were disappointed with the taste. The taste of the chicken is different from those we can find in Singapore. I still love the Singapore chicken rice..kind of felt that chicken rice balls are over-rated in Malacca..however, I may be wrong because we did not go to the right shop.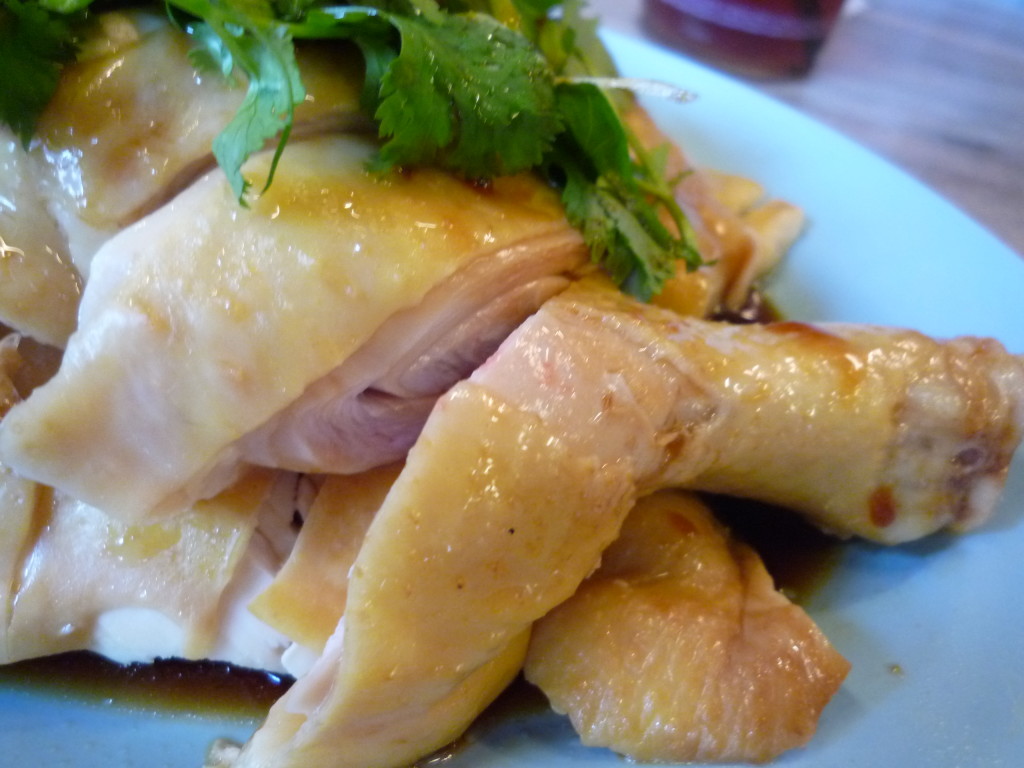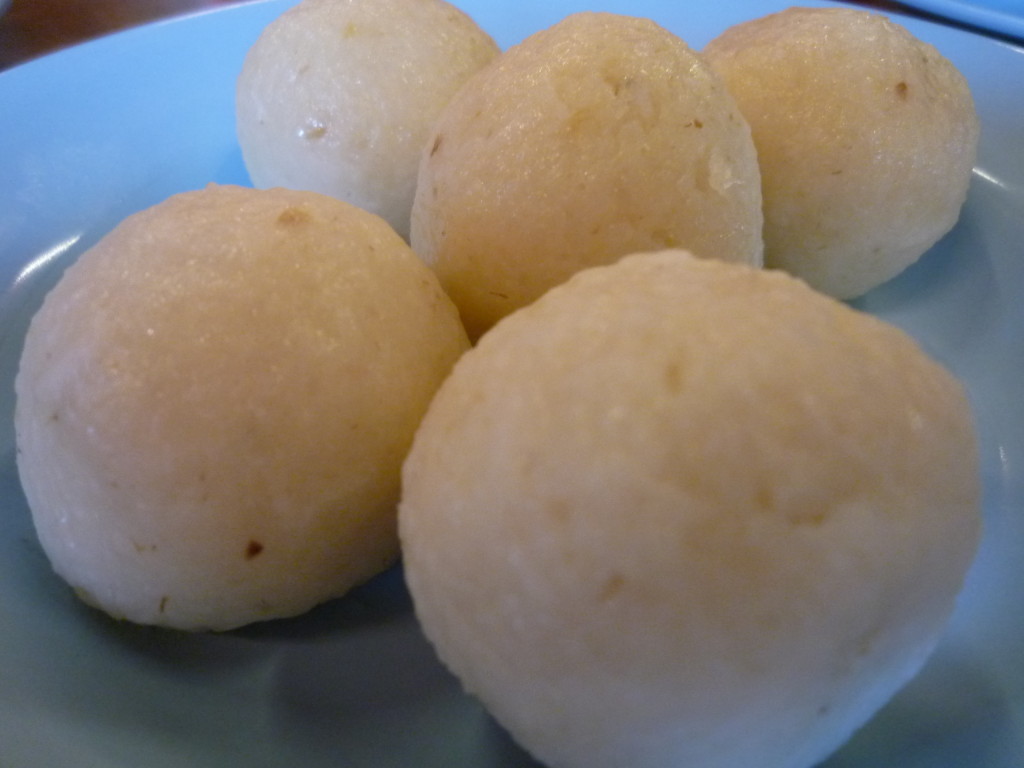 Malacca's roast pork is also very different from Singapore style..the skin layer is much cripsy than in Singapore..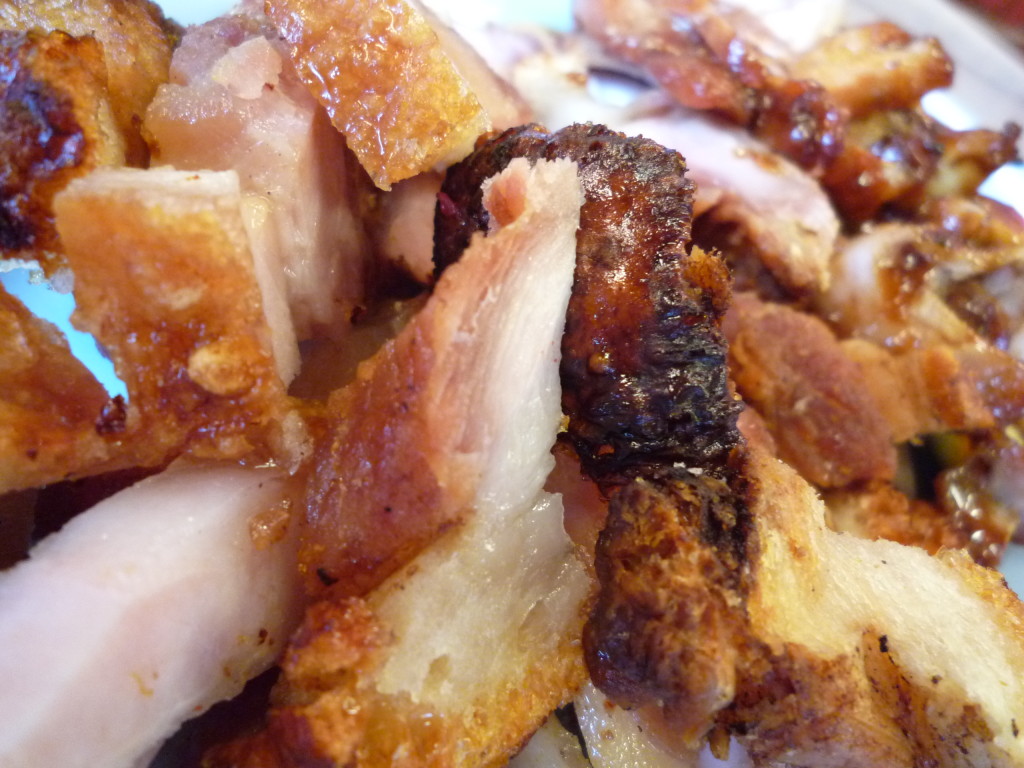 After the dinner, we passed by this stall.  I seem to remember that there were alot of good comments found in the Internet about the chendol they sell.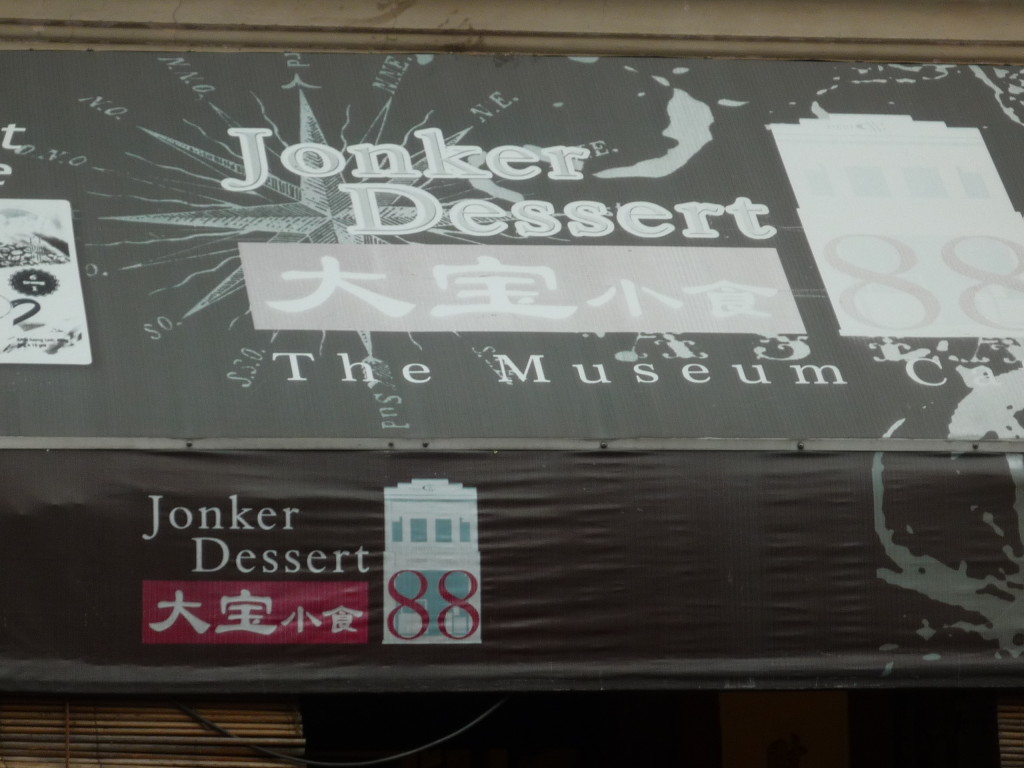 But look at the queue!! We made a grave mistake because we thought that since it's only about 5+ and there's a long queue, we will turn back and buy the chendol again.
WRONG! We did turn back and the queue was shorter…but their chendol was sold out! How disappointing 🙁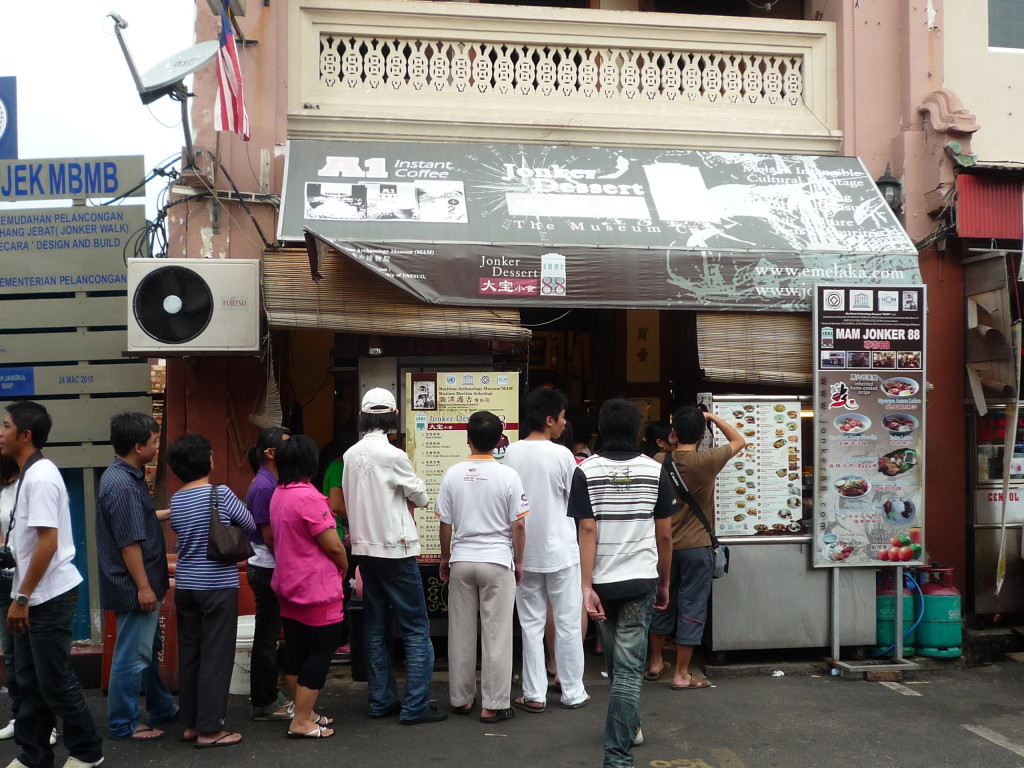 This is the entrance of the Jonker street..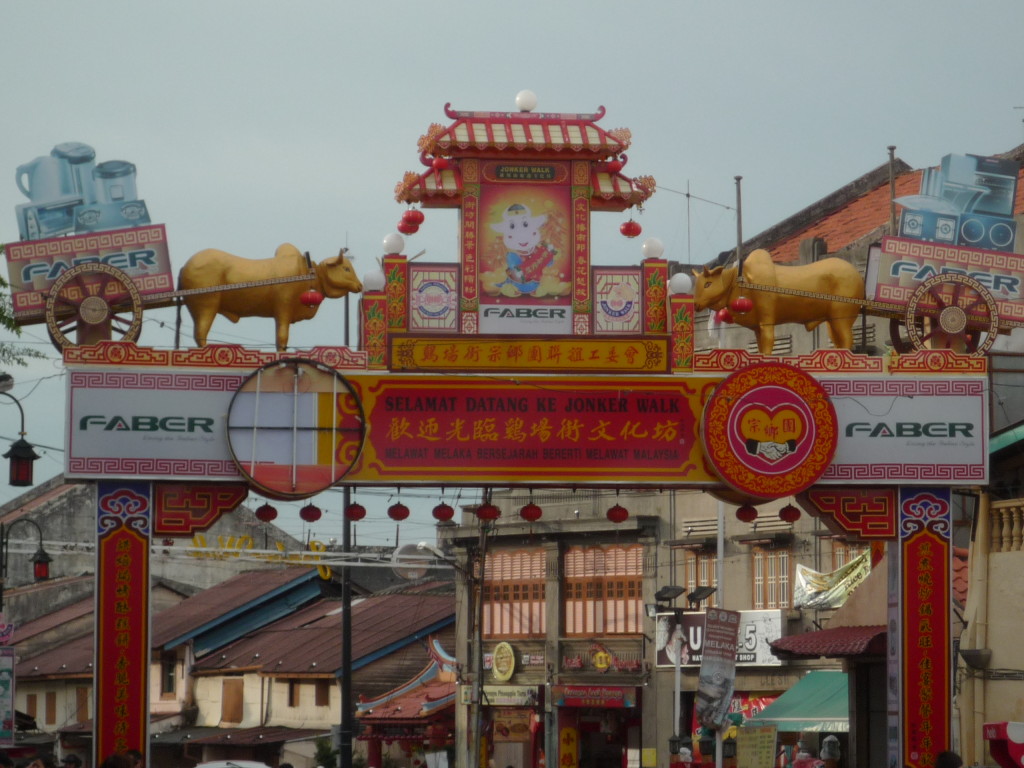 We were there early and the streets were not closed for traffic yet. The hawkers were also busy setting up their stall…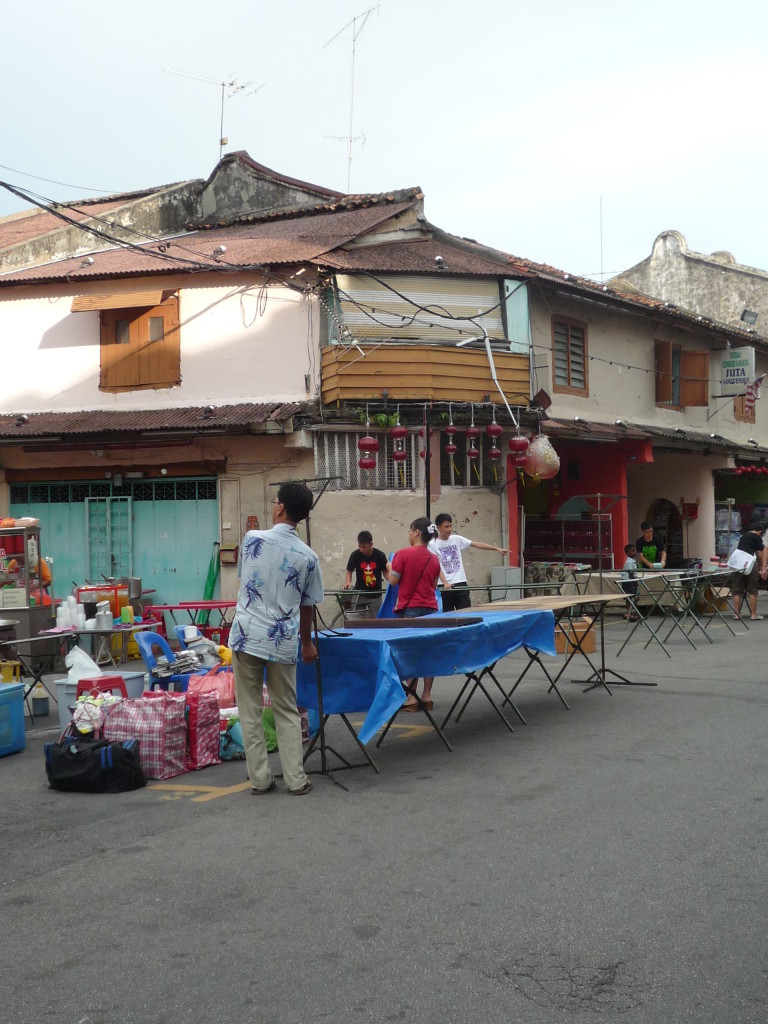 Some random shots @ Jonker Street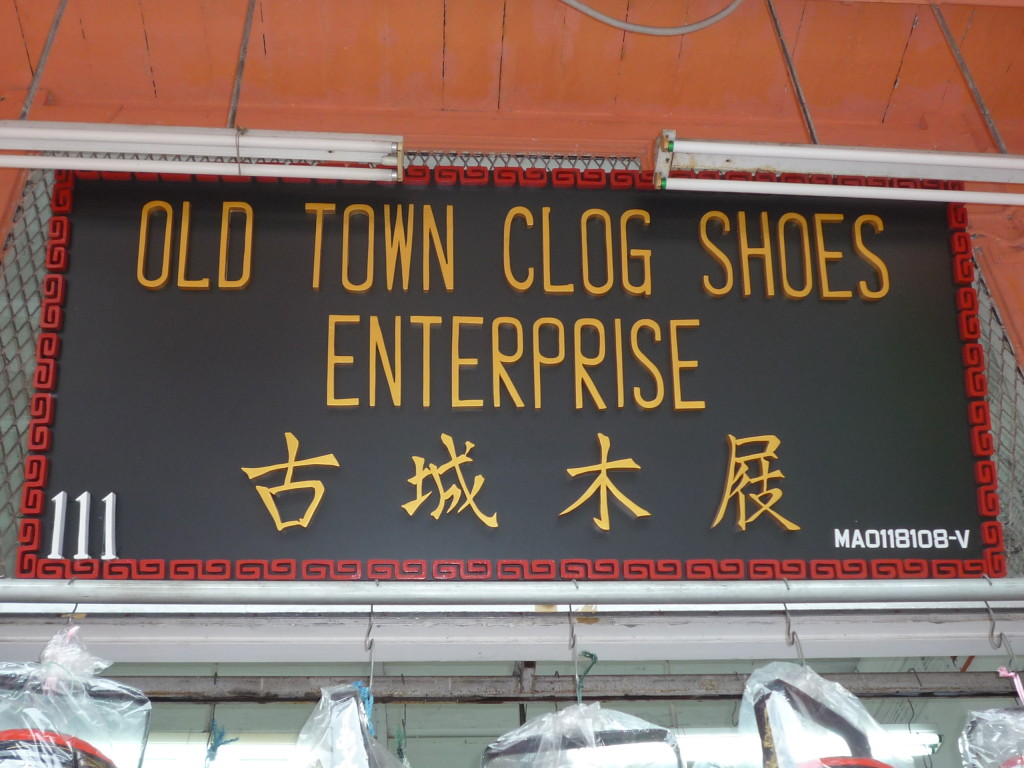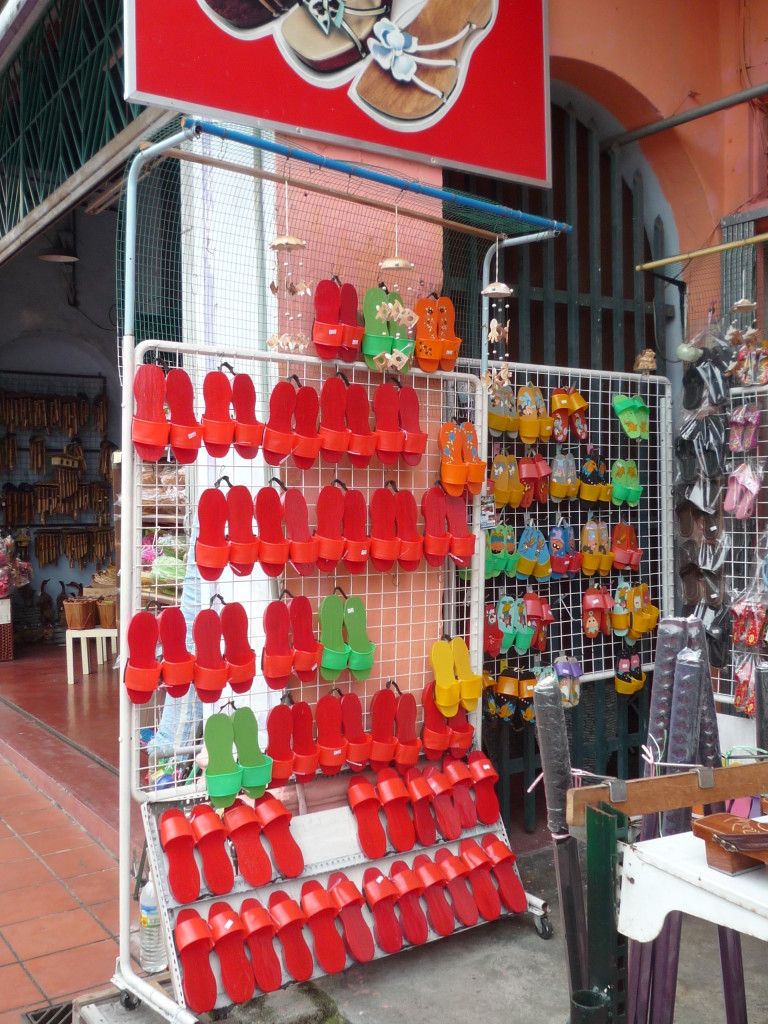 Dear and my dad was carrying Dawn most of the time..because it was quite crowded..Poor them 🙁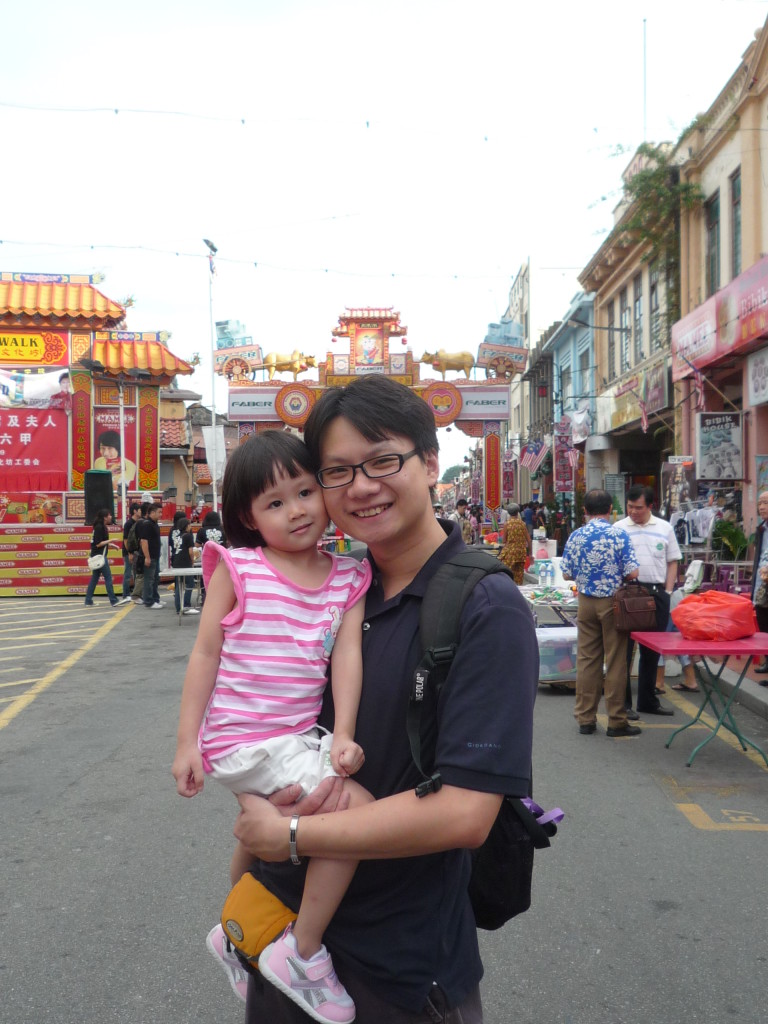 I saw this tutu and asked my mom whether it is nice here.  She immediately turned around and said that the tutu in Malacca is different from those in Singapore.  The gula in the filling is just different.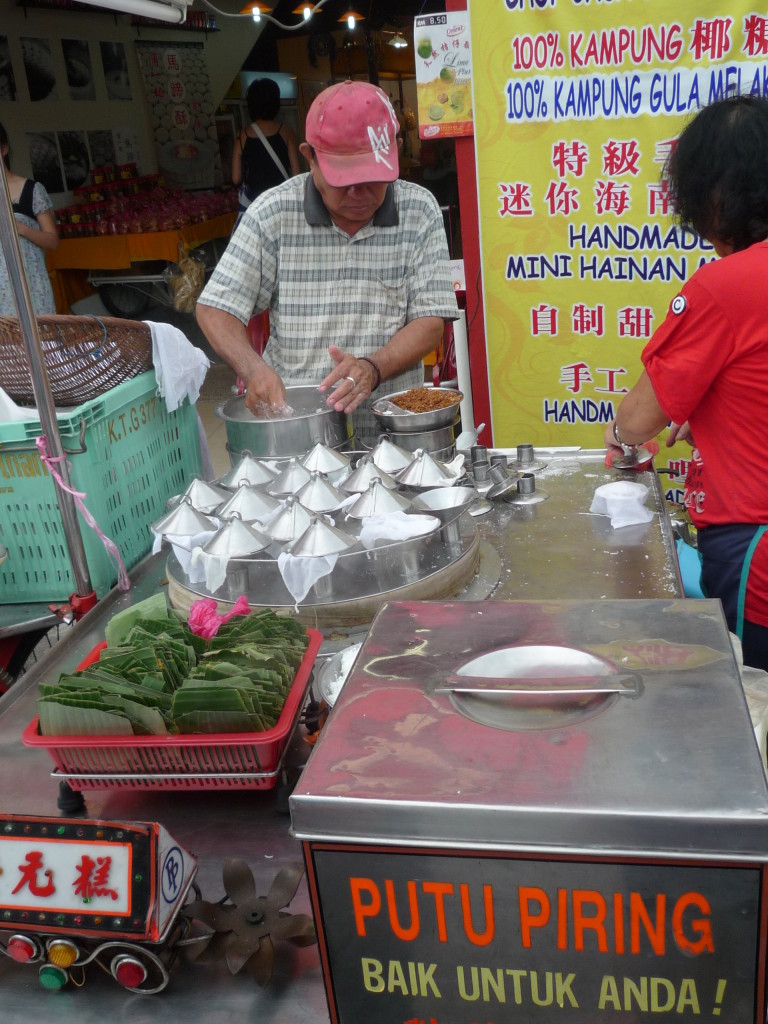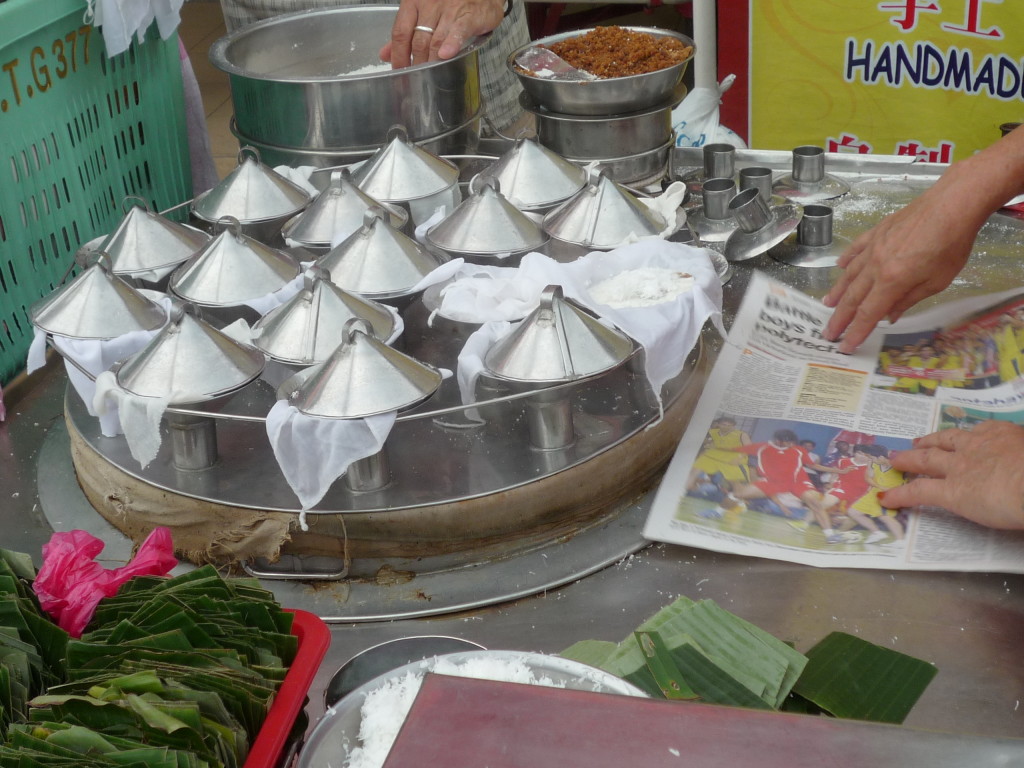 This is it..bigger and very nice!!!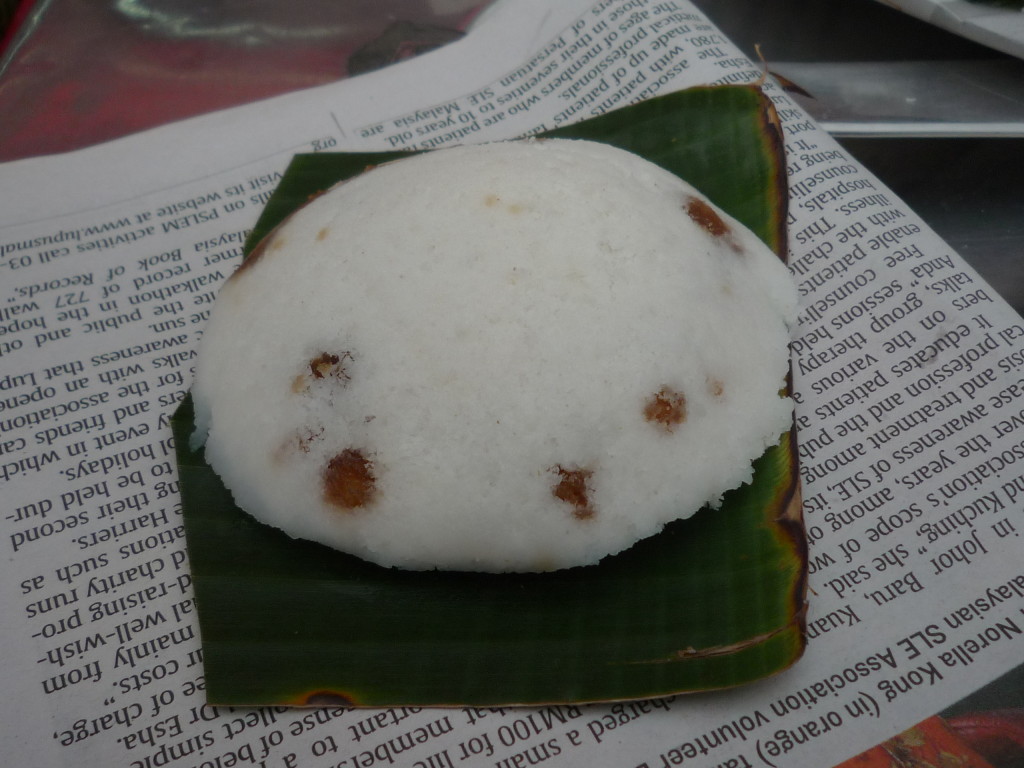 Next we saw this stall which has whole lot of steaming hot dim sum. Can't resist!!!!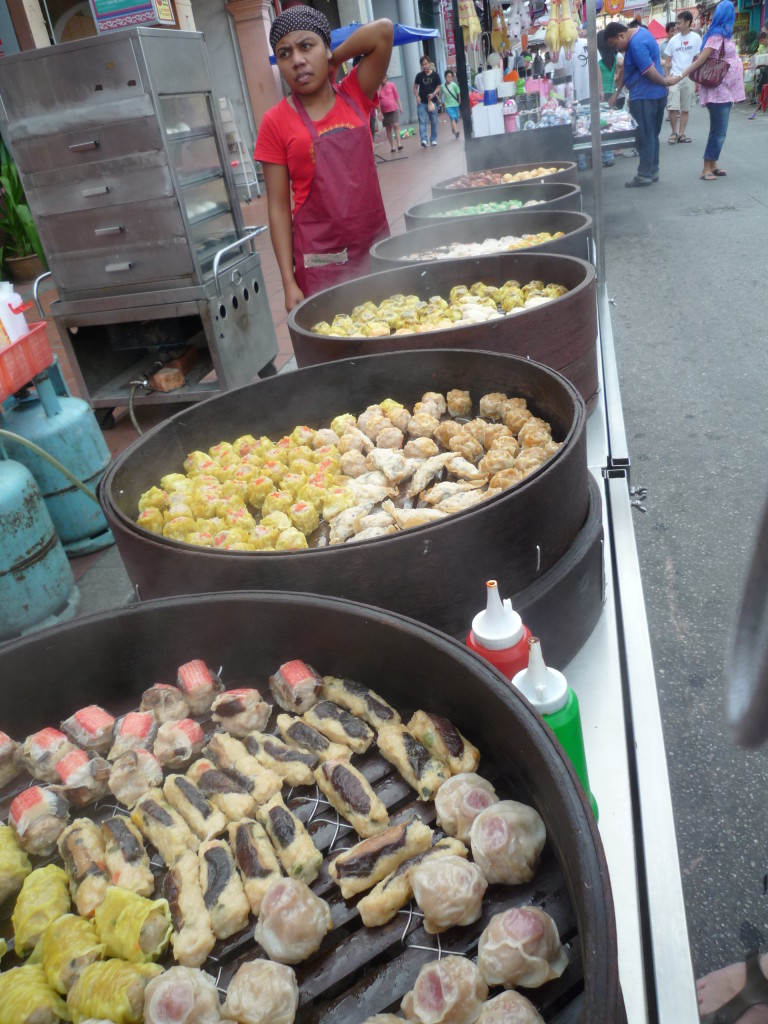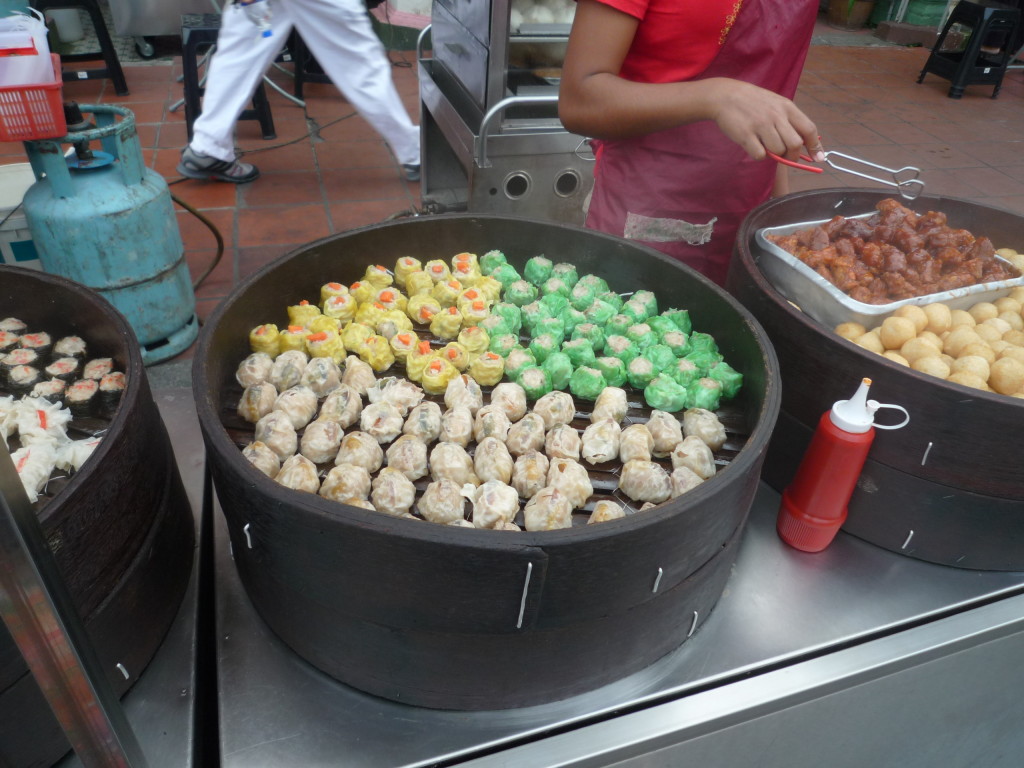 Look at the combination! Colourful and simply attracting the passerby to stop and buy some to try.  And it's not a wrong choice! The meat is juicy and sweet and Dear biting the dim sum is like biting to those 小笼包!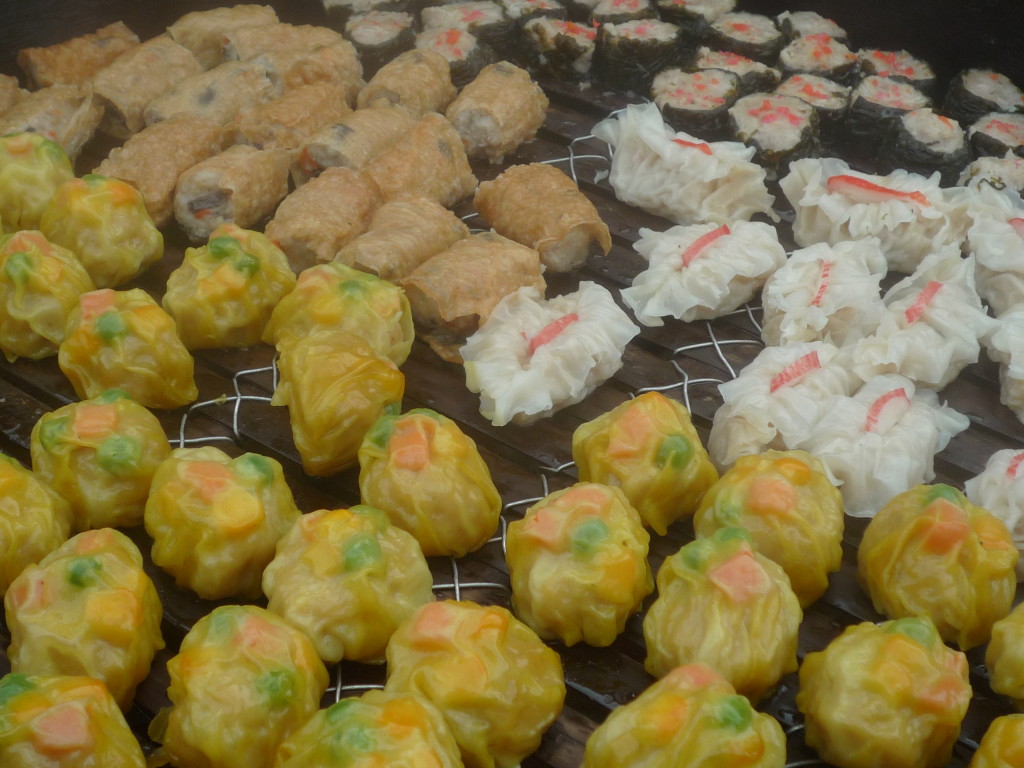 Oh, we found Baskin-Robbins @ Makota!! The ice cream is nice, I still remembered I tried their ice cream in Japan Tokyo Tower with Dear. Eating ice cream in cold weather is really shiok!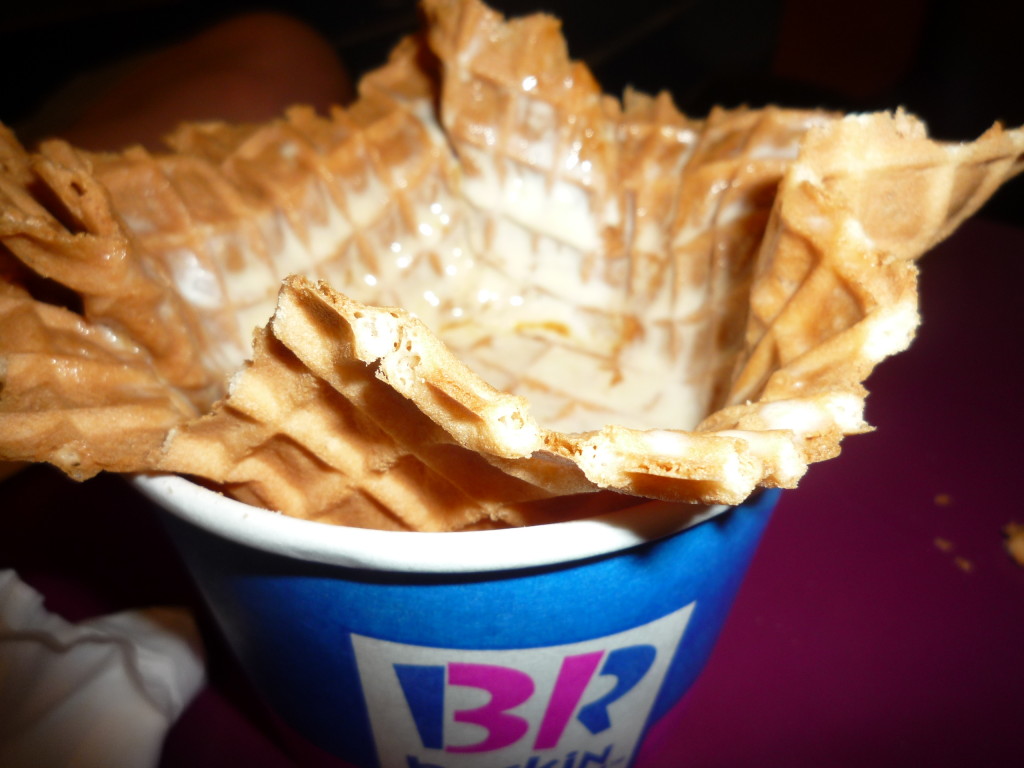 For the 2nd day dinner, we went to Seri Nyonya @ Equatorial Hotel.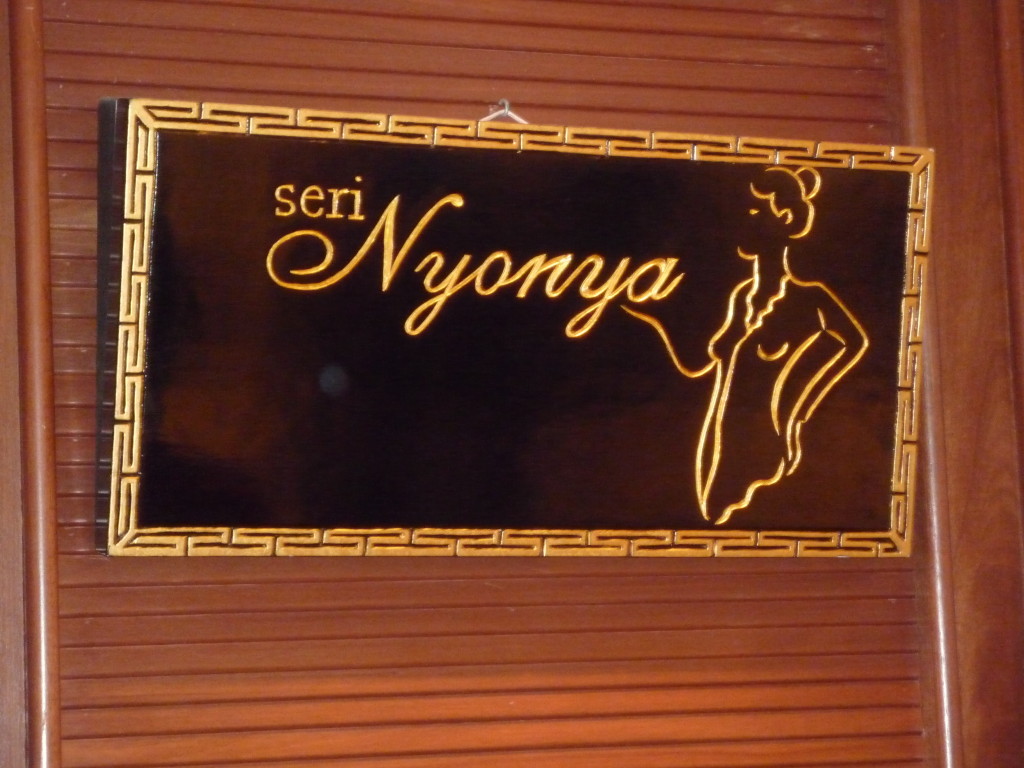 Some nyonya deco in the restaurant. Very nice right? It totally set you into a nyonya feeling..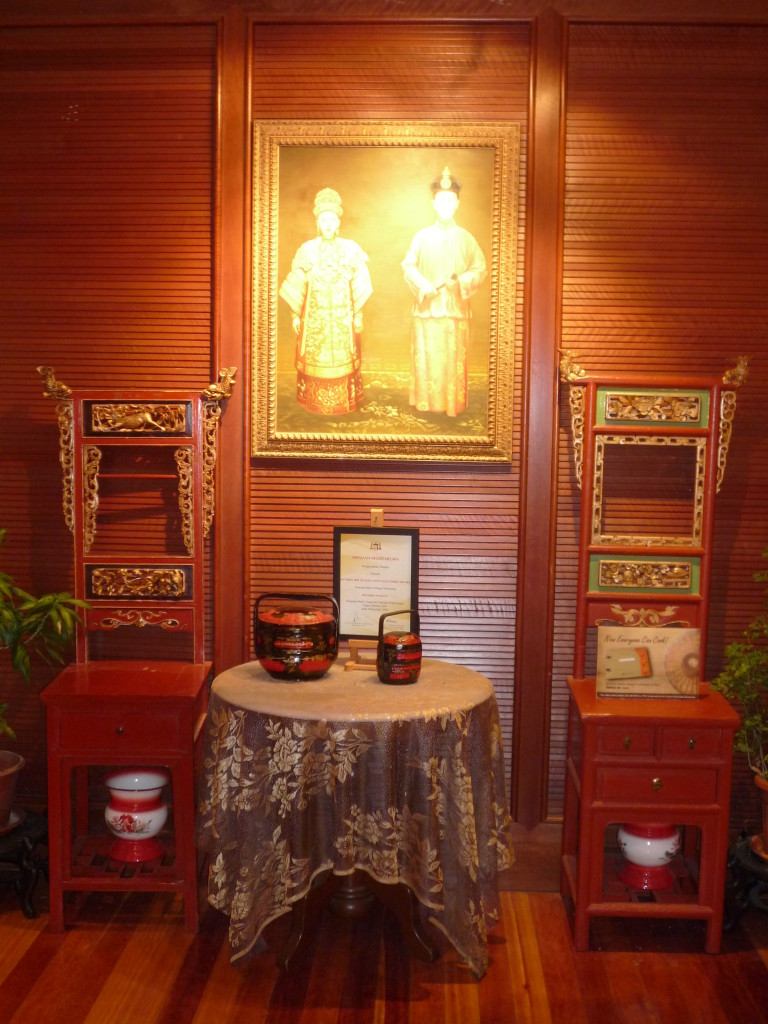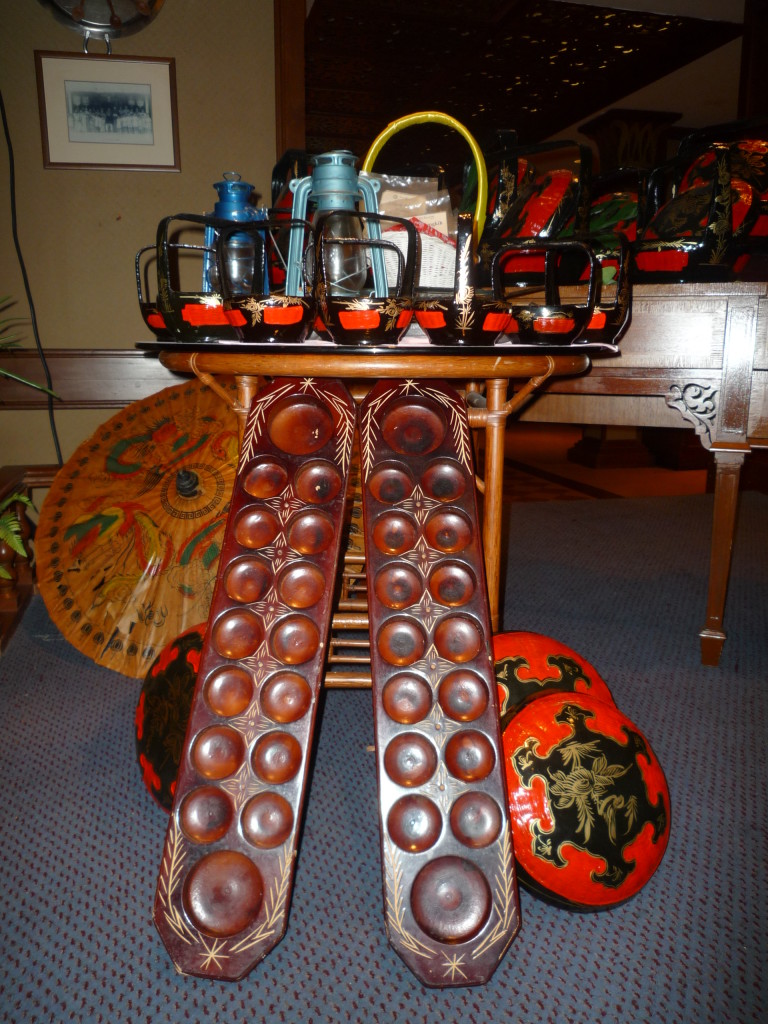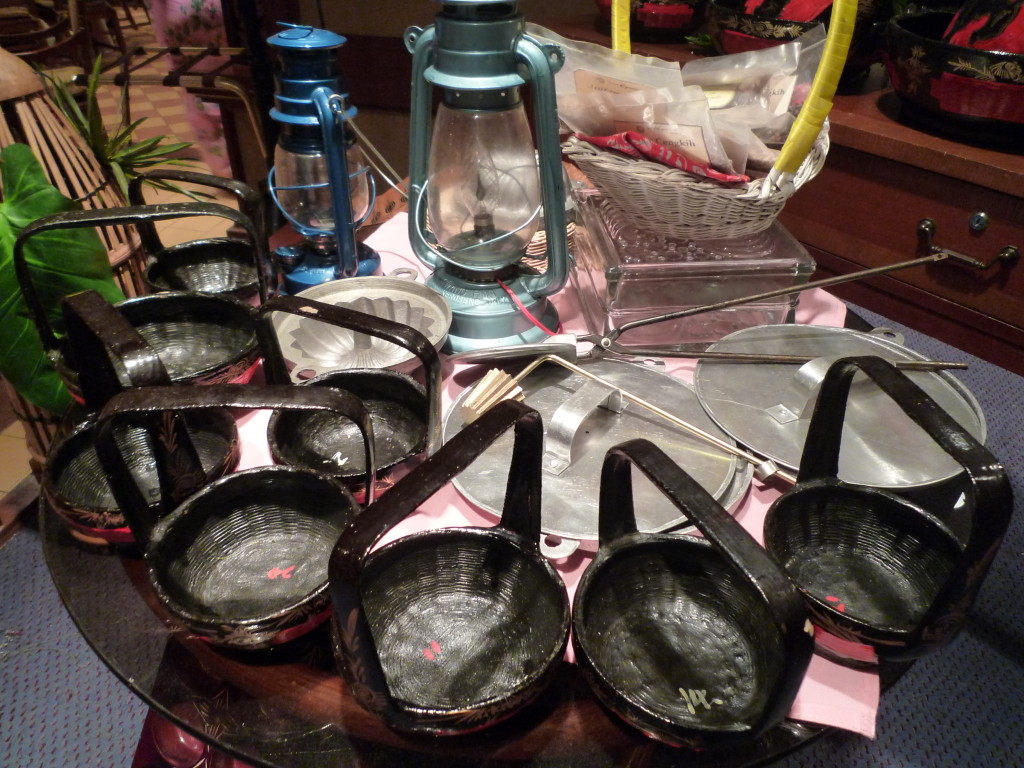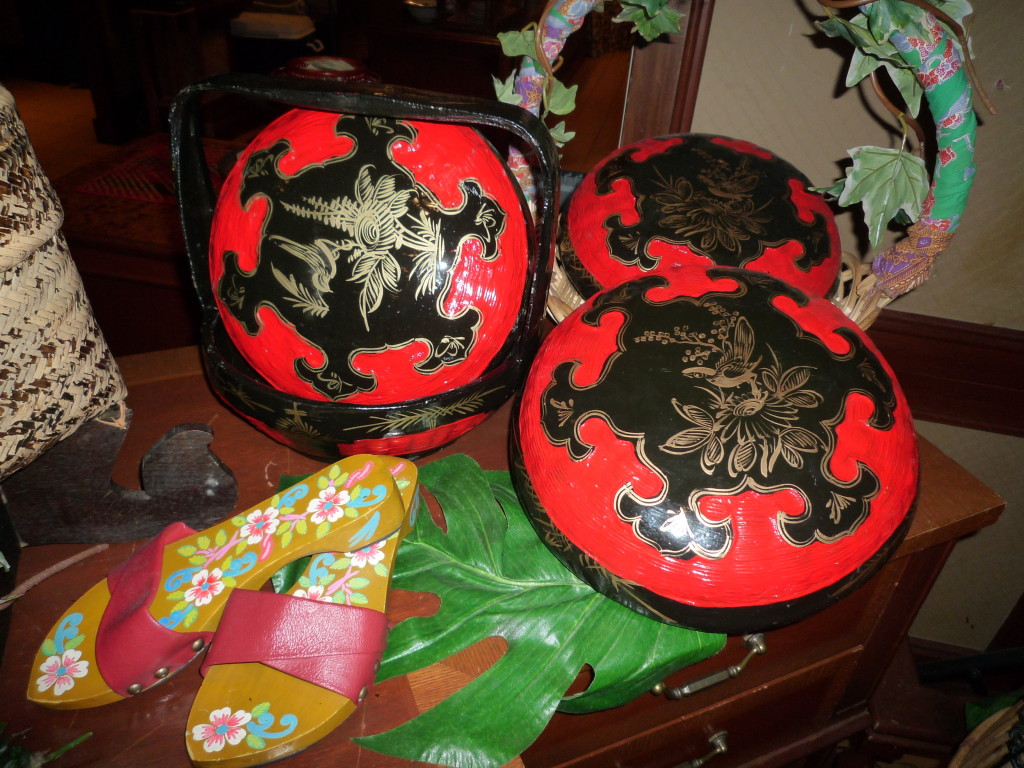 Even the peanuts they served before meals are placed in the baskets!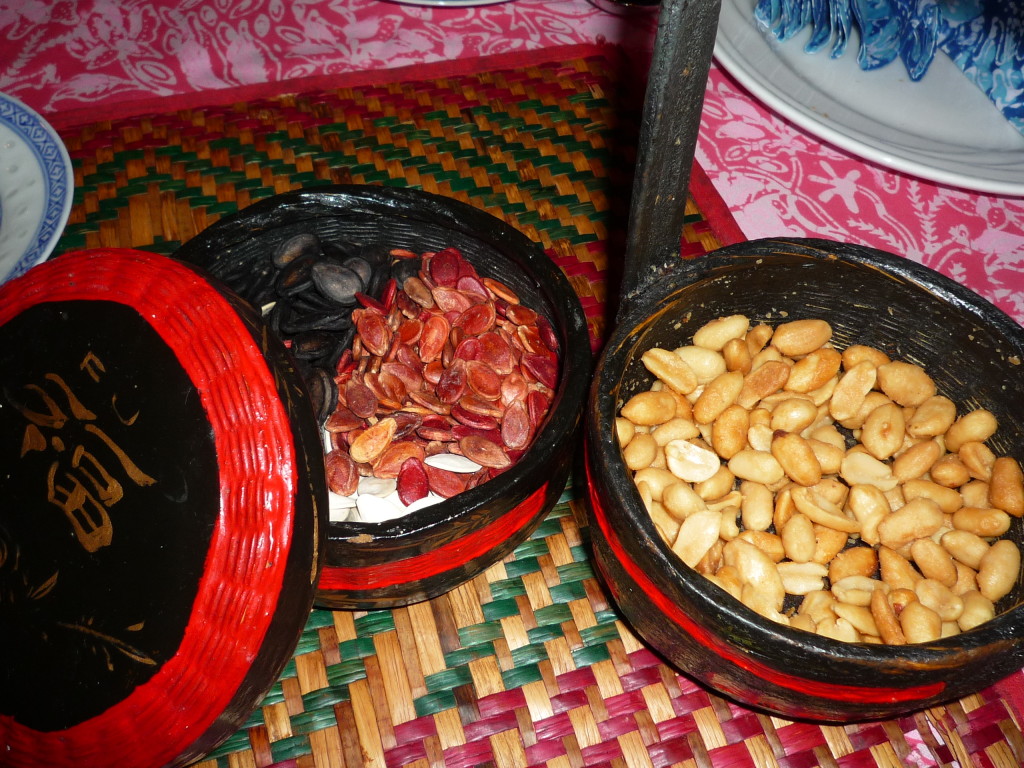 And guess what is this cup for? They are our drinking cups!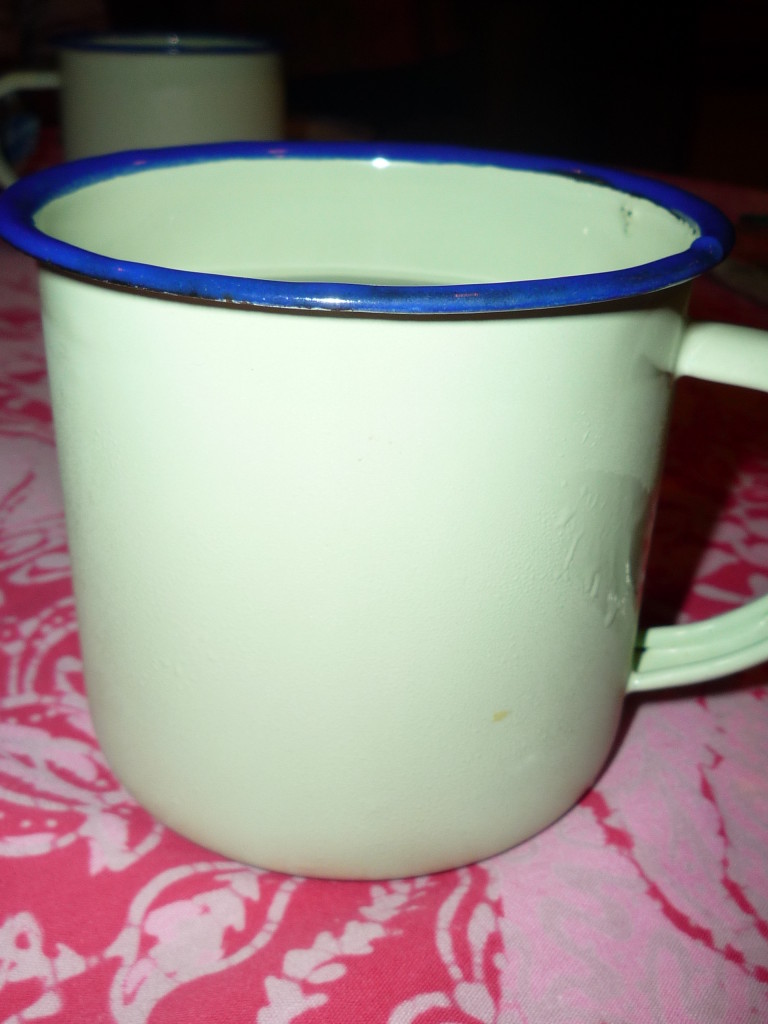 The dishes we ordered are superb! No other words to describe.  My parents were starving and thus 2 Pie Tees' were missing by the time I managed to take the photo! 😀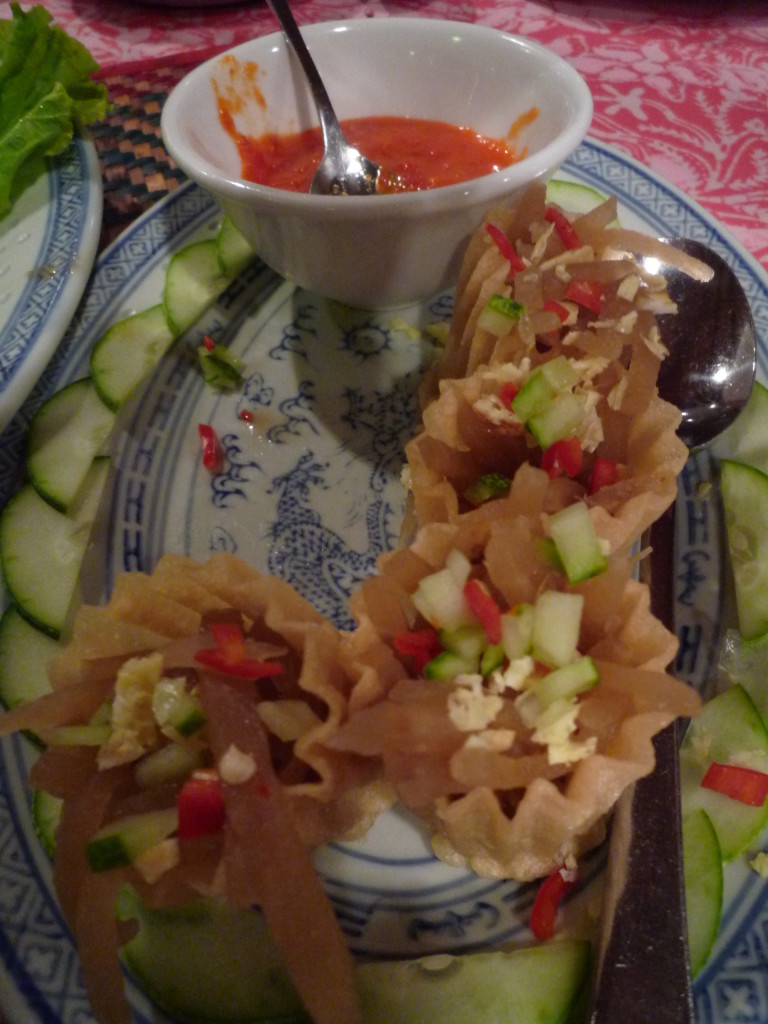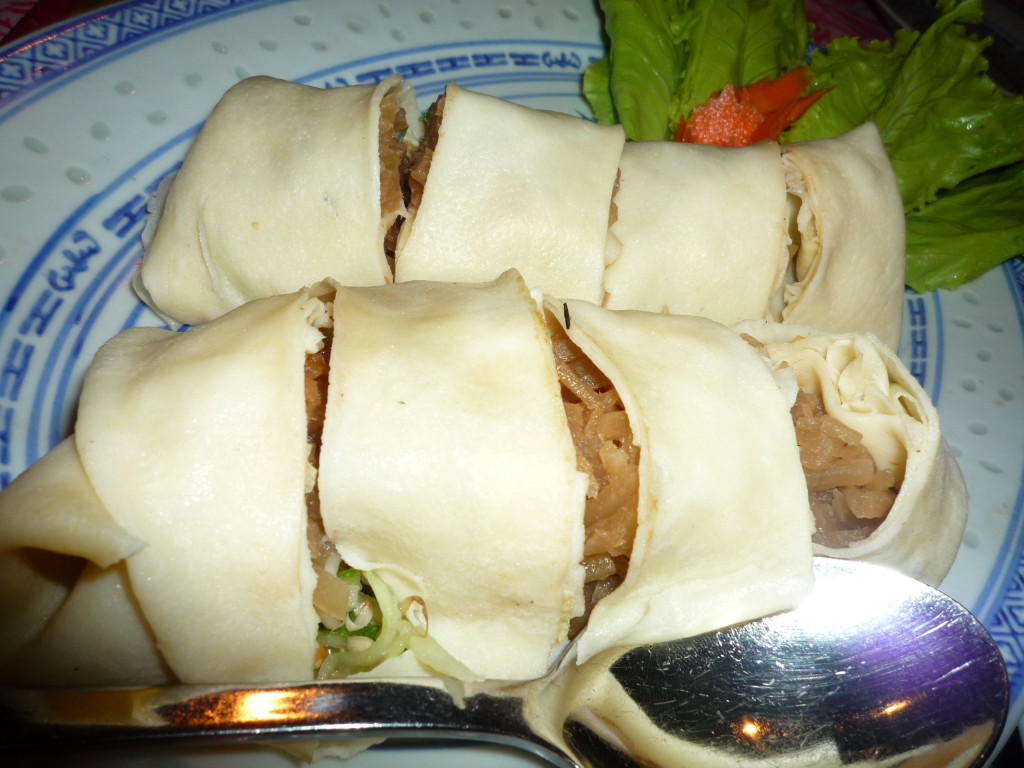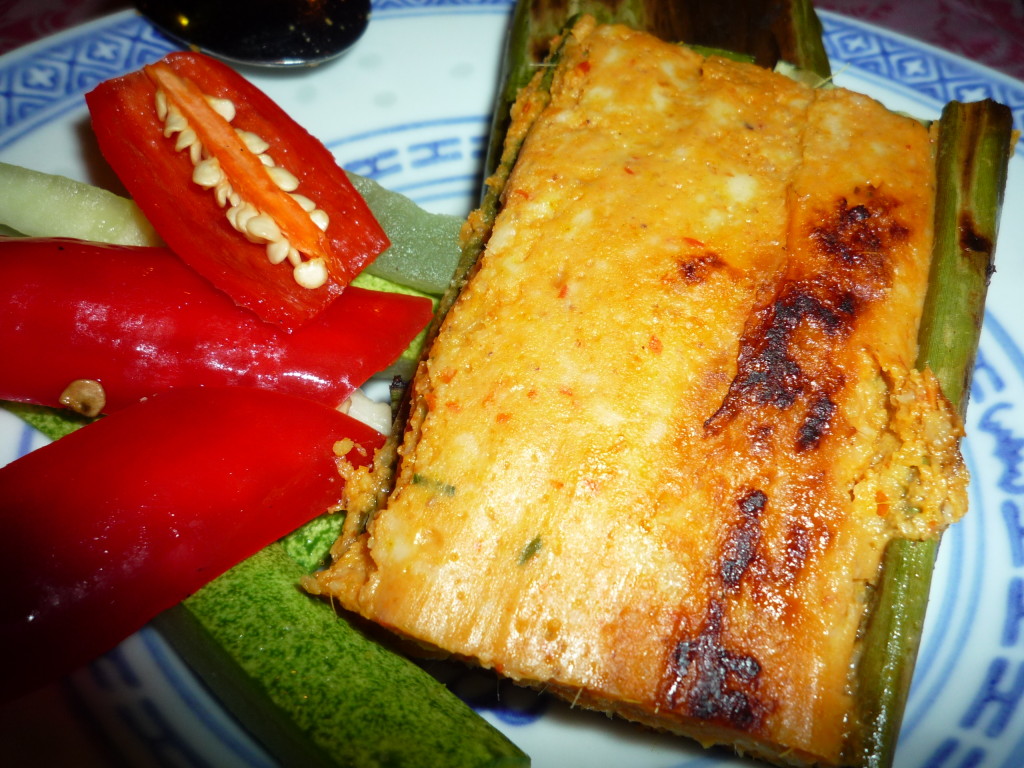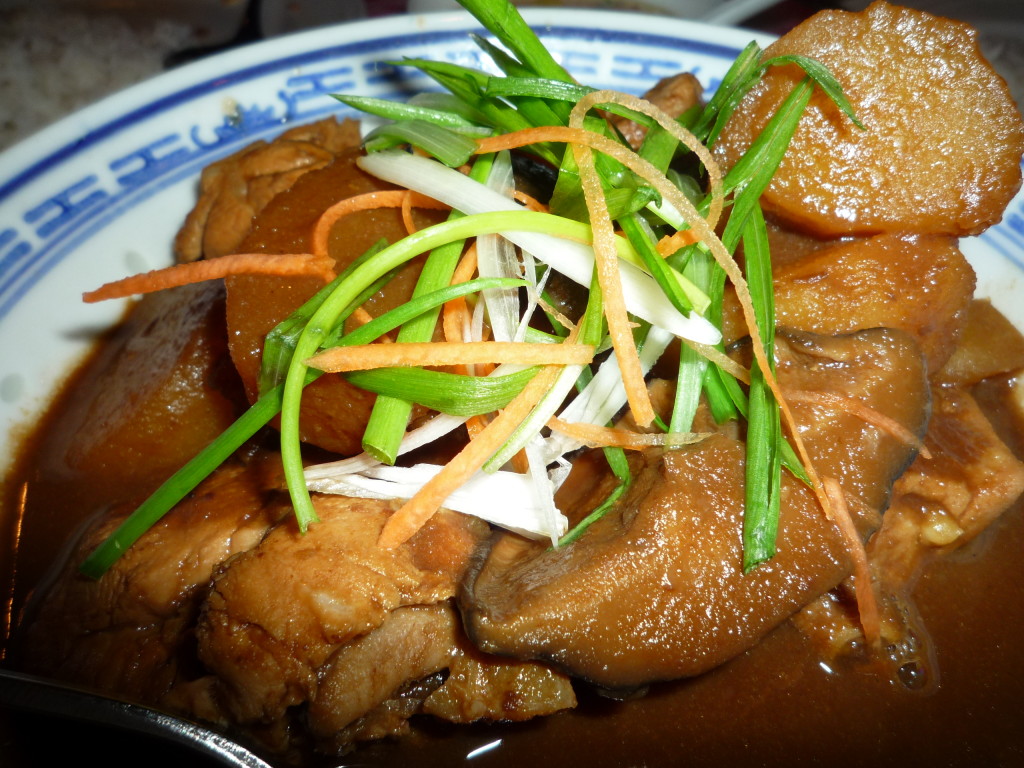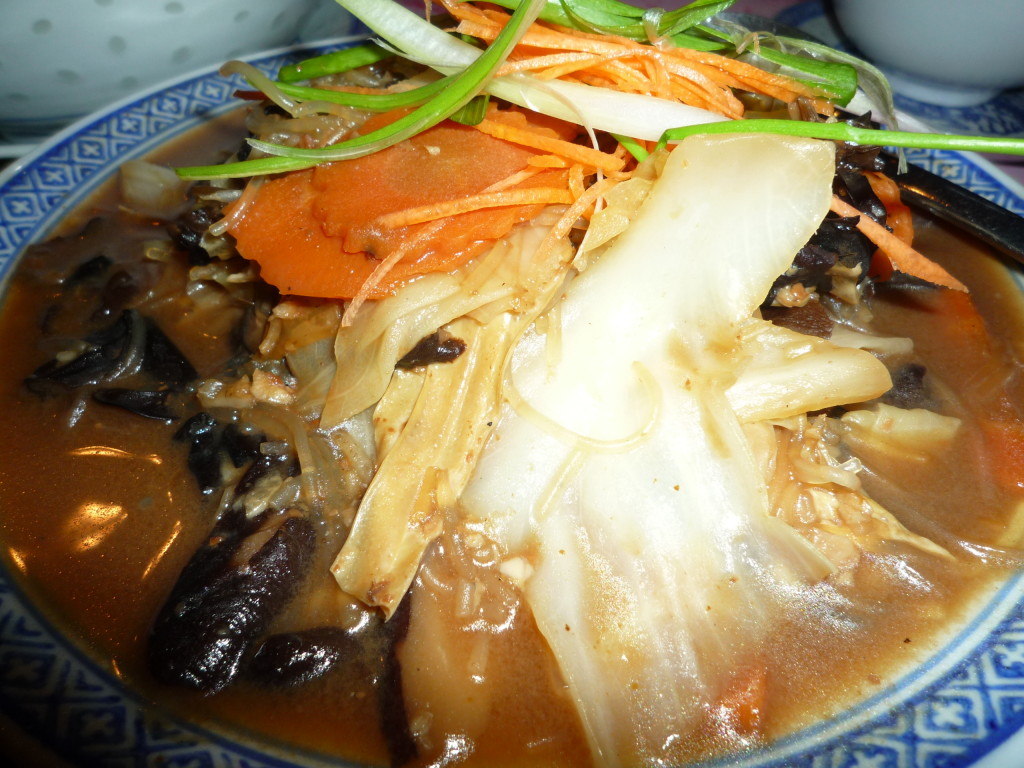 I love this dish the best.  It's brinjal with sambal chili. I am not really a brinjal person, but something inside me just wanted to order this dish. And it's so good! Shiok!
And the ice kachang for my dad…Tall and filled with crashed peanuts on top!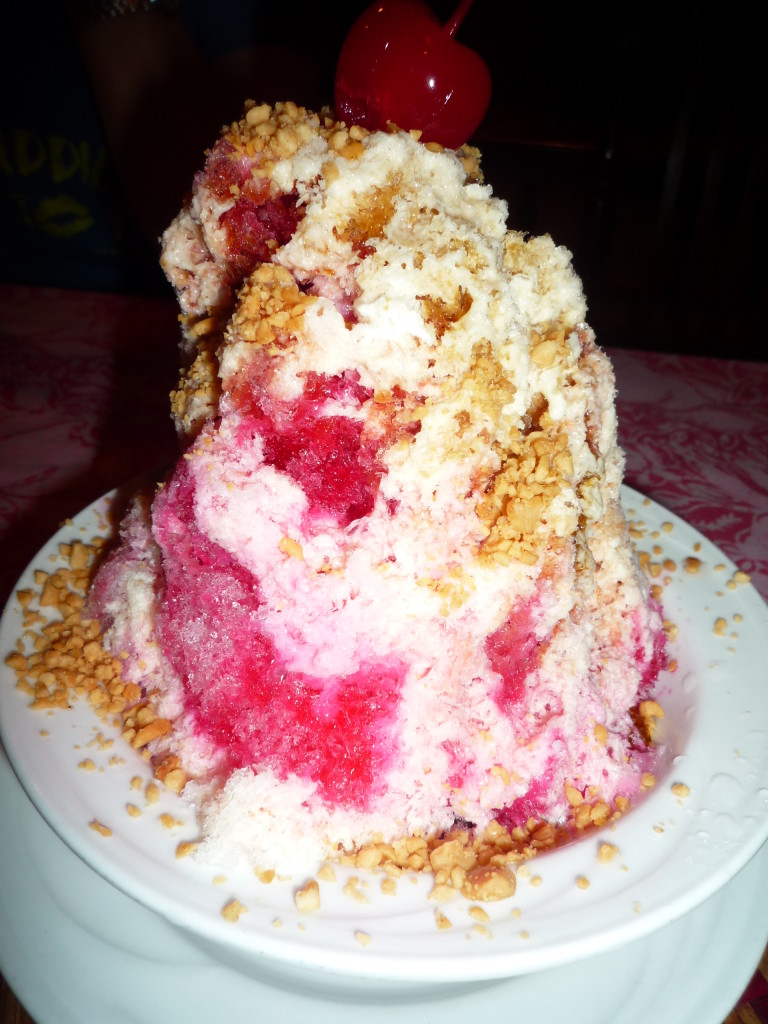 And dear has this chendol..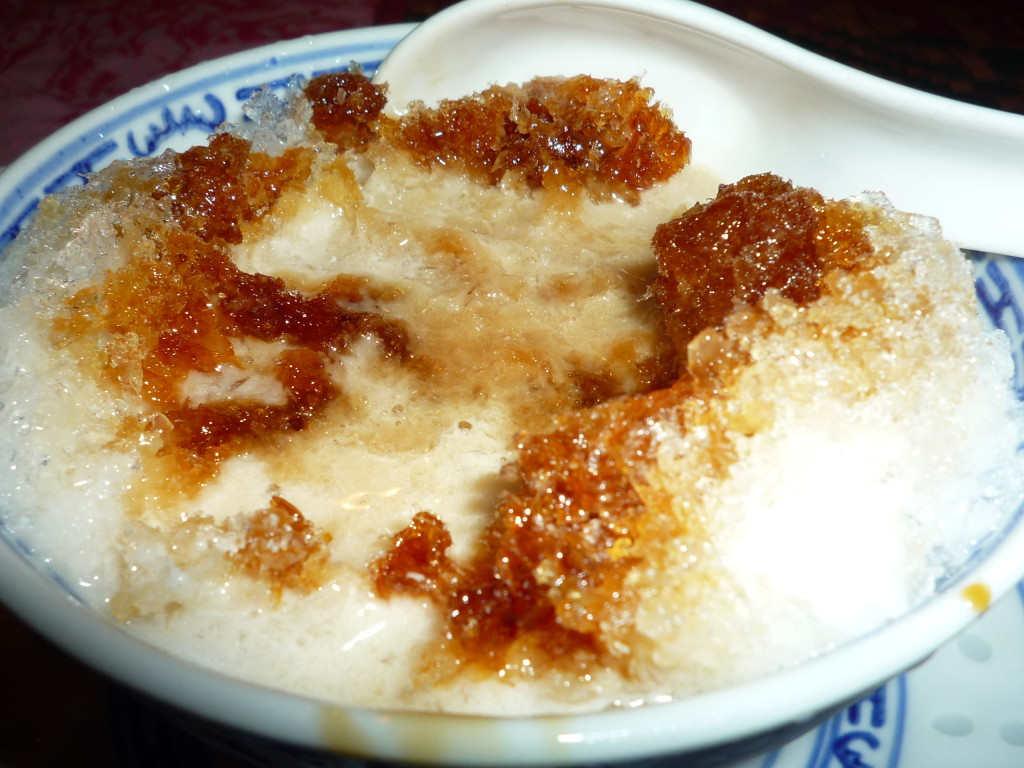 Slurp!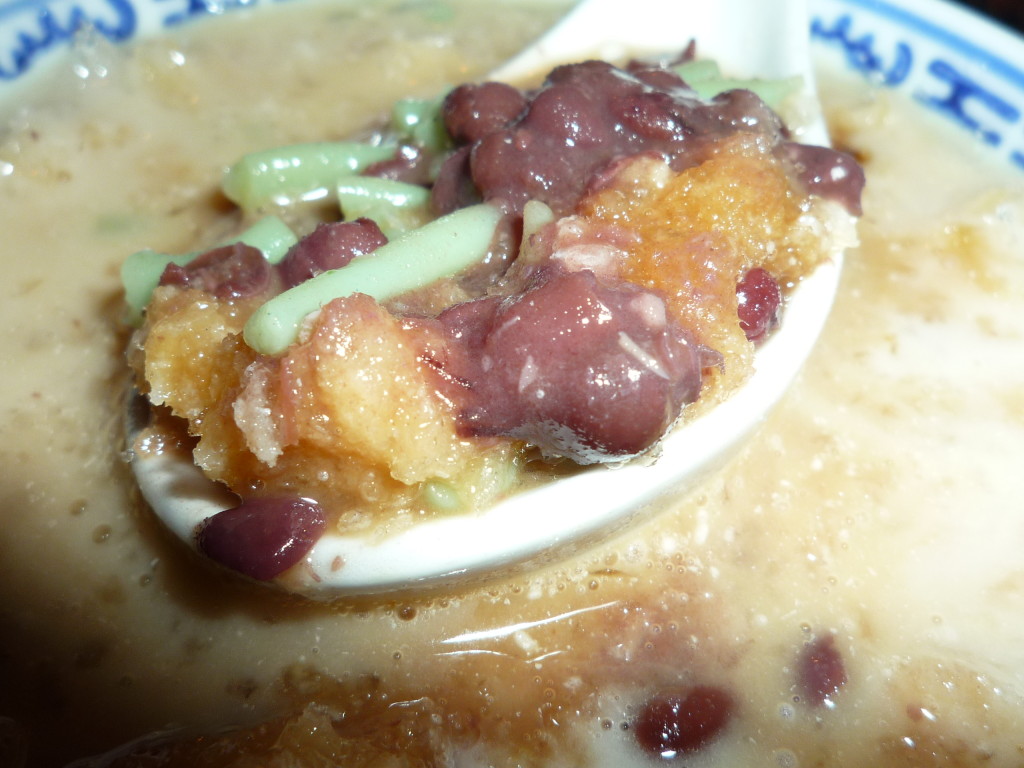 We had our breakfasts in the hotel because its included in the package.  Look at Dawn, she loves her plate of bread!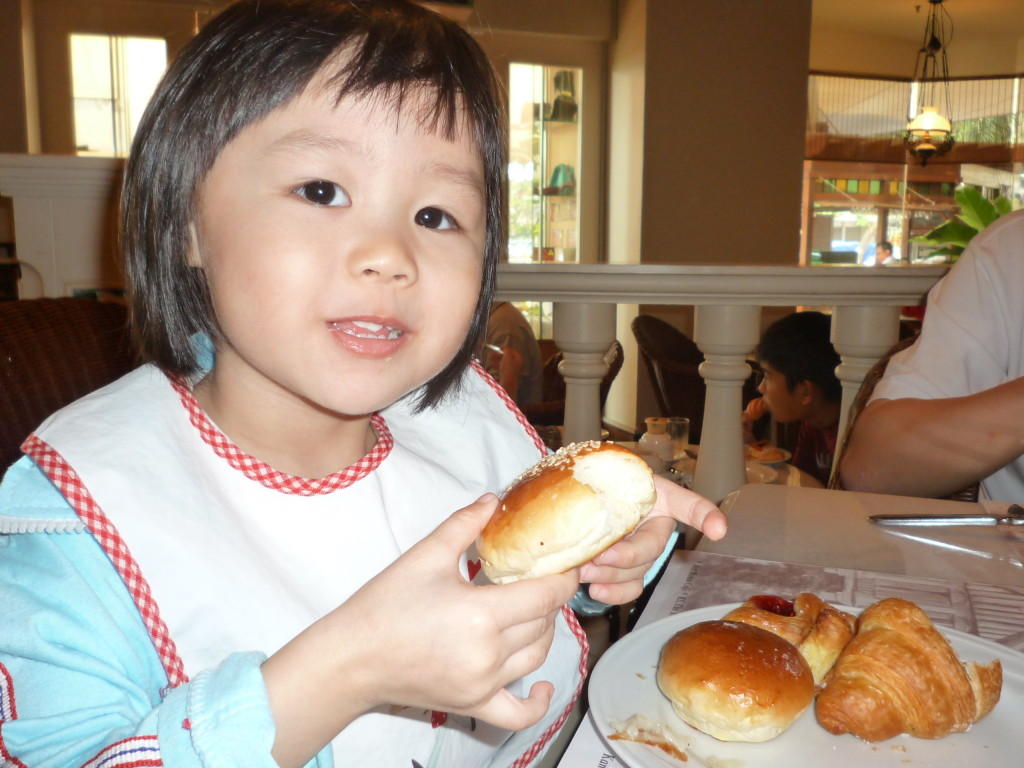 Um!! She said it's HAMBURGER! And she smart lo, in order to taste all the bread which her papa took for her, and she knows that she can't finish all, she happily just took a few bites on each bread to taste them! Leaving the halves for papa to finish them. 😀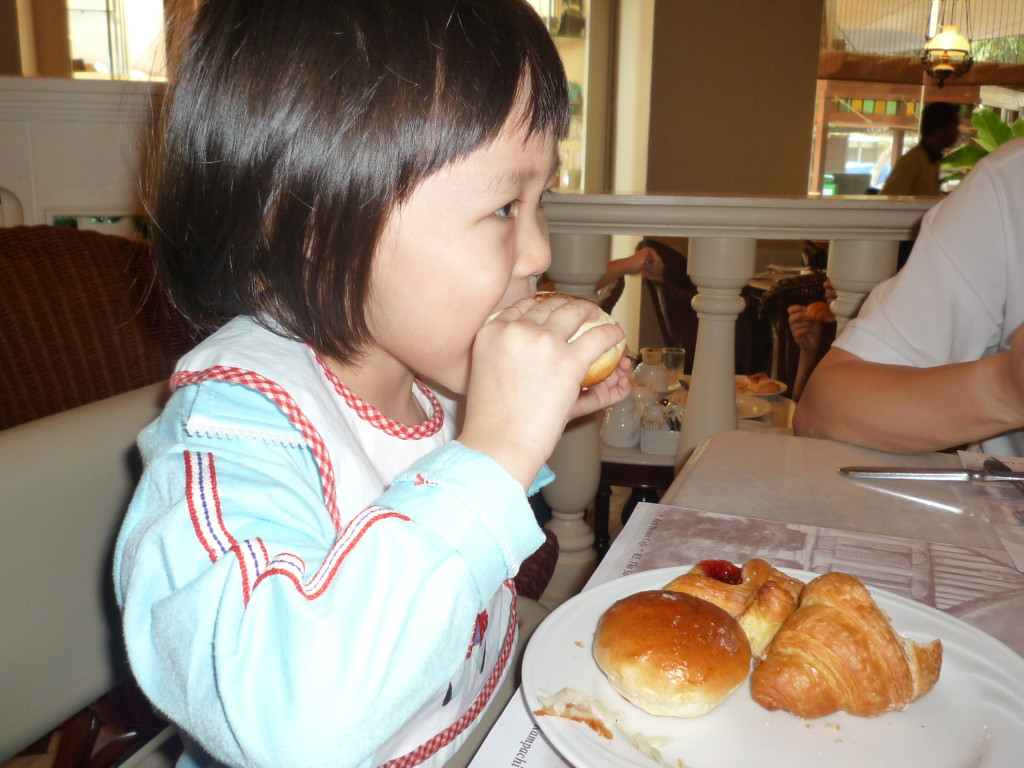 These summarized most of  the food that we had in Malacca.  Oh ya, if the coach stops by Yong Peng, remember to try the fish ball soup there. Bouncy fish balls! 🙂