December! Yeah! The month of holidays, and taking leave :p
When Dawn saw the Christmas decorations in AMK, she was so excited and ran around, wanting us to take photo for her.
Dawn the Elf :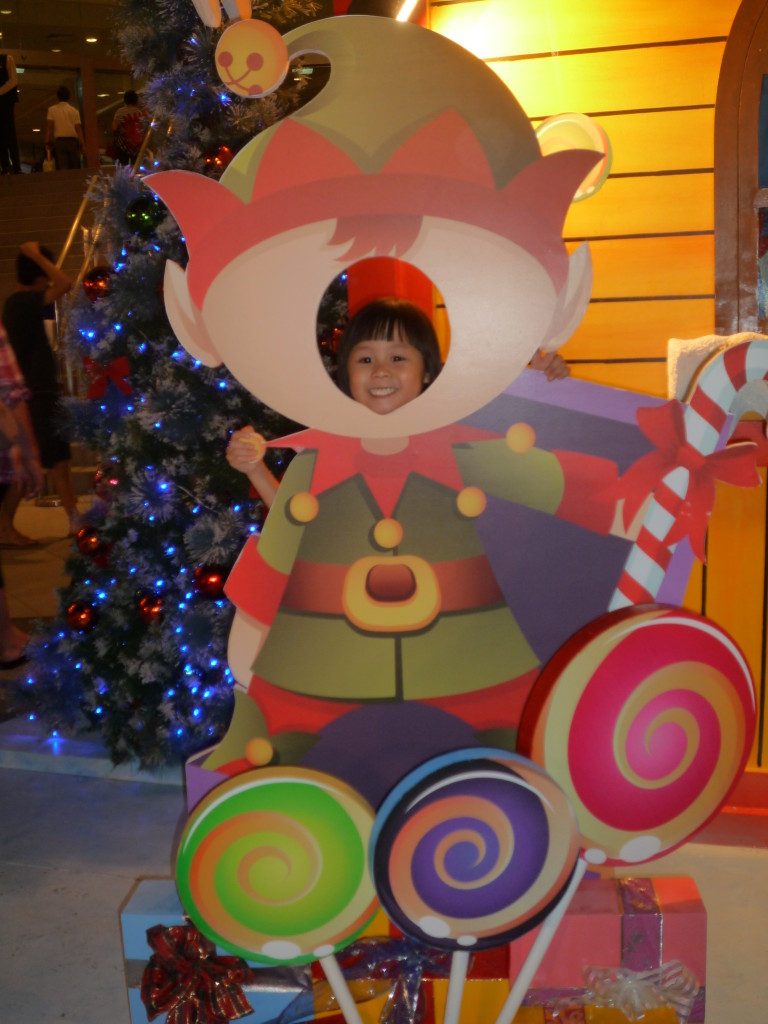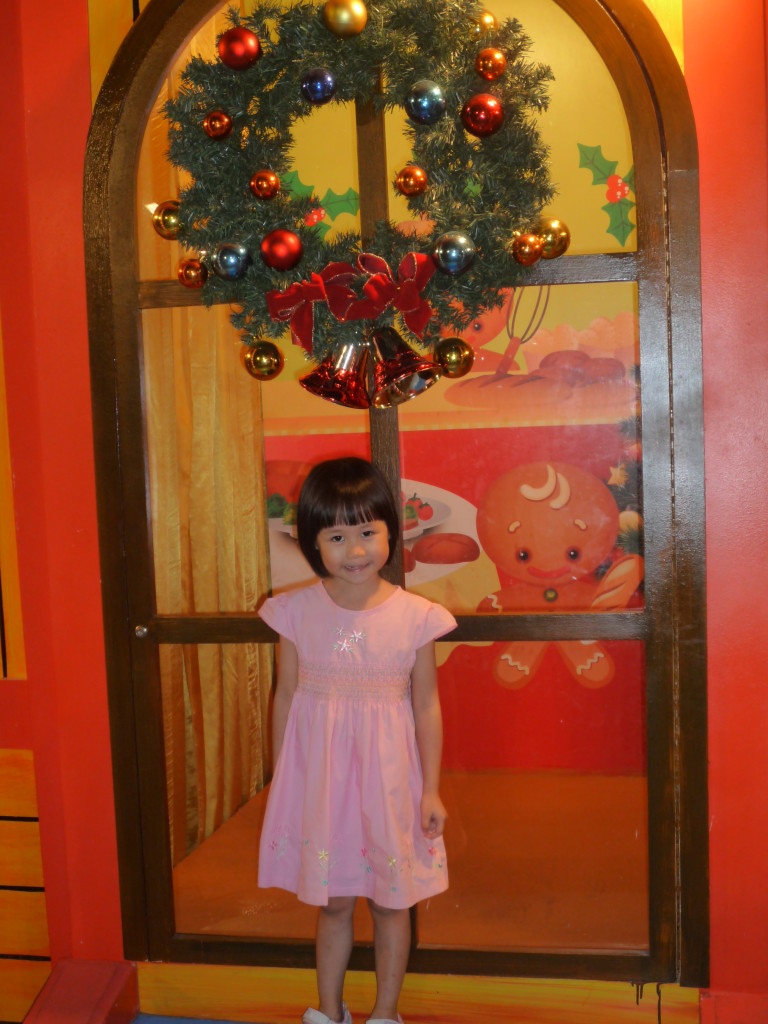 Dawn the Gingerbreadman :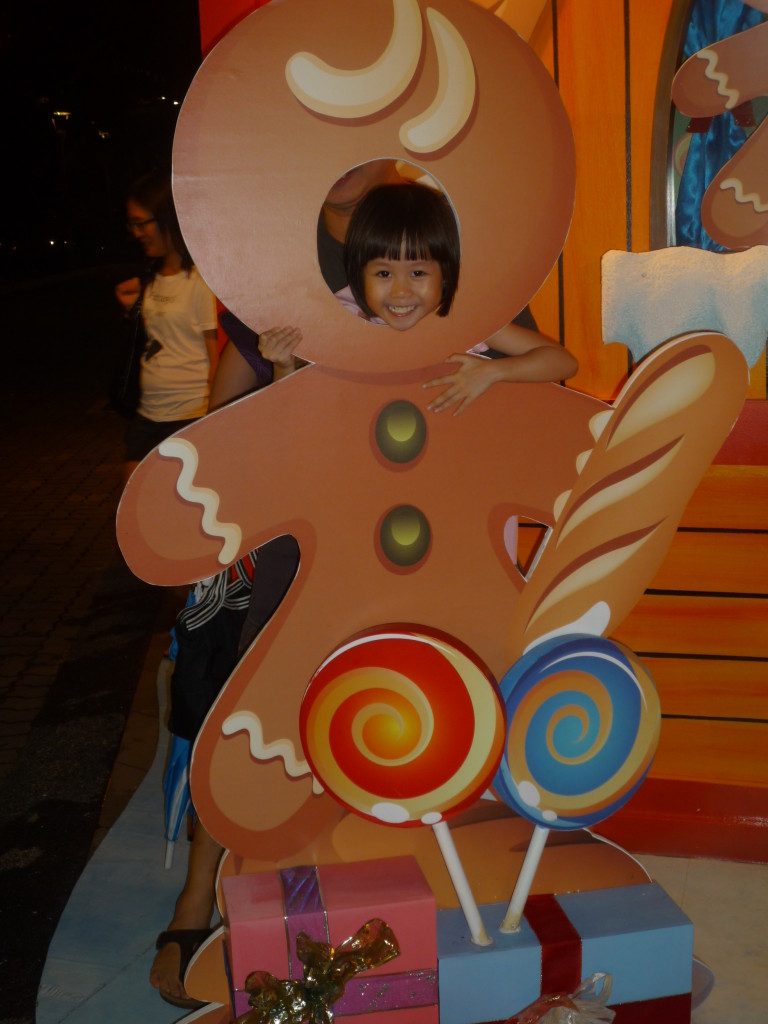 Dawn the Santarina:
Dawn the Snowman: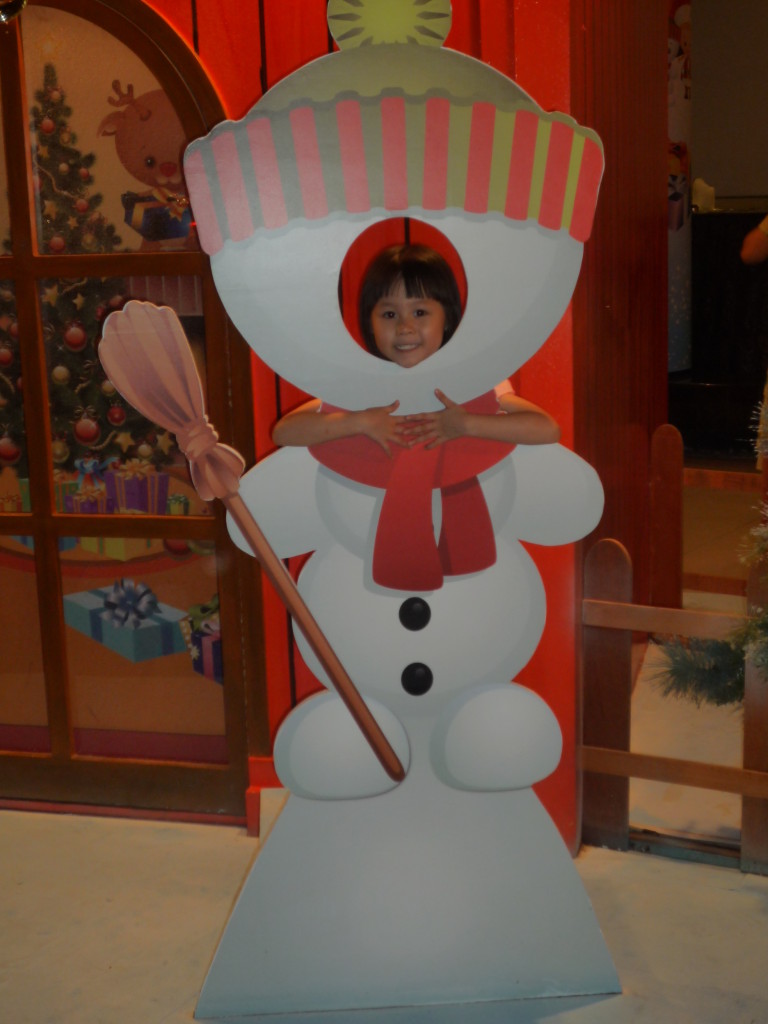 And Dawn beside the wishing well: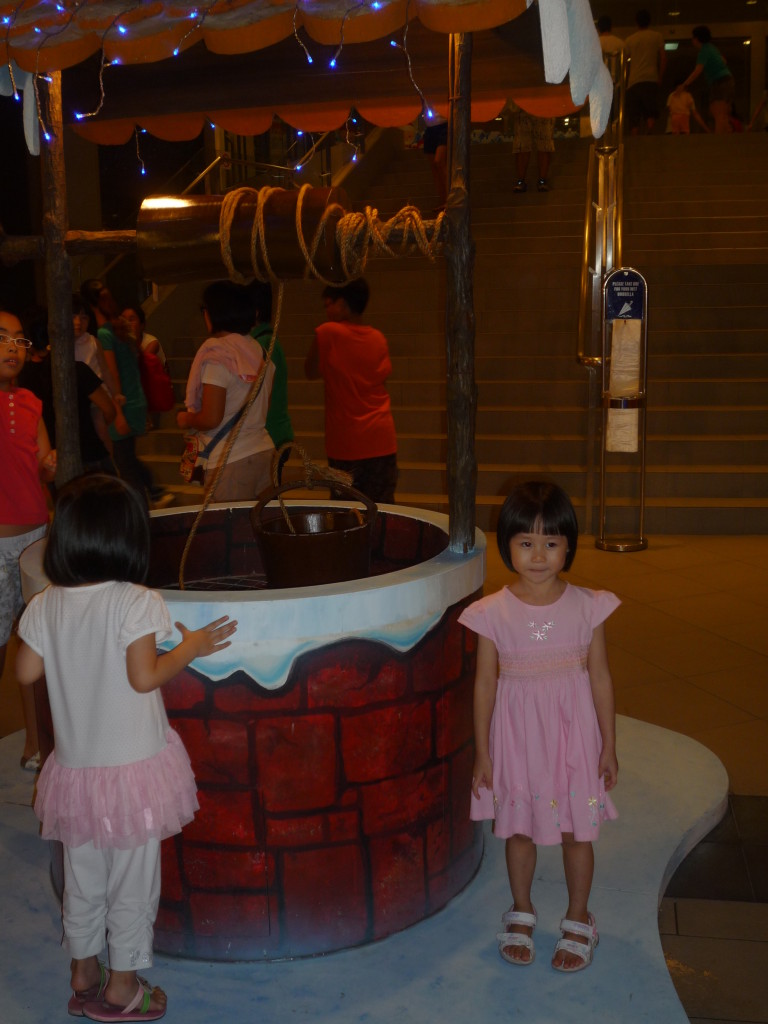 We were in United Square and she wanted to take photo with the giant Gingerbreadman.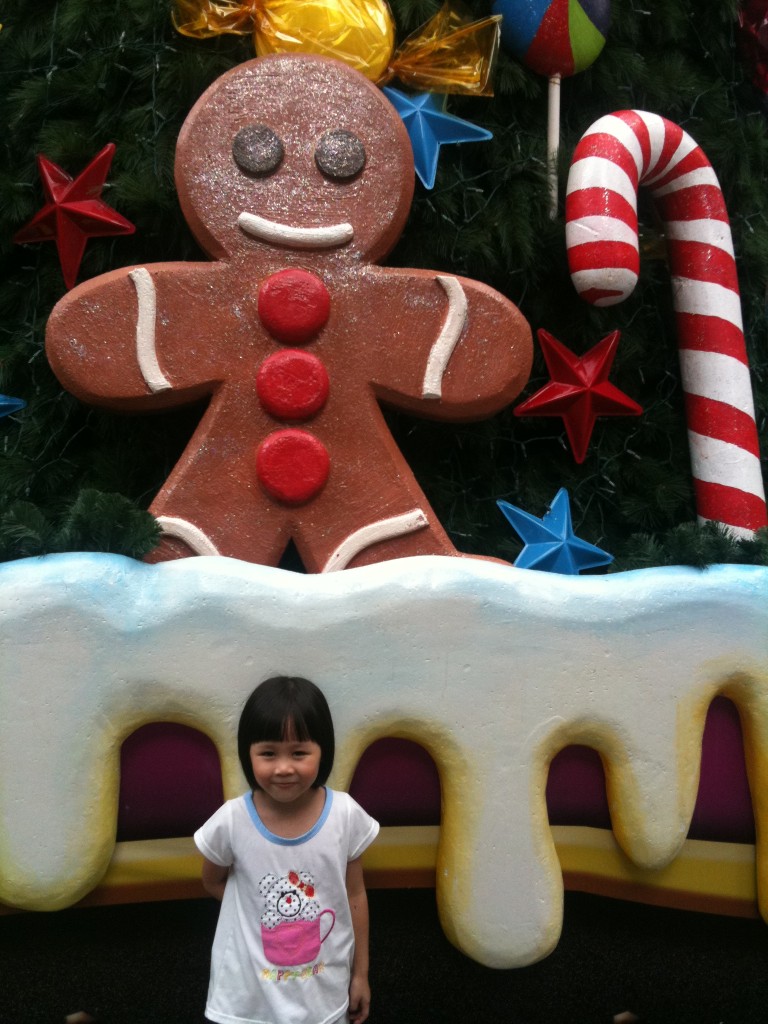 We also went around shopping malls to catch some Christmas show.  The first we went was Barney show at United Square.  We queued for an hour, and because they only allow 1 parent with the child, I ended up standing an extra hour till the end of the show.  Nearly fainted because of the stuffiness and of 'cos the extra weight on me.  I asked dear to go in with Dawn because I feared that I can't stand up on my own as all audience had to sit on the ground.  You know how difficult it is for a pregnant woman to stand up from a sitting position from the ground.
But all is worth it because Dawn really enjoyed herself by sitting at the 2nd row from the stage.  The Barney is so big and real to her as compared to the DVDs she watched.
Dawn with Daddy :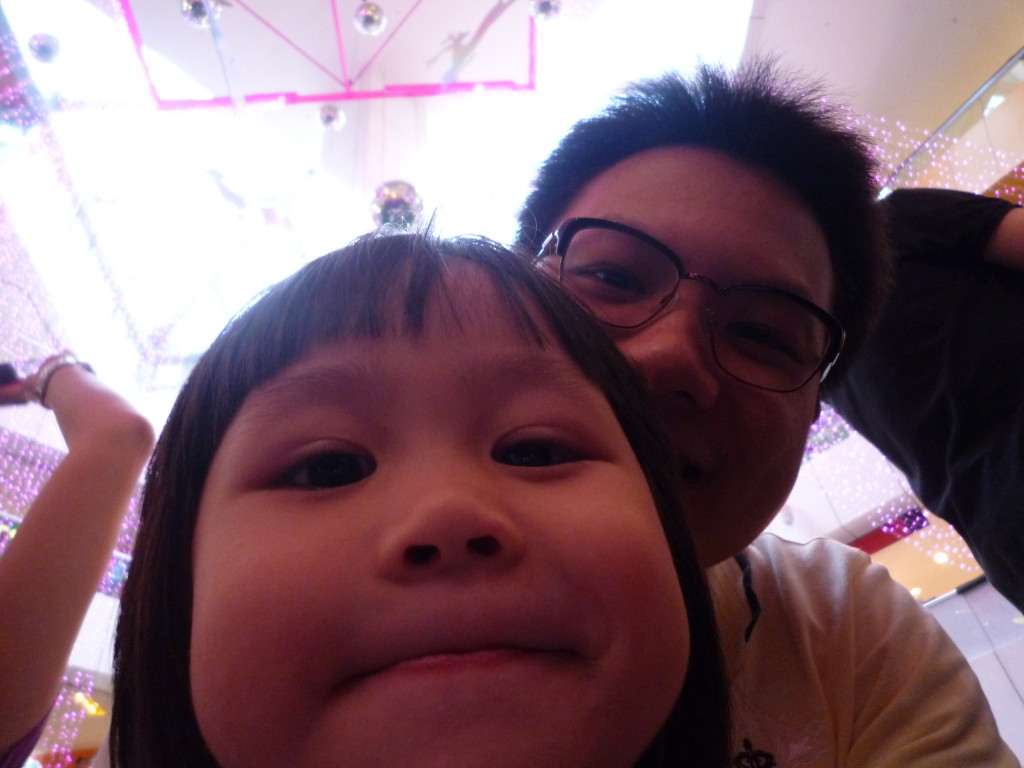 Barney Appeared! And then BJ & Baby Bob!
We didn't manage to spend $30 in time to register for the free photo session with Barney so we ended up asking Dawn to take the photo from 2nd floor. 😀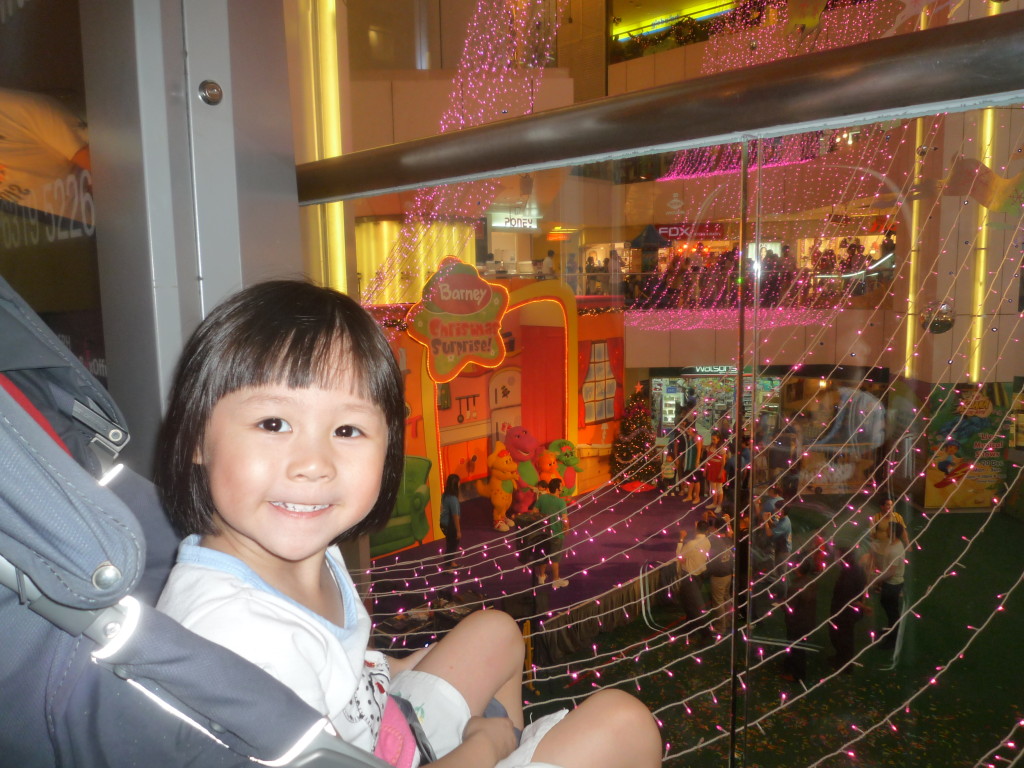 After the show, we went to Raffles City and thought of catching the 7pm Dora show.  However, Dawn woke up from her nap and we ended up watching part of the 4pm Dora show. Both the adults were happy as need not have to queue up again or wait till 7pm 😡
But this also means lousy photos taken…. :p
And this is how Dawn watched the show :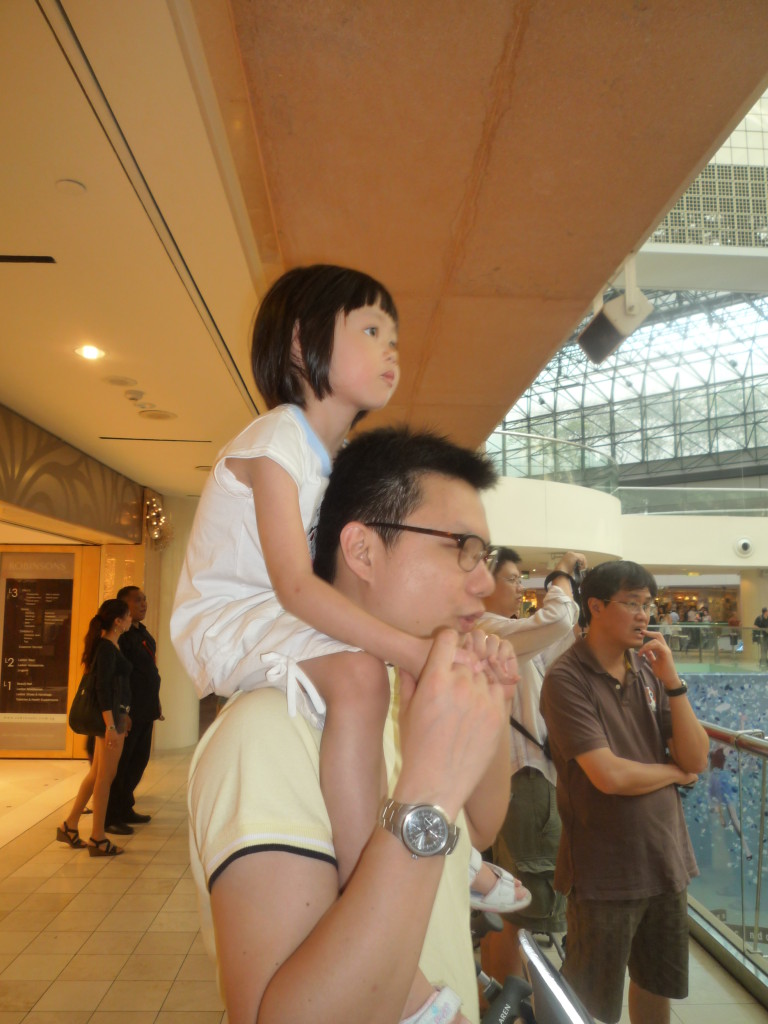 好伟大的爸爸哦!
We went to Marina Square in another weekend and we caught the Hi-Five show.  Again, the lazy parents refused to queue to enter to the audience area.  I think dear doesn't want to leave me alone again..hehe 🙂
Again, Dawn was at Daddy's shoulder throughout the show!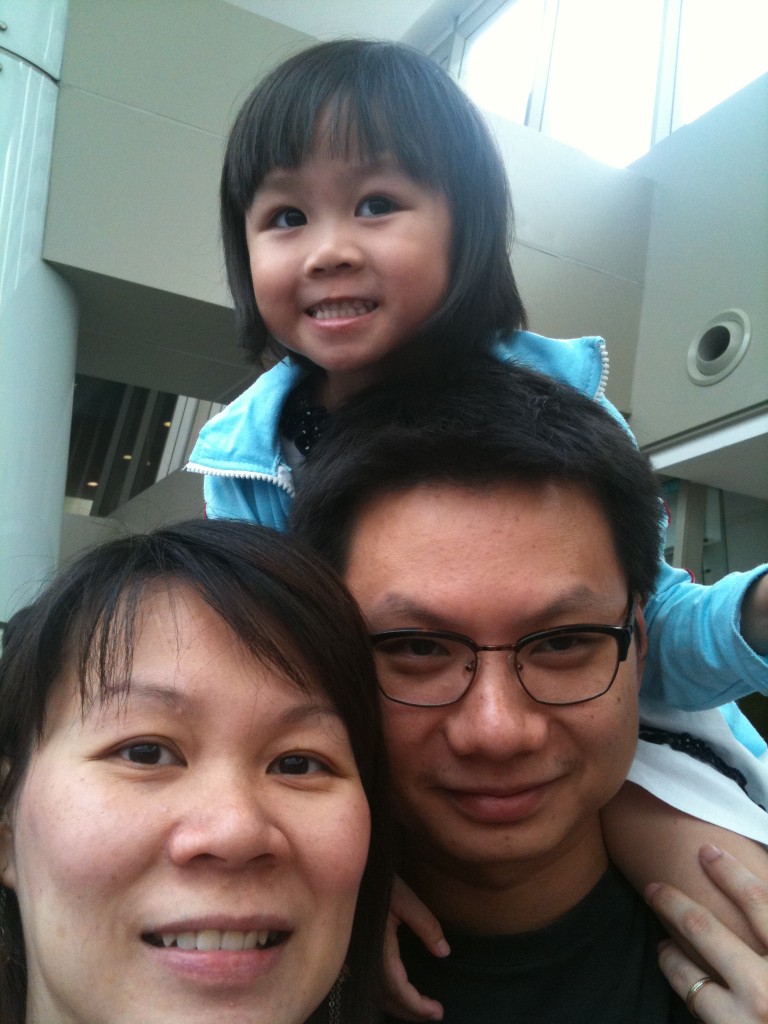 I was thinking whether I should bring her to the Diego Show and to meet her favourite Strawberry Shortcake.  Am going to clear some annual leave but worried that I can't handle her alone outside with my big tummy now.
Go Diego Go! – The Iguana Sing-along
United Square
9-20 Dec (except Tues)
Mon-Sun: 12pm, 4.30pm & 7pm
*Meet & Greet; min. $30 required.
Strawberry Shortcake Berry Bubblelicious Show
1pm, 4pm & 7pm
Centrepoint, 14-19 Dec
Anchorpoint, 21-23 Dec (Only 1pm, Meet & Greet only)
Bedok Point, 21-23 Dec (Only 7pm, Meet & Greet only)
Meet-n-Greet for first 40, no purchase required.