Japanese Curry Rice is one such dish that is friendly to children as it is sweet and not spicy. It is also easy to prepare and cook. I am glad that both my girls love this dish and I will usually cook for them whenever they request for this.

Japanese Curry Rice
Serves:
For 2 Adults & 2 Kids
Ingredients
1 Carrot - in cubes (odd-shaped)
2 Potatoes - in cubes (odd-shaped)
1 whole red Onion - sliced
1 box of Pork Belly Slices (Can substitute with Chicken Thigh Meat)
Vermont Curry (Apple & Honey) Sauce Mix - 4 cubes
Water
Pepper & Corn Flour to marinate the Pork Belly (for 10 minutes. Can skip this if not enough time)
1.5 Cups Rice - Use short grain rice if possible. Cook in Rice Cooker
Instructions
In a non-stick pot, heat oil on medium heat and sauté the sliced onions.
When onion is getting soft & transparent, add the marinated pork belly and fry until they are no longer pink.
Add the carrots & potatoes and mix them with the pork belly and onions.
Add water (2 bowls or cover the ingredients).
Let it boil.
Once the soup boiled, remove from heat or to off the stove.
Break the Vermont curry mix to small cubes and mix them into the soup until completely dissolved.
Return the pot to the stove and let it boil for 20-30mins more. If you want your carrots & potatoes to be softer, you can boil for a longer time. Remember to stir once a while to avoid the curry sticking to the base of the pot.
In a serving bowl/plate, put rice and the curry. Garnish with Japanese pickles. Serve immediately.
It is definitely more economical to cook this at home for the family than to order this dish in restaurants in Singapore. Besides pork belly, we can also have pork katsu, or add chicken instead. Dawn requested for scrambled eggs to go with the rice too.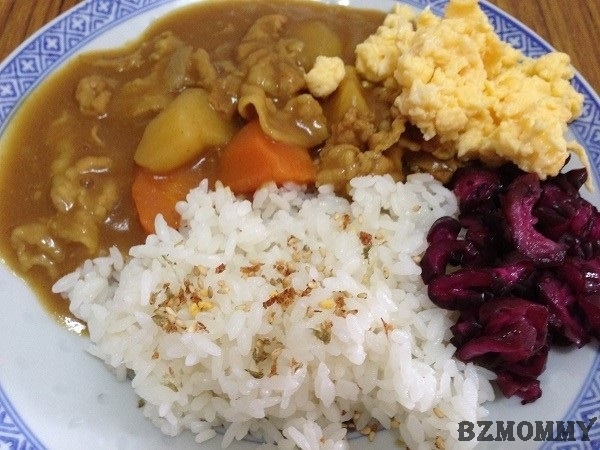 I wanted to shape a Hello Kitty rice for Dawn but I realised I ran out of nori to cut out the whiskers & eyes…end up using sprinkles instead…what an awkward looking cat, but Dawn love them nevertheless. 😀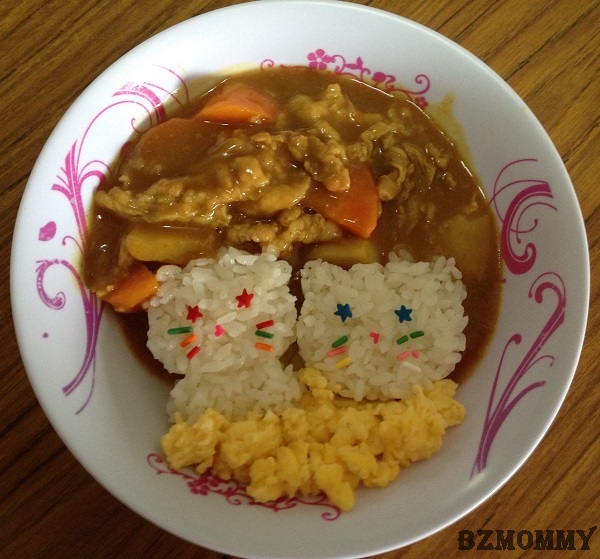 And look at how Eva had her curry rice 🙂