….. to me!
Had a day off with compliments from my company (Birthday Leave).  Dear took leave to accompany me.  To us, birthdays are not about presents but the company of each other.  It was really a pity and a regret for me that I had to work on his birthday this year because I had just returned to work after my maternity leave.
He didn't want to tell me what's the agenda for the day.  5 days before the actual day, he smsed me and  said that I wasn't allow to make any plans; he will do the planning and I will do the lazing… it's a teaser and I kept wondering where he will bring me to.  Tried to get something out from his mouth but it's so tight that I got nothing out. ><;
And guess what? I finally had a romantic time with him @ Dempsey Hill.  He drove us to jones the grocer for breakfast at 9am+!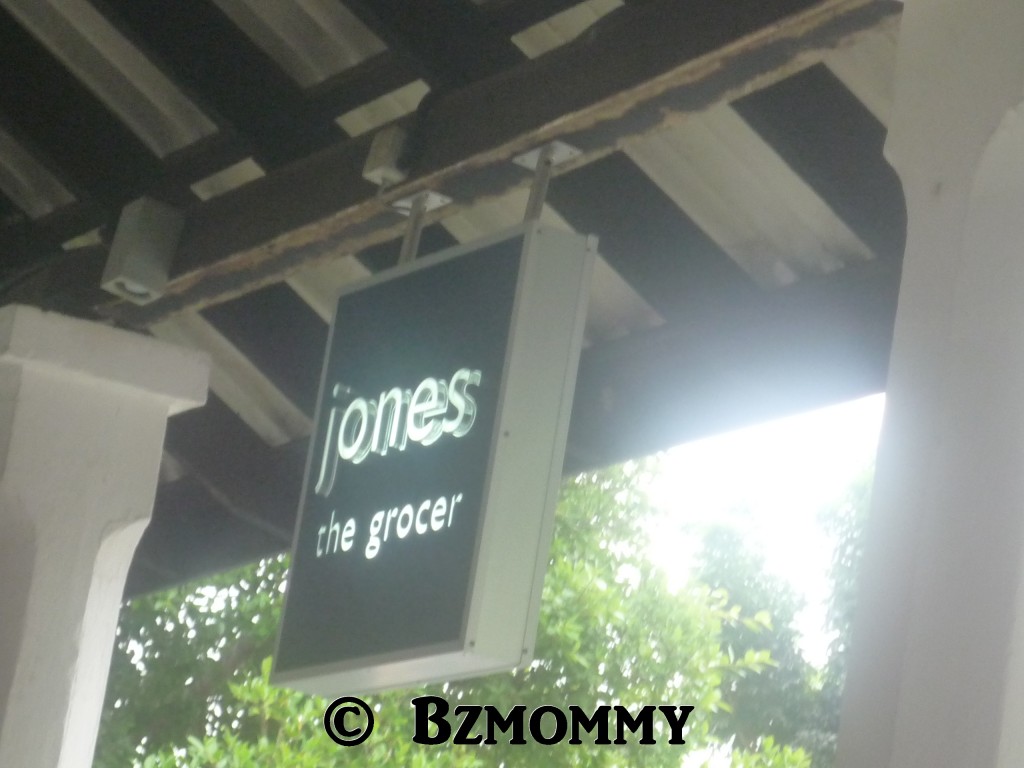 My pretty white flat! Should tell them that's its my birthday and ask them to draw a birthday cake or something…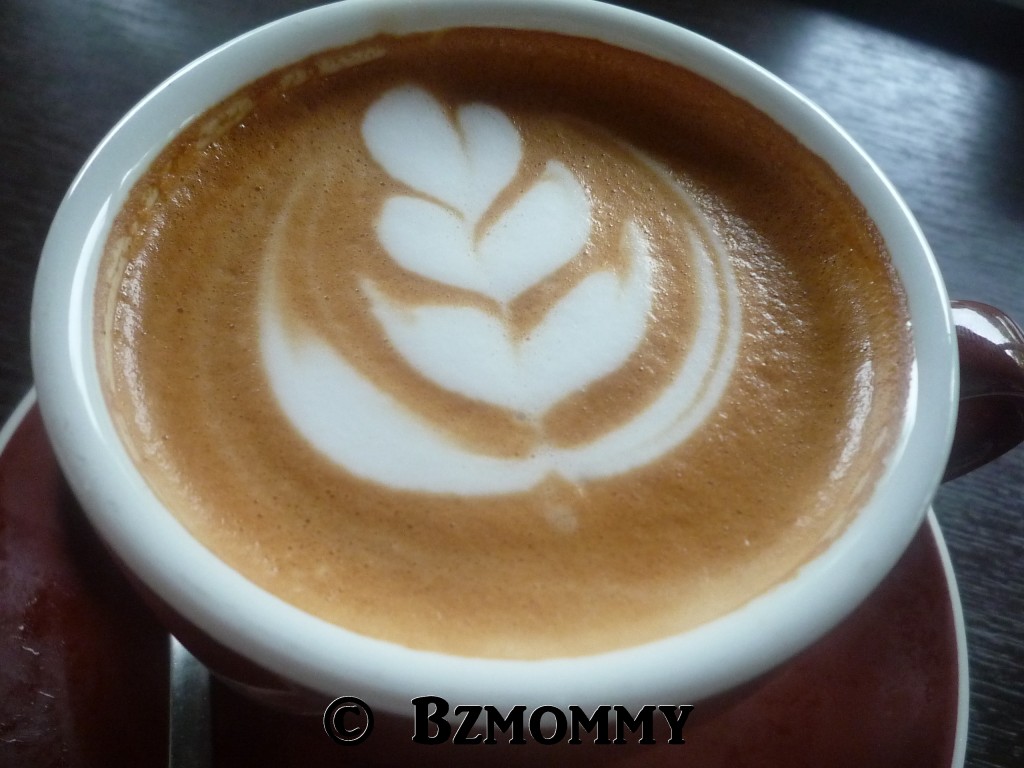 His pot of tea…which later became our pot of diluted tea…:D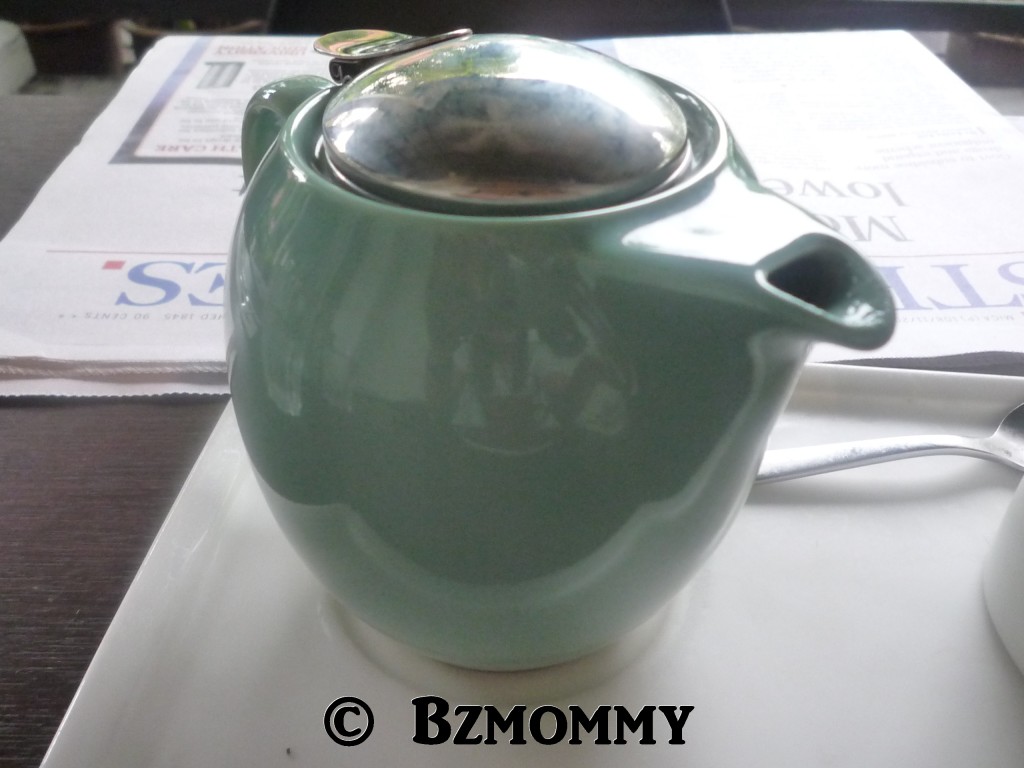 We ordered 2 set of English Breakfast…and he asked for poached eggs..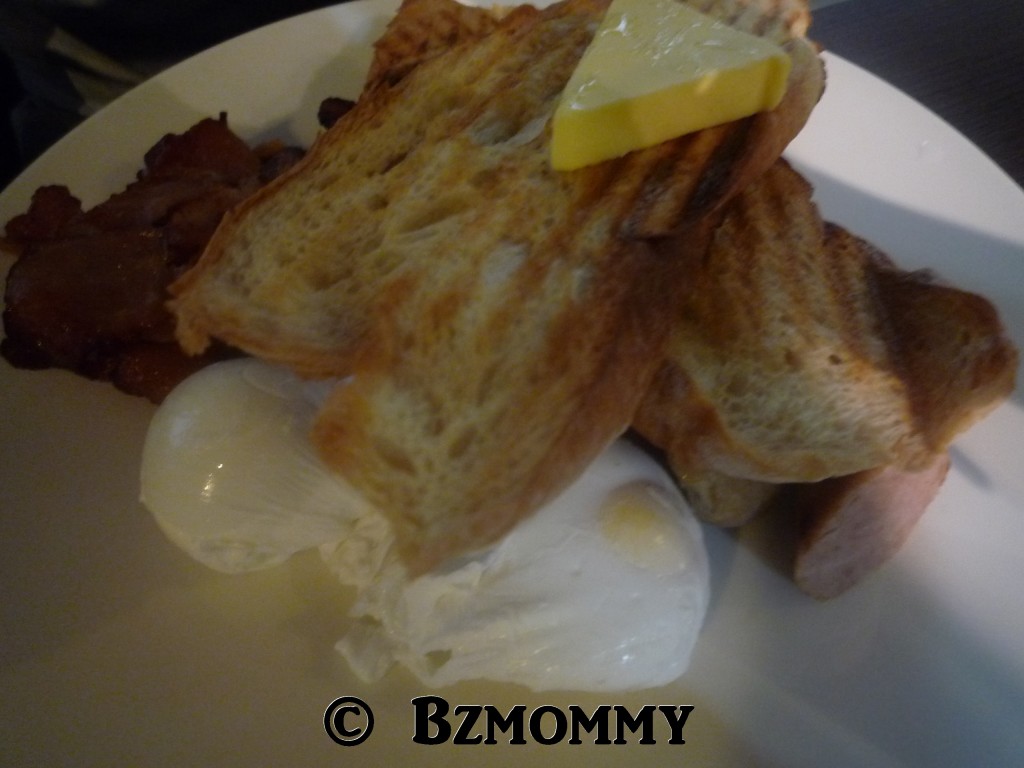 And me? Sunny Side Ups!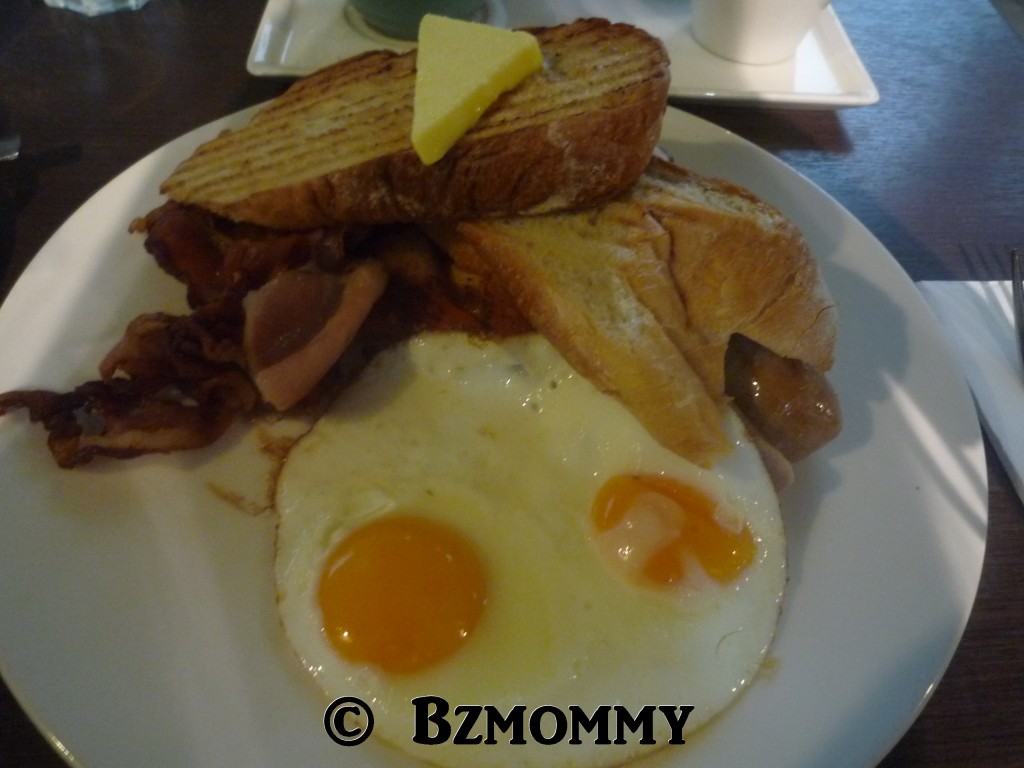 The bread is super nice! Nicely toasted and when it's spread with butter, it's heavenly!  Oh, the breakfast set include the button mushrooms, toasted tomato, bacon, sausages, the eggs and 2 pieces of toasts.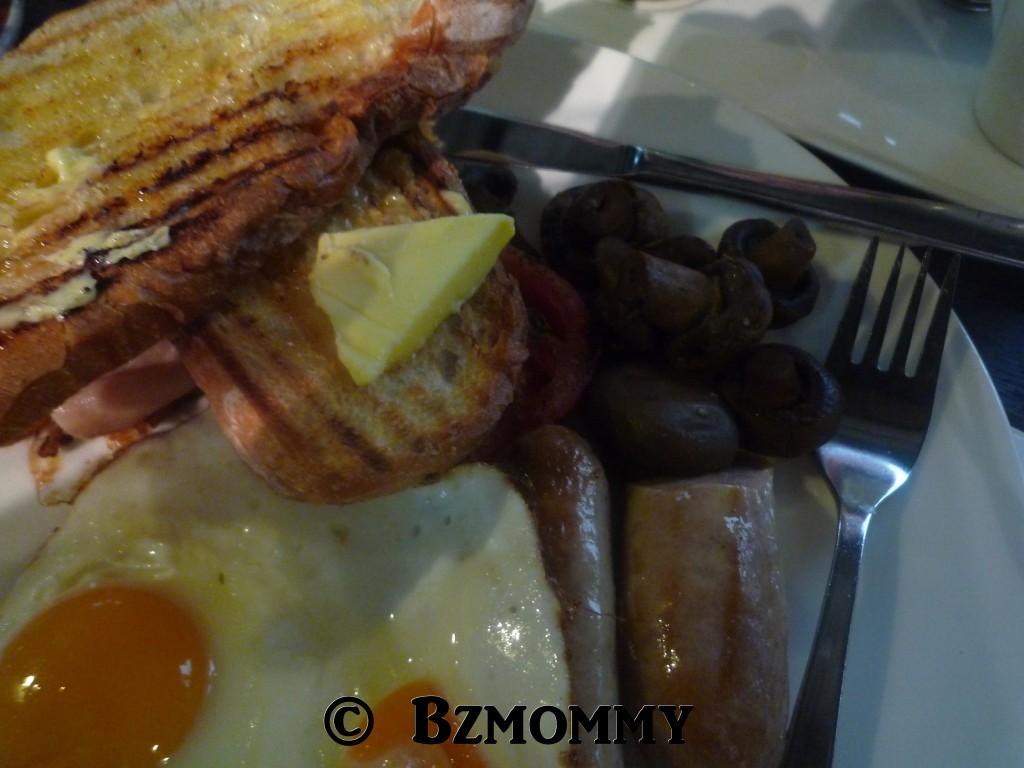 It was a hearty breakfast indeed! And that's our early breakfast and lunch.  We continued to enjoy the wet morning (It was raining heavily & we were seated @ the non-air-conditioned table), sipping the coffee & tea and reading the newspapers, books & magazines. We bought a bag full of my magazines and he bought a book.  I finally had time to read the magazines which I brought from Hong Kong!
After nua-ing the whole morning away in jones the grocer, dear drove to another of our favourite cafe – The book cafe.  We order some chips and tea and continue with our reading..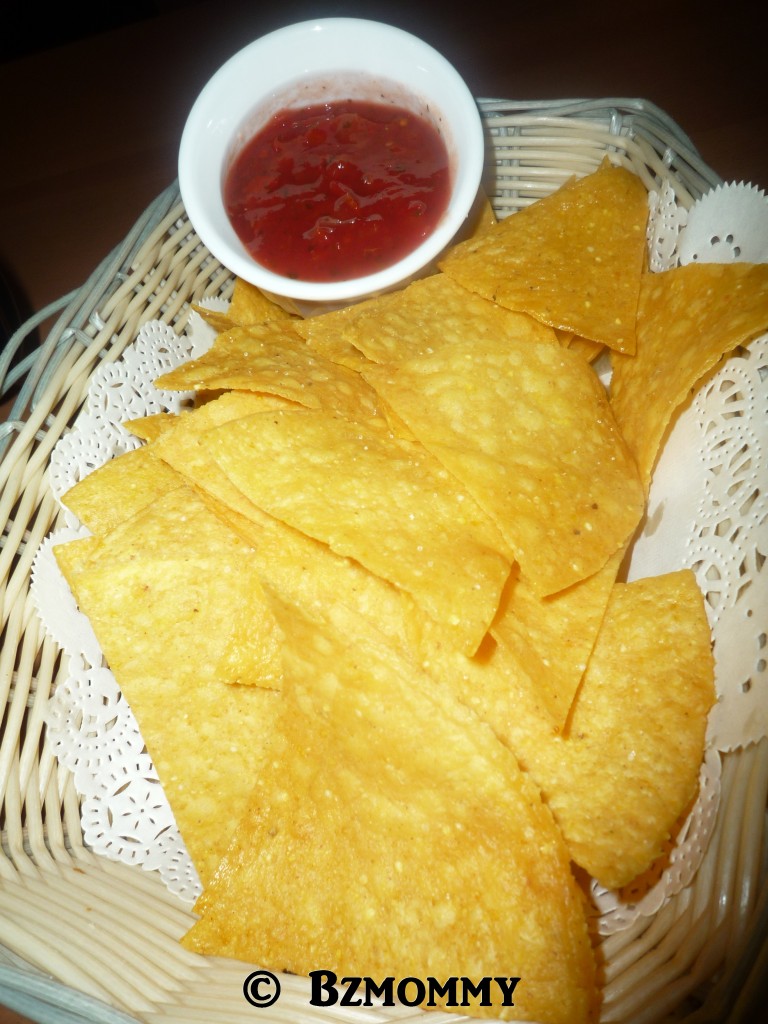 My pot of chamomile tea…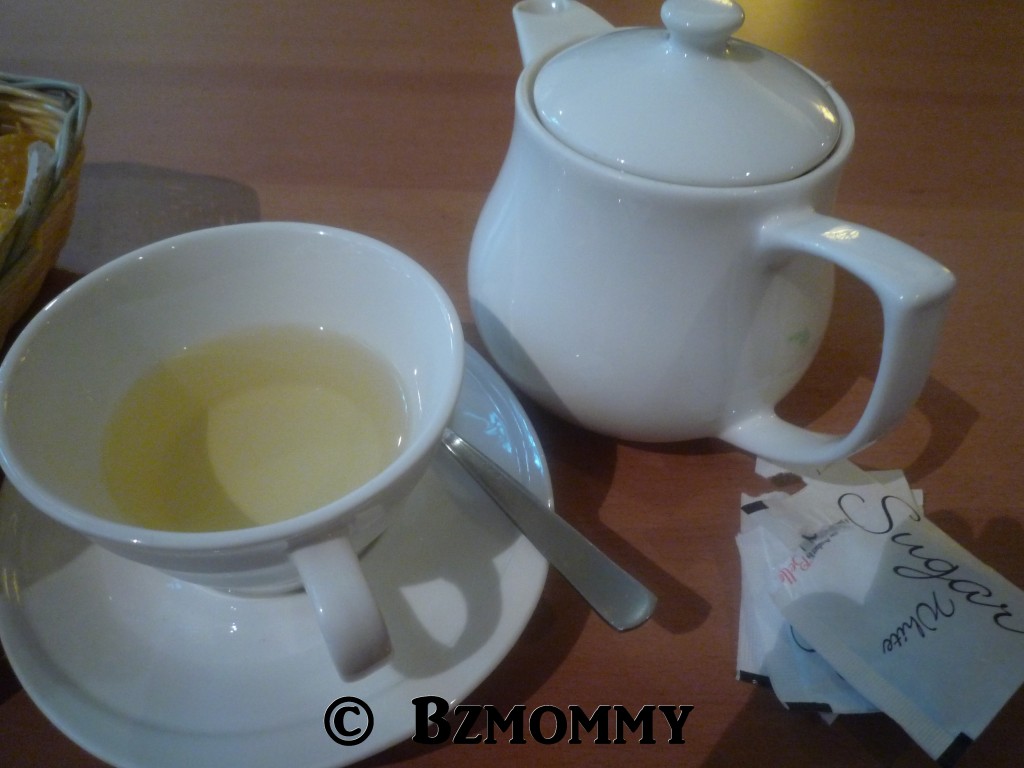 His pot of lemongrass with ginger tea…this is refreshing and different!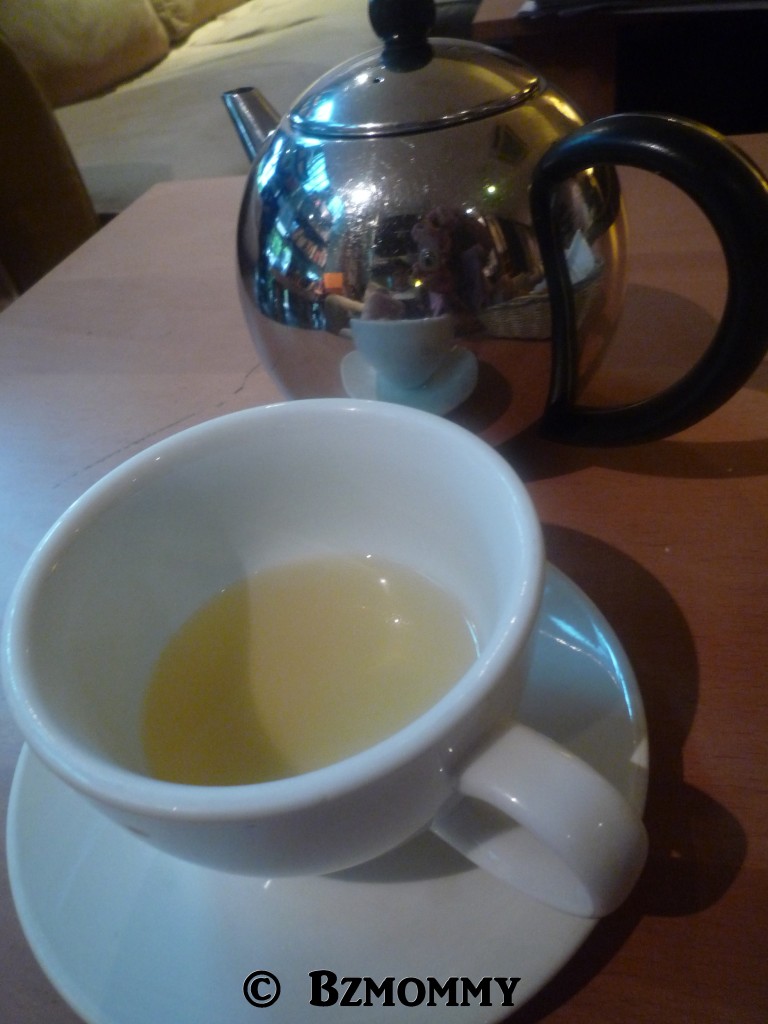 The book cafe has a kids corner which has a low shelf of books and toys.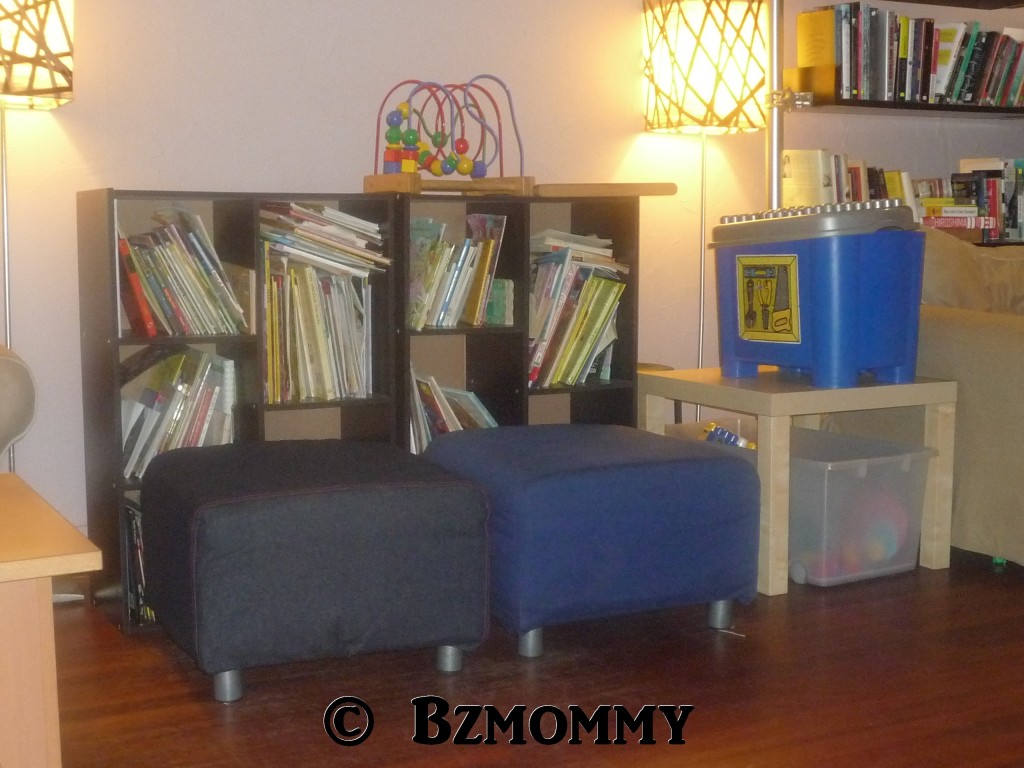 When I took this photo, I was told that I can't take photo…bleah!  Was thinking not even to mention about book cafe here since they are so strict with the photo-taking.  Maybe they had earned enough from their loyal customers and hence do not need any more free advertising -.-
Dear drove to Clarke Quay and we went to Hooters for some tea time. I wanted to have some chicken wings, and both of us totally forgot about IKEA!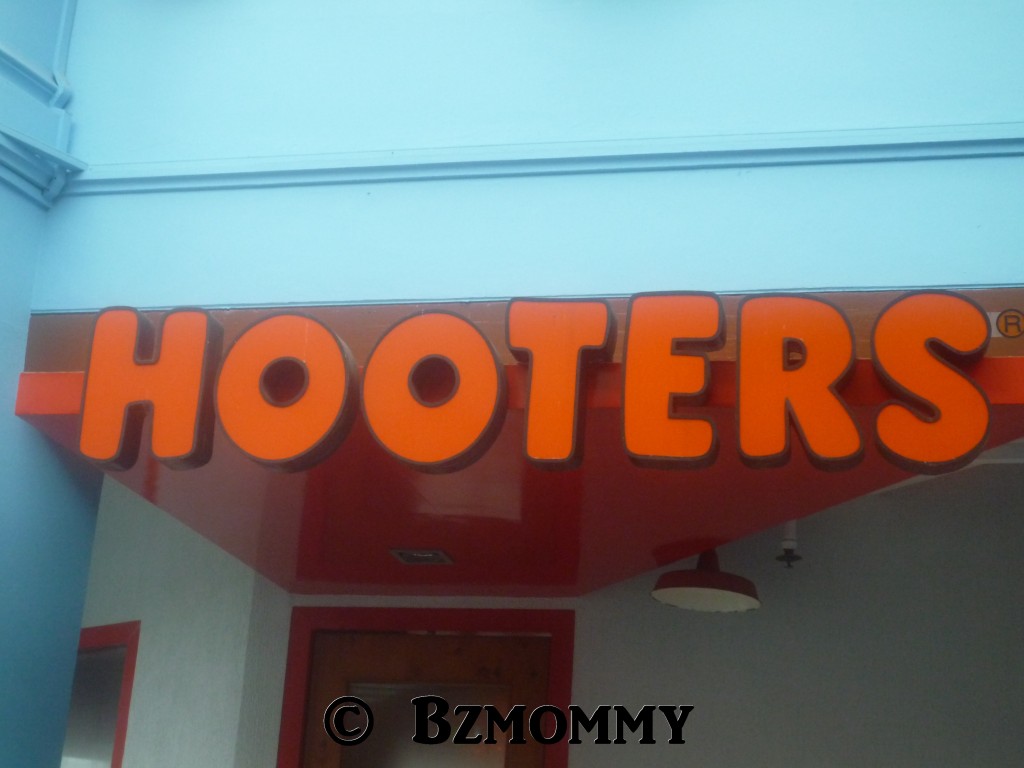 Anyway, had a great view at the outdoor seats of Hooters.  Had always wanted to enjoy a relaxing afternoon at the quay side and it finally came to pass.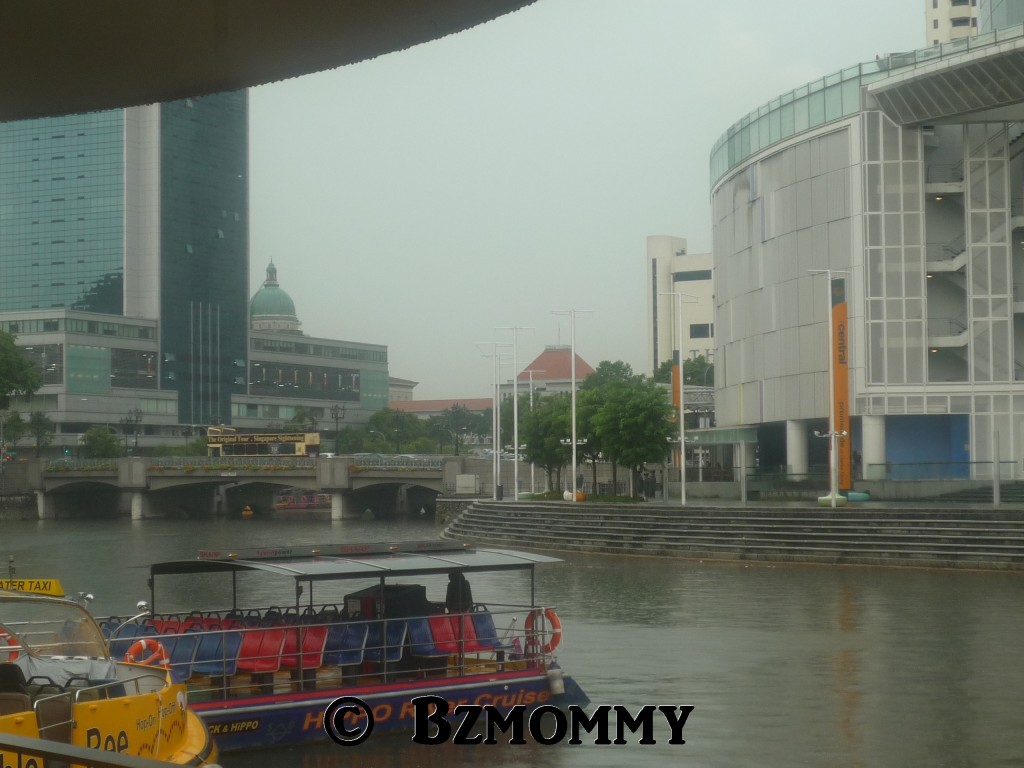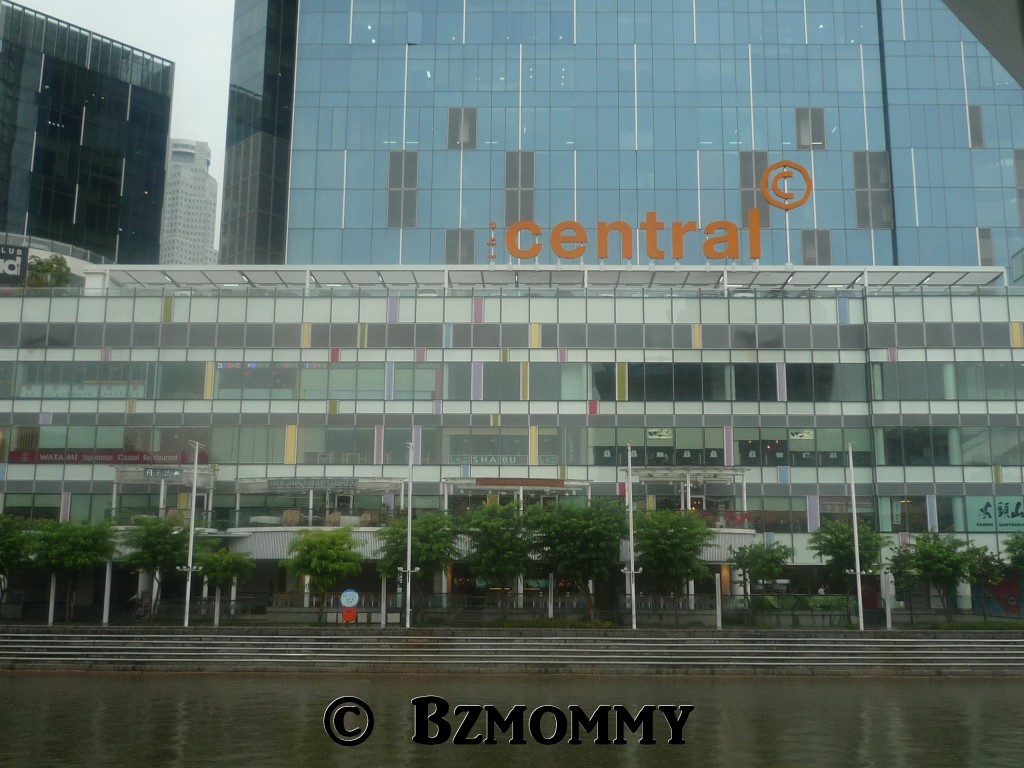 Huge Ketchup & kitchen paper roll @ the table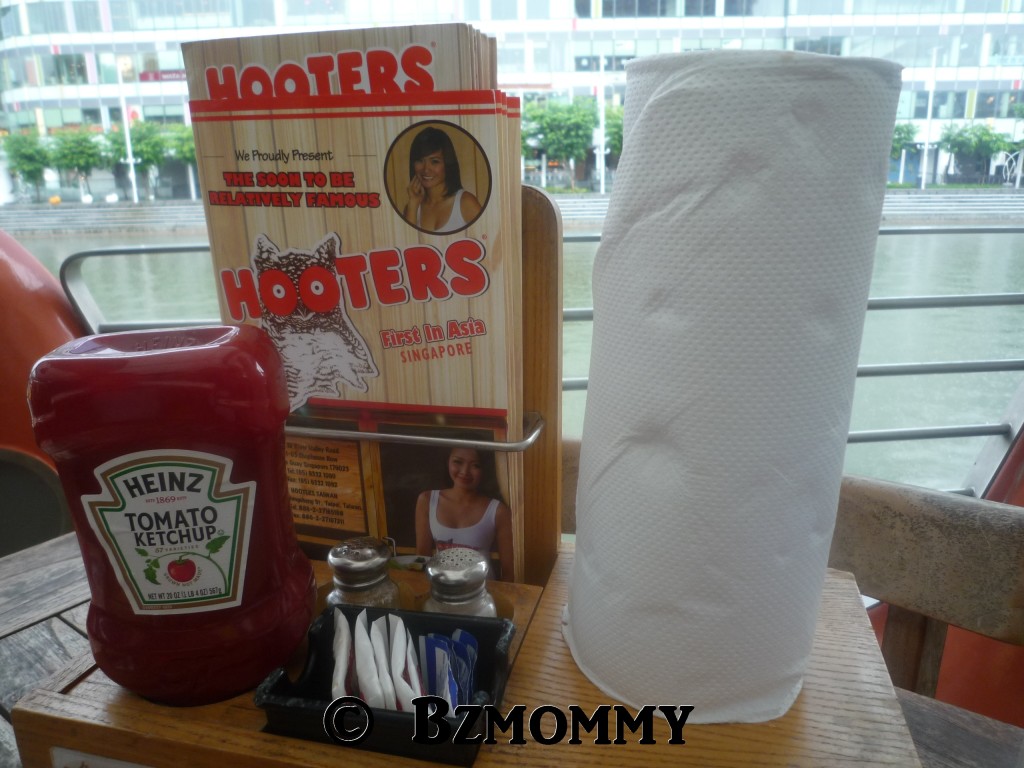 The mild favor chicken wings – has a pinch of cheesy taste in the marinate.  But the meat is a-bit too hard instead of juicy ones like IKEA & Ice Cold beer…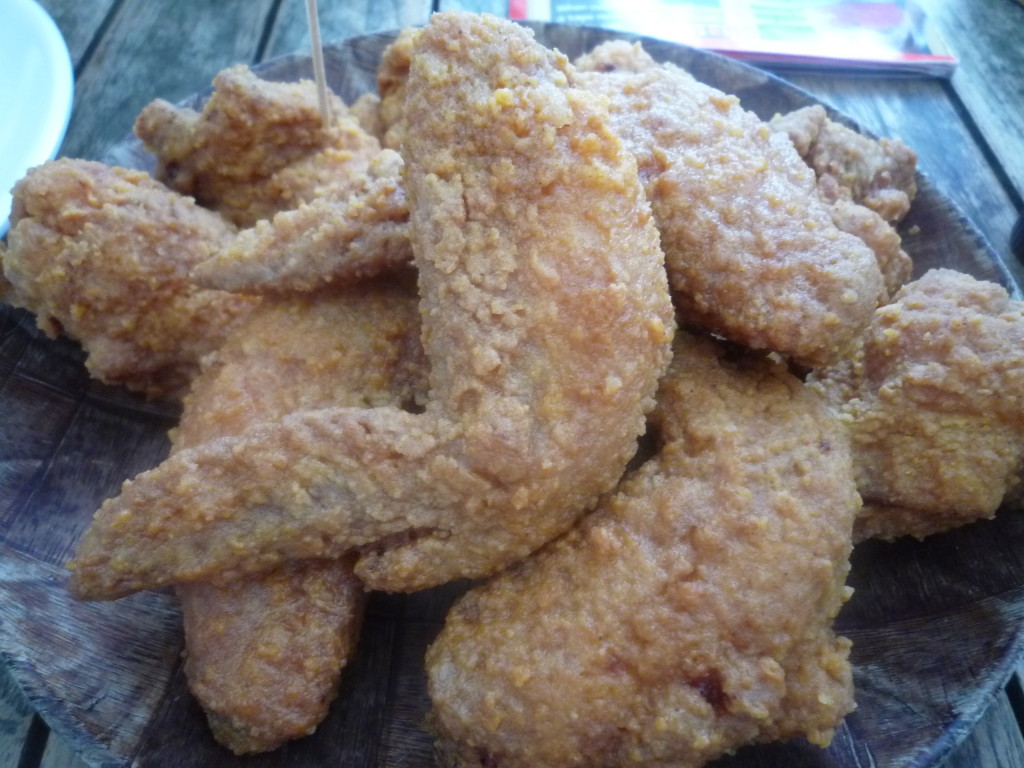 My day started with 2 birthday kisses from Dear & Dawn…I thought that was the best present that I have for the birthday.  We were home early and wanted to go to fetch Dawn from childcare.  But my father-in-law hinted that he will fetch her instead.  Silly me didn't get the hints and kind of insisted to fetch her….and he had to tell me that Dawn had made an appointment with him after school.
The night before, I had asked Dawn about my present.  Dawn said that she can't because she has school on my birthday.  And the next moment, she exclaimed, "Daddy, how? Mommy's present?"  It was quite a cute and immediate "panic" from the little girl and I can't help but to giggle.
Earlier in the morning, I had asked Dawn where's my present again and told her that she will give me my present after school.  I guess she must had asked my father-in-law the "how" question and my father-in-law told her to draw a cake in school and passed it to me. My bright little girl then said to my father-in-law, "Aiya, no need la, buy from the cake shop lo!" And that's how the appointment was made.  My father-in-law was supposed to bring her to buy cake for me after school!
And here's my pink cake from my little girl…it's really paid by her because she took out the money from her piggy bank and return to "YeYe"!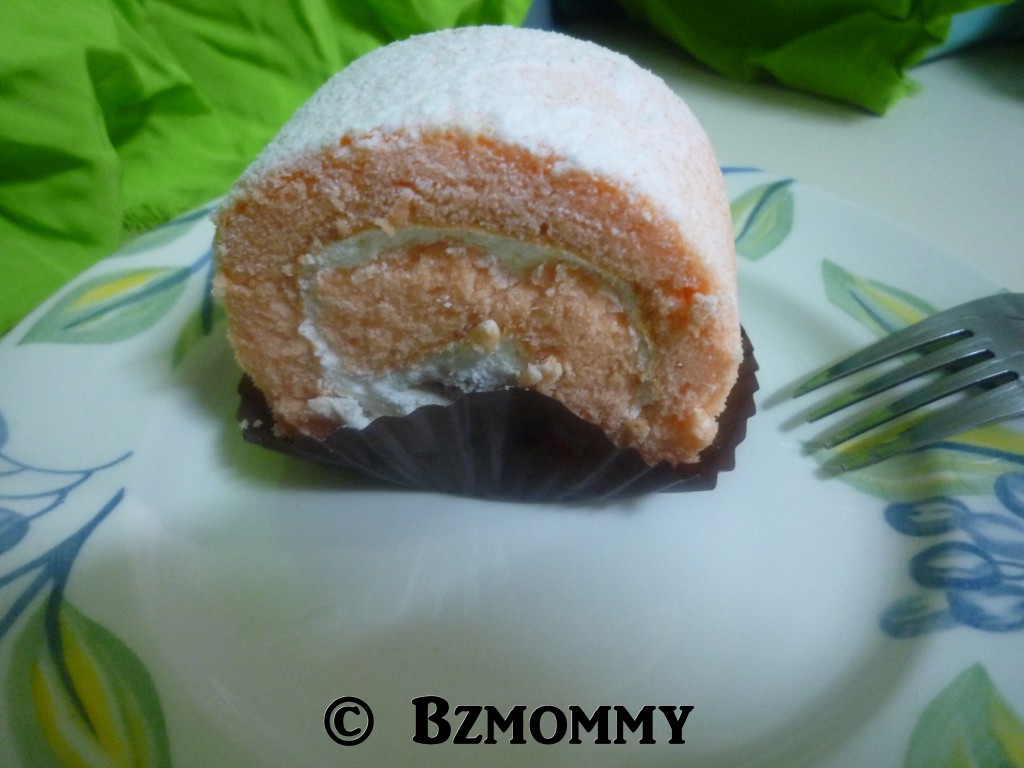 And of 'cos, birthday are not birthday without the song and Dawn sang the English and Chinese version for me before we eat the cake together. 🙂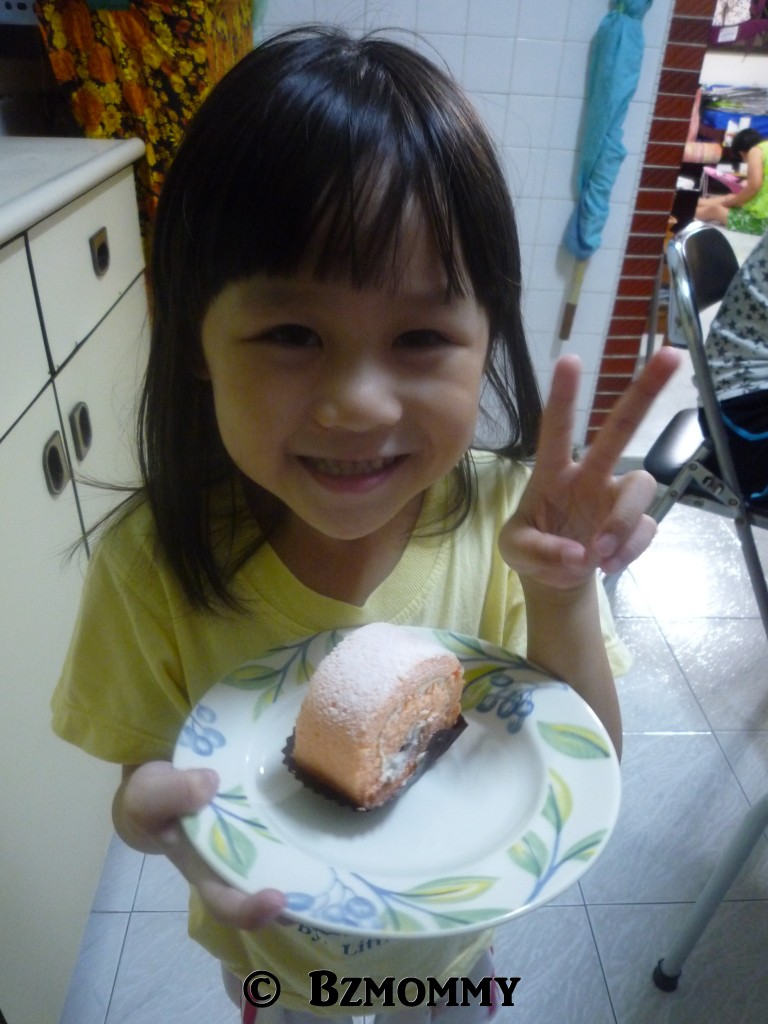 Thank you my 2 darlings, for giving me a wonderful birthday!