Easy & Quick Meal - Bee Hoon Soup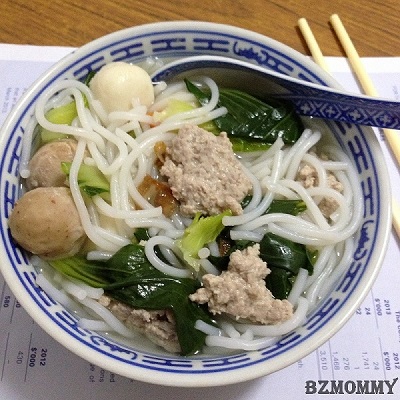 Serves:
2 Adults & 2 Children
Chicken Stock (500ml) - You can substitute with stock cube or stock you cooked yourself
2½ bowl of water
Thick Bee Hoon (2 pkts)
Meat Balls / Fish Balls
Vegetables / Carrots
Minced Pork (250g)
Light Soy Sauce (1 soup spoon)
Corn flour
Sugar (1 table spoon)
Pepper (optional)
Bring the stock & water to boil.
Put in carrots (if you have this). (TIP : use cutters to cut the carrot in flower/star shape or cute cartoon shapes if you are serving this dish to children)
Scoop the minced meat with a spoon and drop them separately into the boiling soup.
Add fish balls and meat balls when the minced meat is cooked. When the fish/meat balls float to the surface, add the vegetables.
In a separate pot of boiling water, blanch the thick bee hoon. Make sure the water is boiling before taking out the bee hoon and divide them into different serving bowls.
Ladle the meat, fish/meat balls, vegetables and soup over the cooked bee hoon.
Garnish to your liking (fried shallots, spring onions, cut chilli etc). Ready to serve!
Recipe by
BZMOMMY'S MUSINGS
at https://bzmommymusings.com/easy-quick-meal-bee-hoon-soup/